---
Next time you have a steak dinner, make some extra steaks and you can have this scrumptious and nutritious Thai meal in a snap later in the week. A pre-cooked steak is super versatile and can turn into many delicious dishes! This video is sponsored by thinkbeef.ca who reached out to me for a Thai meal idea that uses a cooked steak. It didn't take me long to think of a dish for that request—this dish came to mind instantly as soon as I heard "steak"!
BONUS CONTENT! In addition to the recipe, in this video I also got to interview a registered dietitian, Carol Harrison RD, to ask her some questions around the nutrition of red meat. If you want to get in touch with her, she's on Twitter @greatmealideas, or find her at yummylunchclub.ca
Watch The Full Video Tutorial!
All my recipes come with step-by-step video tutorials with extra tips not mentioned in the blog post, so make sure you watch the video below to ensure success - and if you enjoy the show, please consider subscribing to my YouTube channel. Thank you!
---
Print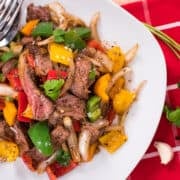 Black Pepper Beef Stir-Fry + Interview w/ a Dietitian!
---
250g

strip loin or top sirloin steak (raw weight), cooked to your preferred doneness and cooled completely or chilled (see note)

1 Tbsp

+

1 tsp

oyster sauce

1 tsp

soy sauce

1 tsp

fish sauce

2 Tbsp

water

7

-

8

cloves garlic, chopped

2 tsp

black pepper, freshly ground (reduce to 1 teaspoon if serving kids)

¼

large onion, 1 cm strips
Mixed bell pepper, large diced, a total of 1 medium pepper (so if using 4 colours, use ¼ each, if using 3, ⅓ each, etc...)
---
Instructions
Slice the cooked steak into thin strips, trimming off any fat around it if desired.

Combine oyster sauce, soy sauce, fish sauce and water in a small bowl and stir to combine.

Add just enough oil in a wok to coat the bottom, then add the garlic and saute over medium heat until the smallest bits start to turn golden.

Add the black pepper and stir to mix with the oil. Add onions and bell pepper, and toss for about 1 minute or longer if you prefer the softer vegetables.

Once the vegetables are cooked almost to your liking, add the sauce and toss for about 10 seconds. Turn the heat up to high then add the sliced steak; if you like the doneness of the steak as is, just toss it briefly (20-30 seconds) until heated though, otherwise cook it longer to get the desired doneness. Since the steak is already cooked, you only need to cook it long enough to heat it through. 
Tip: Remember to turn off the heat BEFORE the desired doneness is reached because the beef will continue to cook in the residual heat even after you've turned it off. Also, get the stir-fry out of the wok and onto the plate ASAP to prevent the beef from cooking too much after you've turned the heat off. As you can see in the video, I turned off the pan when the beef was still quite pink because I knew that we had to spend time resetting the counter for the next scene, so by the time I got around to plating, it was not as pink but also not overcooked!
---
Pai's Steak Cooking Method:
If there is time, I like to season my steak in advance and let it dry off in the fridge: Salt the steak on both sides, then set it on a rack on top of a plate, and keep it in the fridge uncovered for at least 3 hours and up to one day. Drying the steak helps to develop caramelization and crusting which enhances the steak flavour.
If using a very thick steak (1-inch or more), and if you like the steak closer to well-done, you may want to get the oven preheated to 350°F as you may need to finish the cooking in a oven.
Pull the steak from the fridge about 30 minutes before cooking if you have time, and pat the steak dry with a paper towel if it looks moist on the surface. Then generously sprinkle black pepper on both sides and press it down so it sticks well to the steak.
Heat up a skillet over high heat with just enough oil to coat the bottom, and when the oil is hot, place the steak down (should sizzle loudly) and sear for 1-2 minutes or until a dark brown crust develops. Flip the steak and cook the other side for another 1 minute or so until the crust develops, then flip the steak back and forth every minute or so until a desired doneness is reached. Flipping back and forth will allow the steak to cook more evenly. If a good crust has developed but you want the interior to cook further, you can finish the steak in the preheated oven. Tip: You can use a thermometer like this one to determine the doneness of the steak.
Let the steak rest for 10 minutes before cutting into it. Note: If cooking up an extra steak to take advantage of speedy meals made from leftovers, store cooked steak covered in the fridge for up to 3 days or freeze for up to 3 months.
---
Notes
Notes: As mentioned in the video, the benefits of making a stir-fry from a cooked steak is that you can save a lot of time preparing a meal the next day, AND you can still have the beef pink if that's what you like. If you are starting with raw beef strips, cook it until the exterior of each piece is not pink anymore – but the strips can still be pink on the inside.
If making a dinner for 4, simply double up all ingredients. Use 2 steaks of approximately 250g each (does not have to be exact) and double up all other ingredients except the water—use 2 tablespoon of water to start, and you can add more to the wok during cooking if it's too dry.
Keywords: beef, black pepper, stir-fry, healthy