---
Watch The Full Video Tutorial!
All my recipes come with step-by-step video tutorials with extra tips not mentioned in the blog post, so make sure you watch the video below to ensure success - and if you enjoy the show, please consider subscribing to my YouTube channel. Thank you!
Print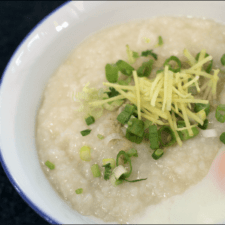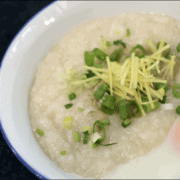 Breakfast Congee โจ้ก (jok)
---
The Pork
250 g

ground pork

1 Tbsp

soy sauce

1 tsp

fish sauce

2 tsp

sugar

¼ tsp

white pepper

1

small ice cube
The Rice Base
¾ cup

broken or regular jasmine rice

4

-

5

cups water
The Assembly (for 1 big serving)

¾ cup

good pork stock

1 cup

rice base
Ground pork, as much as you'd like

1 tsp

soy sauce

¼ tsp

salt

1

egg at room temperature, optional
The Garnish

Julienned ginger
White pepper
Chopped green onions and/or cilantro
---
Instructions
For the pork: Process all ingredients in a food processor until it resembles a paste.
For the rice base: Bring water to a boil, add rice and stir occasionally. Once rice starts to thicken, stir constantly until the rice is thick and broken down to the desired consistency.
For the soft-boiled egg: Put egg in a bowl and slowly pour off-the-boil water over it until it's completely submerged. Let the egg sit for 10 minutes, then immediately transfer it into cold water to stop the cooking. Note: 10 minutes is the time it takes using the setup shown in the video. The more water you have (i.e. the larger the bowl), the less time you will need because the water will stay hot longer. If you're doing multiple eggs or using different sized eggs, the time it takes may also vary. I suggest starting with 10 minutes and then adjust for your next time. 
To assemble: Bring pork stock to a boil and add the ground pork in bite-sized chunks. Season the stock with soy sauce and salt. When the pork is half way done, add the rice base and stir to break up lumps. When the pork is done and the rice is well mixed, remove from heat.
To serve:  Crack the soft boiled egg into the serving bowl and then pour in the jok. Top with white pepper, ginger, and green onions/cilantro. Enjoy with some Thai iced coffee!
---