---
Watch The Full Video Tutorial!
All my recipes come with step-by-step video tutorials with extra tips not mentioned in the blog post, so make sure you watch the video below to ensure success - and if you enjoy the show, please consider subscribing to my YouTube channel. Thank you!
Print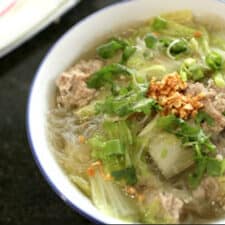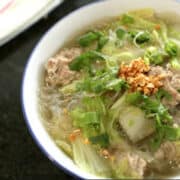 Pork Stock & Gaeng Jeud Woon Sen
---
2

lb pork bones or chicken bones

3.5

L water
Top half of one lemongrass, crushed and chopped into 2" pieces

4

-

5

cloves garlic, crushed

2

cilantro roots, crushed

½

onion, large diced

½ tsp

white peppercorns, crushed
For Gang Jeud Woon Sen
20 g

glass noodles

3

cloves garlic, chopped

5 cups

pork stock

200 g

ground pork

3 cups

napa cabbage, chopped
Green onions and cilantro for garnish
Seasoning to taste: Soy sauce, fish sauce, salt, and white pepper
(I included the soup in the show literally as a last minute decision, so I didn't get a chance to get you exact measurements, but it's super easy, and if you taste your soup and adjust seasoning while cooking, you really can't go wrong!)
---
Instructions
Wash bones in cold water and add to a large stock pot. Cover the bones with cold water and bring to a simmer. Let simmer for 1 hour, then skim off all the scum that has floated to the top. Add the aromatics and if making chicken stock, simmer for another 30 minutes, if making pork stock, simmer for another hour. Strain and use immediately or store in the freezer for future uses.
For Gang Jeud Woon Sen
Soak glass noodles in cold water for 10 minutes to soften, then cut them into shorter sections.
In a pot, fry chopped garlic in vegetable oil over low heat until golden and crispy, remove and set aside.
Add pork stock and bring to a simmer. Meanwhile, mix ground pork with a little soy sauce and white pepper. When the stock is simmering, spoon the ground pork into the soup in chunks. Season the soup with soy sauce, a splash of fish sauce, white pepper, and a little salt if needed. When the pork's exterior looks done, add napa cabbage and let cook until the leaves have wilted. Add glass noodles, bring to a boil, and it's done!
To serve, garnish the soup with the fried garlic and some of the garlic oil. Top with chopped green onions and cilantro, and serve immediately.
---