---
Add a little Thai flavour to your holiday table with this incredible veggie side dish recipe! This is Brussel sprouts like you've never had before. The Brussel sprouts are cooked stove-top (no oven required!) until perfectly al dente, then tossed with a spicy, garlicky, iconic Thai dressing. Guaranteed to brighten up your Christmas dinner table!
Choosing Brussel Sprouts
If possible, always choose small/medium Brussel sprouts and avoid really large ones, because the bigger they are, the more bitter they tend to be. Inevitably you're going to get a variety of sizes of sprouts, but if you see a few that are just double the size of other ones, be sure to cut them into quarters so they will cook with everyone else.
Customizing Doneness: No more mushy sprouts!
I've provided two different ways of preparing this recipe. If you like brussel sprouts that are still a little firm in the center (which I much prefer), use the stove-top pan-sear method shown in the video. Not to mention it's the quicker method that doesn't require oven real estate! However, it is a little more hands-on than the oven method.
If you prefer Brussel sprouts that are tender all throughout, roast them in the oven. This takes longer but at least you can set it and let it go. You won't get as dark of a char, and do check the doneness early to avoid over cooking them into mush!
Tips for Making This Dish in Advance
For the holiday table, you want to make as much in advance as possible. See my guide for stress-free holiday cooking here for some more tips. Specifically for this dish, you can:
Make the dressing a whole day in advance and keep in the fridge.
Cook brussel sprouts up to a few hours before serving as they serve well at room temp. However, keep in mind that you shouldn't let cooked food sit out for too long for food safety reasons (max of 4 hours according to official guidelines). So if you expect your dinner to go on for a long time, with food left out on the table, take that time into consideration too.
Toss the Brussel sprouts with the dressing up to an hour in advance, but put the peanuts and cilantro leaves on in the last minute. Be sure to re-toss the sprouts before serving, and 1-2 times while it sits, to redistribute the dressing. Again, keep food safety considerations mentioned above in mind.
*Extra Goodies for Patreon Members: In this episode's "Show After The Show" I share some other Thai ways to cook Brussel sprouts, and talk about some nutritional value of these tiny little cabbage heads! Click here to find out more about becoming a Patreon member!
Watch The Full Video Tutorial!
All my recipes come with step-by-step video tutorials with extra tips not mentioned in the blog post, so make sure you watch the video below to ensure success - and if you enjoy the show, please consider subscribing to my YouTube channel. Thank you!
Print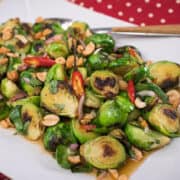 Brussel Sprouts Thai-Style ยำกะหล่ำดาว
---
3

cloves garlic

1

-

2

Thai chilies, or to taste

6

-

8

cilantro sprigs, leaves and stems separated, stems chopped

1 ½ Tbsp

palm sugar, chopped, tightly packed

1 ½ Tbsp

good fish sauce

2 Tbsp

lime juice

1

small head shallots, julienned

1

lb Brussel sprouts, small to medium size, cut in half
A pinch of salt

¼ cup

roasted peanuts or cashews, roughly chopped
---
Instructions
Make the dressing:
Using a mortar and pestle, pound garlic, Thai chilies, and chopped cilantro stems together into a paste.
Add palm sugar and pound to melt it.
Add fish sauce and lime juice and stir to mix.
Stir in shallots and let it sit until ready to use. Store in the fridge for up to 1 day in advance.
Stove-Top Skillet Method (better for those who like al dente Brussels sprouts):
In a large skillet, add enough vegetable oil to thoroughly coat the bottom of the pan and heat over medium high heat. Add Brussel sprouts (you can do this before the pan gets hot), add a pinch of salt and toss the sprouts with the salt.
Flip all the sprouts flat side down. And let them cook until a nice dark browning develops. Add more oil if the pan seems too dry, it will help with browning. If you want more tender sprouts, lower heat to medium and cover the pan.
Once the sprouts are browned on one side, give them a toss, then go back and flip any sprouts that did not flip up. Cook the other side for just a minute or so. Check doneness with a fork—I like it so that when you pierce the sprouts with a fork, it goes through with some resistance in the middle. You may want it more cooked than that, it's up to you.
Remove from heat and transfer into a mixing bowl.
Oven method (better for those who like tender Brussels sprouts):
Preheat the oven to 450°F. Toss the brussel sprouts in oil and a pinch of salt then lay them flat on a baking sheet lined with parchment. Roast for about 15 minutes or until the sprouts are well browned and tender.
Assembly:
Toss the sprouts with the dressing and cilantro leaves, and dish it out onto a plate. Don't use a deep bowl or the dressing will pool and soak the bottom pieces. Sprinkle with cilantro leaves and roasted peanuts.
Enjoy!
---
Want to save this recipe? Pin it!