Over my long career of teaching cooking I've had many people write me to share this similar story:
I was so excited to host a dinner party to share all these new dishes I've learned from you. Everyone loved it. BUT; we didn't eat till 9; I couldn't finish all the dishes; the food was cold by the time we ate; I was EXHAUSTED!
Or maybe it's not a dinner party, but just a regular, weeknight meal:
I would love to incorporate more Thai dishes into my regular rotation, but with 3 kids, it all seems so overwhelming. There are so many ingredients to prep!
In this post I'll share with you all the tricks I've learned from working as a chef in restaurants and catering that you can apply at home for the smoothest dinner parties and weeknight meals. If you prefer to watch, the video below goes through all the tips, and I also share how to use the dinner party planning template which you can download (link under the video).
VIDEO: Guide to a Stress-Free Dinner Party
This video will really help you see how to prep for your dinner like a pro! You can also download the templates that I use in the links below! You can also watch on YouTube instead.
---
Download Dinner Party Planning Templates
In the PDF files I've included the blank template, instructions on how to use it, and an example of a completed one which I adapted from a real party I catered. I've also included an excel file of the blank template so you can fill it in directly.
XLS: HTK Party Planning
3 Pro-Chef Secrets to Meal Prep
After years working in restaurants, aside from the cooking skills the #1 most valuable thing I learned from being a professional chef is how to prep meals to the MAX.
How does a busy restaurant get everyone's food out, hot and fresh, in 10 minutes? How do they cater a 200-people wedding in the park?
Here's the secret: Half, if not all of the work, was done before you even got there.
The good news is, these prep principles can apply at home. Whether it's a Thanksgiving feast, a Christmas dinner, or just a Wednesday night meal, knowing these pro-tricks will make all the difference.
Secret #1: Make Sauces in Bulk, in Advance
Do you have a marinade you always turn to? Are you making 2 salads for the dinner party this weekend? Does your favourite chili recipe use a mix of dry spices?
Well then ... make an 8x batch of that marinade.
Make those 2 salad dressings today.
Pre-mix a big batch of those dry spices.
The only thing you might want to reserve for adding on the day is fresh, delicate herbs; like cilantro or mint.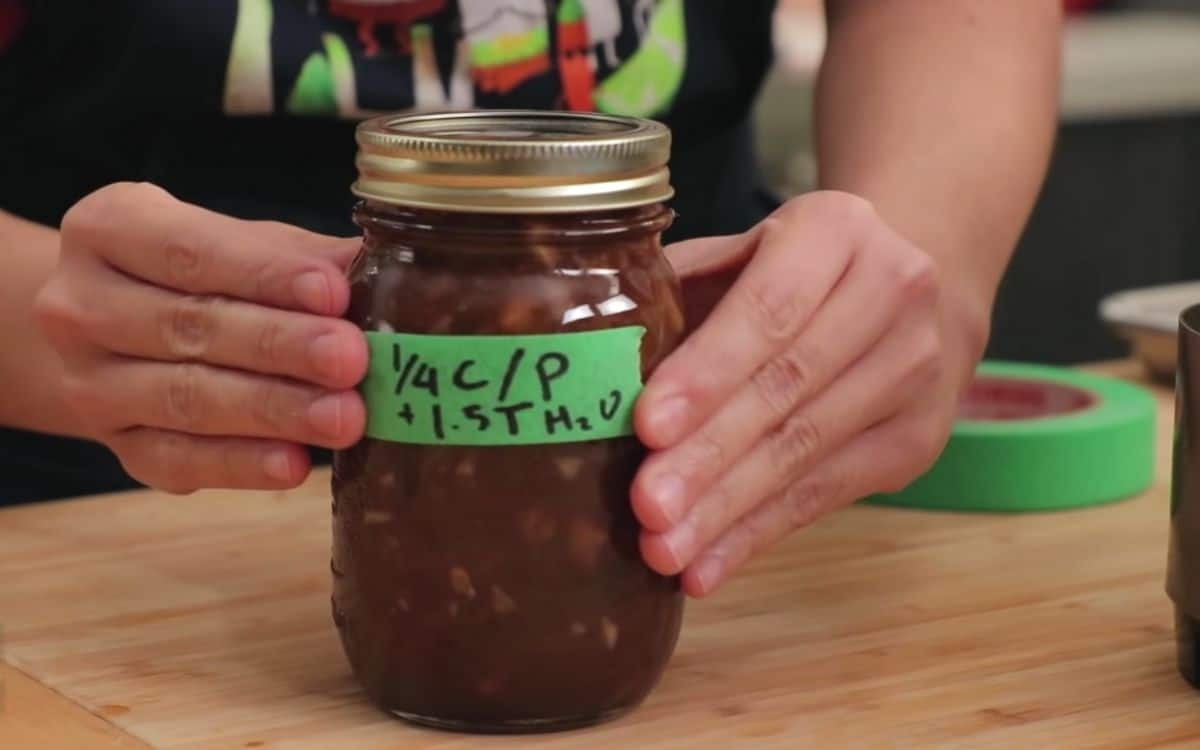 PRO TIP: For most sauces, each ingredient can be scaled proportionally with no modification needed. But once you've made the sauce, you should measure the final volume and divide it by the number of batches to find out how much sauce you need per batch.

For example, if you've made a 10x batch of the stir-fry sauce, and it comes out to 300ml (10 oz), then you need 30 ml (1 oz) of sauce per batch. Tape this number onto the container so you won't forget!
Worried about shelf life? Don't be. Most sauces and dressings are high in salt, acid, and/or sugar, all of which help preserve food. So if you keep it in the fridge, it's unlikely that your soy-sauce-based marinade is going to go bad any time soon. We're talking months.
For example I have a container labeled "rib rub" because we make this Epic Oven BBQ Ribs regularly, so it just makes sense to make the spice rub in bulk. It then doubles as a spice mix I can use for my vegetarian chilli as well.
Some sauce recipes you can make in bulk:
---
Secret #2: Pre-Cook the Proteins
I don't know about you, but I find dealing with raw meat rather annoying, because after it's done, I can't just keep going. I have to stop and wash my hands, clean my station, get another knife and cutting board...ugh...it just interrupts my flow. So I am always DELIGHTED when I open the fridge and see pre-cooked protein ready to go.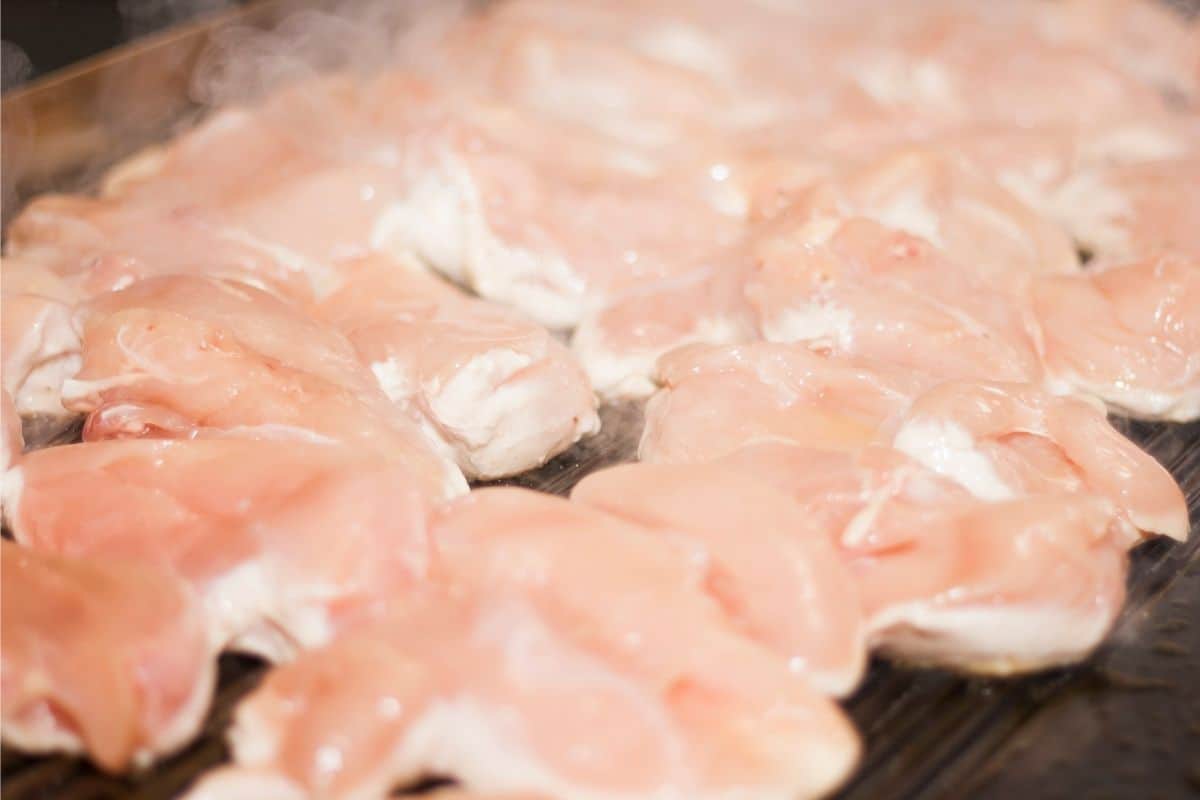 You DON'T have to have all your meals planned for the week to do this (I don't!), so here are some examples:
If you're cutting some chicken for a meal tonight, don't stop at what you need; cut some extra. Then simply season and cook it off, and it'll be ready for later in the week. Add it to fried rice, noodle soups or this super-popular mixed veggie stir fry.

Cooking steaks for dinner? Cook an extra one and just keep it in the fridge. See what it'll inspire a few days later...maybe this black pepper beef stir-fry?

Thawing half a pound of shrimp for today? Thaw the whole bag! Cook the rest off for a mid-week and maybe make drunken noodles (pad kee mao).
For dinner parties: Have a look at your menu and see if any of the meats can be cooked ahead of time then reheated and added to the rest of the dish on the day.
How long does cooked meat last? When properly cooled (which means quickly cooled), cooked protein will last in the fridge for up to 7 days.
Some recipes you can throw pre-cooked meat into:
---
Secret #3: Pre-Cut Vegetables
Many people feel that vegetables should be dealt with fresh; but cut veggies last a surprisingly long time in the fridge. In restaurants, sturdy vegetables such as broccoli, mushrooms, eggplant, cauliflower, onions, etc. can be cut for the week.
Even leafy greens can be washed, dried and cut ahead of time; and with time you'll learn how long each of the veggies last once they're cut. You also don't need to put them in containers like you see on "inspirational meal prep Instagram"; you can put cut veggies back into the produce bag it came in (if it's clean).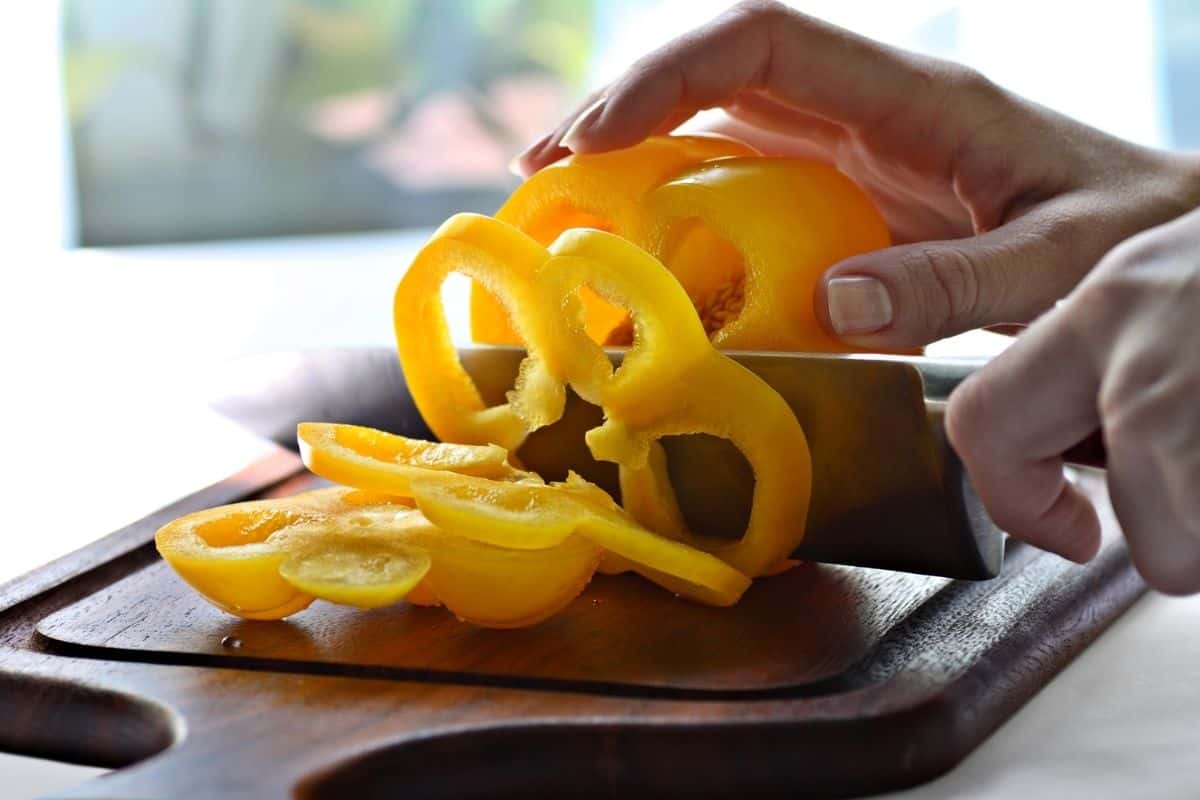 If you're new to this technique, the first time you open the fridge and realize that you do not have to peel the garlic or cut that broccoli ... the fridge angelic choir will sing!
Or you can buy pre-cut veggies from the store. Nothing wrong with that, but I don't personally do it because they're not always cut the way I want them. (And from my experience, pre-peeled garlic isn't nearly as aromatic.)
---
Dinner Parties: Guide to a Stress-Free Dinner Party
Dinner parties require a little bit more planning than a weeknight meal-prep, though the principles are the same. I used to work in catering, which basically meant one dinner party after another. Here are some techniques I learned, adapted for home cooks, so you can cook up a storm and STILL enjoy the party! Watch the video below to see the planning system I still use today, but here's the gist of it:
1. Plan your menu...sensibly
Write your menu down on a piece of paper. YES. Paper. Trust me this will help give you a bird's eye view of everything, and you can think about whether you've got a DOABLE menu. Think of the following:
Do the flavours balance each other out? Is it too rich? Too meat-heavy? Too light?
Do you actually have the kitchen space/equipment to do this? Do you have things that need to be in the oven at the same time at 2 different temperatures? That's just not gonna work!
Are there too many things that need to be served hot, and immediately? SO many people make this mistake! There's only 1 of you, and there is just NO way you can have 3 hot dishes done and out at the same time. So have a mix of things that'll still be good warm, room-temp, or even cold!
Is there something on the menu that can be done a few days ahead and re-heated? Curries and stews are great for this, and it'll be a life-saver.
2. Go shopping at least TWO days ahead.
Not the day before, and definitely NOT the morning of. ALL ingredients will last 2 days, even fresh herbs. I also like 2 days, and not more, because even raw meat will last 2 days without having to freeze them.
Grocery shopping for a big meal is exhausting, and you don't want to be doing this the same day you're prepping. This will also give you time to come up with a plan B if something is unavailable!
The only exception is fresh seafood, which I like to get the day of if possible.
3. Plan your prep.
You want to write out exactly what you are going to do the day before, and what you'll do the day of. If it's a big dinner party, I would even extend the prep to 2 days before.
I use a template to do this which makes it so much easier. You can see in the video how it's used, and I've made it available for download; links below the video.
4. Get a sous chef or a dishwasher.
This is probably my most ignored advice, but actually the most helpful one.
You will not believe how incredibly freeing it is to not have to stop to wash that spatula while you cook because it's dirty, or god forbid having to stop to take out the garbage because it's full!
STORY TIME: For my most recent cookbook photoshoot, I had to cook 10-12 dishes to be photographed in one day. It was intense. On my prep days, Adam (the show's cameraman) came to help me clear dishes as I was working. Trust me, when I turned around, exhausted from the cooking, and saw that the sink was empty, the angelic sink choir sang.
---