---
This recipe is inspired by one of my new favourite vegetables: Chayote squash! Crunchy, juicy, with a subtle sweetness that works well in so many applications especially in salad, which is a variation of the famous green papaya salad! It's got a refreshing crunchy feel of a slaw that will go great with any meal, especially richer ones. Enjoy and let me know how else you like to use chayote!
Watch The Full Video Tutorial!
All my recipes come with step-by-step video tutorials with extra tips not mentioned in the blog post, so make sure you watch the video below to ensure success - and if you enjoy the show, please consider subscribing to my YouTube channel. Thank you!
Print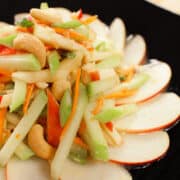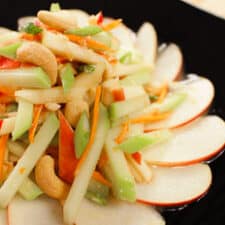 Chayote & Apple Salad ตำฟักแม้ว tum fakmeaw
---
2

-

3

cloves garlic

Thai chilies, to taste

1 Tbsp

palm sugar, finely chopped

1½ Tbsp

dried shrimp, roughly chopped if large

¼ cup

cashews, roasted, plus extra for garnish

3 Tbsp

lime juice

1½ Tbsp

fish sauce

1

 small tomato, cut into off-set wedges (see video)

½

a chayote, cut into sticks

1

firm, crunchy apple (preferably with red skin for a nice colour contrast with the chayote)

1

green onion, sliced on a bias

A handful julienned carrots
Note: Instead of a chayote, you can also use jicama or another crunchy mild vegetable like cucumber.
---
Instructions
Slice up half of the apple thinly lengthwise and arrange them on a serving plate as shown in the video (if there isn't enough to go around the plate, you can slice more). Brush the apples on the plate with a little of the lime juice. Cut the remaining apples into matchsticks and toss in a bit of the lime juice.
In a mortar and pestle, pound garlic and chilies into a rough paste. Add palm sugar and pound until it is moistened and starts to dissolve. Add dried shrimp and pound just to crush. Add ¼ cup of cashews and pound until broken into small pieces. Add the remaining lime juice, fish sauce and stir to mix. Add tomato slices and crush lightly with the pestle to release the juice. Add chayote, matchstick apples, carrots, and most of the green onions; toss with a spoon until combined. Taste and adjust seasoning.
Place the salad on top of the arranged apple (you may not be able to fit it all on top, so reserve the rest for refill) and sprinkle extra cashews and the remaining green onions on top. Enjoy!
---