---
This recipe is my mom's favourite way to eat spinach! Spinach cooked in a cheese sauce that is creamy yet not too heavy. Studded with bacon and topped with more cheese. This is so good on its own, as a side dish, or for breakfast with some toast!
Watch The Full Video Tutorial!
All my recipes come with step-by-step video tutorials with extra tips not mentioned in the blog post, so make sure you watch the video below to ensure success - and if you enjoy the show, please consider subscribing to my YouTube channel. Thank you!
Print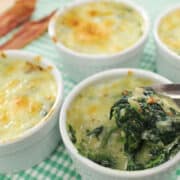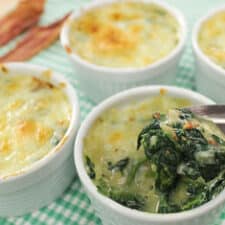 ---
3

slices bacon

2 Tbsp

butter (, unsalted)

½

an onion (, chopped)

4

cloves garlic

1

lb fresh baby spinach ((if not using baby spinach, roughly chop))
A pinch of salt

¼ tsp

ground nutmeg
Plenty of freshly ground black pepper

15 g

grated parmesan cheese ((about

¼ cup

) or more if you like)

1 Tbsp

all-purpose flour

¾ cup

whole milk
~1 cup grated mozzarella
---
Instructions
Cook bacon using your favourite method until thoroughly crispy. This is what I do: Line a large, microwave-safe plate with 2-3 layers of paper towel. Lay the bacon strips on the paper in a single layer and cover with another 2 layers of paper towel—this is so it doesn't make your microwave greasy! Microwave on high for 2 minutes. Then remove from microwave and flip the bacon (if you don't do this I find the bacon will stick to the paper towel). Microwave again for 2-3 minutes or until browned and crispy. The total time will vary depending on your microwave power and also how much bacon you are cooking. 3 slices in my 1580-watt microwave takes about 4.5 minutes.
Let the bacon cool down, then lightly crush them in a mortar and pestle until they're broken into small bits.
Melt butter in a LARGE pot or a wok, then add onion, garlic and a pinch of salt, and saute over medium low heat until soft and the onion begins to browns slightly.
Add pepper, nutmeg, and saute in the butter for 20 seconds. And all of the spinach to the pot—if your pot is not large enough just add as much as you can for now—and cook the spinach, turning them constantly until wilted, adding more spinach once you have room.
Once the spinach is wilted, keep cooking until there is no more liquid pooling at the bottom.
While you wait for the spinach to dry, stir a little milk into the flour to dissolve, then pour the slurry into the remaining milk. Once the spinach is dry, add the milk mixture to spinach, and cook for a few more minutes until thickened and luscious. Stir in parmesan cheese and bacon bits and stir until the cheese is melted.
Remove from heat, then taste and add more salt as needed, keeping in mind that you will have some cheese on top as well.
Preheat the broiler on high and place a rack on the top level.
Place the spinach in casserole dish or ramekins. Then using a pair of clean scissors, cut through the spinach a few times to shorten long pieces. Top with grated mozzarella and broil on high until golden brown on top
---