---
The ultimate love child of street food and comfort food. If you like pho, this is very close to it but with Thai flavours! Well balanced flavours with lots of textures going on...topped with crispy garlic...this ain't your mama's chicken noodle soup! Haha, that is definitely true for my mama, although my GRANDmama would make something like this often. This is probably the easiest noodle soup you could make at home, especially once you've mastered the art of Thai style chicken stock from this video!
Watch The Full Video Tutorial!
All my recipes come with step-by-step video tutorials with extra tips not mentioned in the blog post, so make sure you watch the video below to ensure success - and if you enjoy the show, please consider subscribing to my YouTube channel. Thank you!
Print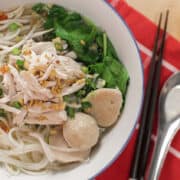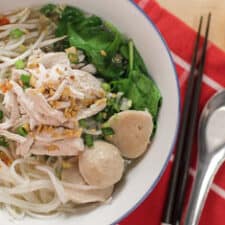 Thai Chicken Noodle Soup ก๋วยเตี๋ยวไก่ฉีก
---
Broth
Pulled Chicken
1

chicken breast, separate the tender, and cut the rest in half in way that divides the muscle fibers in half (see video if you don't know what I mean)

½ tsp

fish sauce

1 tsp

garlic oil (recipe below)
The Rest
1

head of garlic, chopped (for fried garlic)
About

¼ cup

of neutral flavoured oil (for fried garlic)

12

-

16

Asian style chicken meatballs, cut in half 

250g

dried rice noodles, small, soaked in room temp for

15

minutes or until completely pliable (or other noodles of your choice)

1

heaping cup of bean sprouts

Spinach, bok choy, water spinach or other mild, tender greens of your choice

Chili vinegar (recipe below), optional but recommended

Green onion and/or cilantro, chopped, optional

Tang chai (preserved salted cabbage), optional

Roasted chili flakes, optional
Chili Vinegar
Spicy chili peppers of your choice, you can use Thai chilies, serranos, jalapenos, or habaneros.

2

cloves garlic

White vinegar, ¼-½ cup as needed to blend
Variation: Tom Yum Style (amounts given are per bowl)
When you order noodle soups in Thailand you can order it "tom yum style" if you want extra spicy and tart broth, and it's super easy to do! Simply add the following ingredients to each of the soup bowls before you add the broth.
Roasted Chili flakes, to taste

1 Tbsp

lime juice

1

heaping tablespoon crushed roasted peanuts

½ tsp

sugar, or to taste
---
Instructions
Make the fried garlic: 
Chop 1 head of garlic and add to a small pot or pan.
Add just enough of the neutral flavoured oil to cover the garlic, then fry on low heat (gentle bubbling) until the garlic is golden and the bubbling has subsided. Be careful not to let the garlic get too brown or it will become bitter.
Strain the garlic from the oil. You can keep them separately in the fridge in an airtight container for several weeks.
Make the chili vinegar: 
(Watch this video @ 7:13 for a quick visual of this being made). 

Cut the chilies in half and place on a foil-lined baking sheet, cut side down.

Place the whole garlic cloves on the sheet as well and broil on "high" until the chilies are charred in spots and the garlic cloves are browned.

 

Transfer to a blender, add just enough of the vinegar to blend, and blend until there are no more big chunks. 
Make the broth:
Bring broth to a simmer, then add the soy sauce, fish sauce and sugar.
Poach the chicken:
Add the chicken breast to the simmering broth and turn the heat down to medium low or low, trying to maintain a "still simmer", which means there should be lots of steam coming off the top but very little to no bubbling. The tender should take 3-5 minutes, and the rest 7-10 minutes.

Once chicken is done, remove and let cool slightly. 

Pull chicken breast into strips, then sprinkle the fish sauce and toss well, then drizzle over some garlic oil and toss well. 
Assemble:
Bring a large pot of water to a full boil. Meanwhile, add the chicken balls to the broth and bring to a boil, then reduce heat to low, cover and keep it hot until ready to use. Right before you're ready to cook the noodles, turn the heat up again slightly to make sure it's nice and hot.

Divide the noodles into 4 equal portions, then place 1 serving of the noodles, bean sprouts and greens in a noodle strainer, or spider, or sieve...whatever you have that will work. Dunk it into the boiling water and wiggle it about for 5 seconds (this timing only applies if you're using small rice noodles, if using something else, adjust accordingly). Pull it out from the water and drain off as much water as you can, add to the noodle bowl. Repeat with the remaining portions.

Ladle the broth and some of the chicken balls over the noodles. You should need no more than 1 cup of broth per bowl given the amount of noodles.

Top with the pulled chicken then all of the condiments: fried garlic, garlic oil, chili vinegar, tang chai, green onion/cilantro and/or chili flakes. 

Enjoy!
---