---
The importance of a good stock cannot be overstated, especially when making a soup, stew, or sauces. I am so passionate about this I even wrote about it in my cookbook. And considering how easy it is (almost no effort, it just takes some time!) there should be no reason why you shouldn't! And when cooking Asian food there is an even bigger reason why you should make your own, and that is because Western style store-bought stock may have a flavour that doesn't work as well with that dish.
Storage tip: Trust me, make a bunch, freeze them in bags (in small amounts for convenient thawing), and you'll be glad you did! When freezing I like to divide it into no larger than 2-cup portions and put them into the medium size freezer bags. Lay them flat to freeze so you get a thin disk that is quick to thaw. Make sure to label the bag so you don't forget what it is!
When thawing, SOMETIMES the freezer bag may have a little hole in it especially if it's been in the freezer for a while, rubbing up against other frozen stuff, so make sure to place the stock bag inside a bowl or a pot to thaw, so if it does leak, the stock is still contained! And you can refreeze any stock you don't end up using without any problems.
Here are some recipes you can use this chicken stock for:
Tom Ka Gai - Coconut Galangal Chicken Soup
You can also do a search for "chicken stock" on the site and all relevant recipes will show up!
Watch The Full Video Tutorial!
All my recipes come with step-by-step video tutorials with extra tips not mentioned in the blog post, so make sure you watch the video below to ensure success - and if you enjoy the show, please consider subscribing to my YouTube channel. Thank you!
Print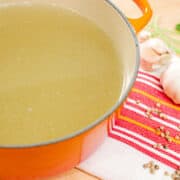 Thai-Style Chicken Stock น้ําสต๊อกไก่
---
2

lb chicken bones, remove any big chunks of fat you can see

3

L water

5

cloves garlic, smashed

4

inch section daikon, peeled, or use 1 onion instead (or use both like I did!)

2

-

3

cilantro roots, or about

8

stems

¼ tsp

white peppercorns, crushed just until broken

2

stalks of lemongrass, top half only, cut into chunks (optional, only if you've got some handy)
Note: When peeling daikon, peel a few layers off until the colour turns from bright, opaque white to a bit darker, more translucent white. I find the outer layer of the daikon a bit bitter. 
---
Instructions
Add bones to a big pot and cover with the water. Bring to a simmer over high heat, then once bubbling, reduce the heat to maintain a gentle simmer. Simmer bones for about 45 minutes.
Skim off scum, foam and fat that has floated to the top.
Add all the remaining ingredients then simmer for another hour.
Fish out all the bones and aromatics with a wire skimmer or strain the stock through a colander. The stock is now ready to use!
Tip: Waste not! There is often a lot of meat left on chicken bones, so if you want, you can pull off the meat from the bones after removing them from the stock, and you can throw it into soups, chili, stir-fries, fried rice...anything! The meat will be rather bland so make sure you add it to something that will have a lot of flavourful sauce added to it.
---