---
When you go to Thailand, sitting at a noodle shop on the street somewhere, please order yourself a tom yum noodle soup if they have it. This is not the "tom yum soup" that you know...the one with lemongrass, galangal, and shrimp. Nope, but this is something else that's equally delicious. You can technically turn any kind of regular noodle soups into "Tom Yum Style", and what that means is the vendor will add lime juice, roasted chili flakes, ground pork, lime juice, and roasted peanuts. In other words, it's AMPED UP noodle soup that is spicy and sour and all kinds of yum.
One caveat though, typically you can only turn your soup into a tom yum noodle soup IF the broth is a clear broth. There are other types of noodle soups where the broth is dark, rich and full of spices like boat noodles, and for those you can't order it tom yum. But if the broth is clear, you can be pretty sure you can.
BUT enough about ordering them in Thailand, chances are you're not there right now, and thankfully it's quite easy to make at home! As with all noodle soups, the hard part is gathering ingredients, and making the broth is a bit time consuming, but once all the components are there, it's super quick to put together!
Watch The Full Video Tutorial!
All my recipes come with step-by-step video tutorials with extra tips not mentioned in the blog post, so make sure you watch the video below to ensure success - and if you enjoy the show, please consider subscribing to my YouTube channel. Thank you!
Print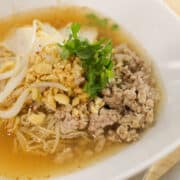 Tom Yum Noodle Soup ก๋วยเตี๋ยวต้มยำ (guay tiew tom yum)
---
For Basic Pork Stock:
2

lb pork bones (or substitute chicken bones)

5

 cloves garlic, crushed

5

cilantro roots

½ tsp

white peppercorns, cracked

top half of 2 lemongrass, cut into 2-inch pieces
For Ground Pork:
2 Tbsp

water

200 g

ground pork (or substitute ground chicken)

1 tsp

fish sauce
For Fried Garlic
5

cloves garlic, chopped

3

-

4

tablespoon vegetable oil
Assembly:
8

 tsp sugar (2 teaspoon per bowl)

8

 tsp fish sauce (2 teaspoon per bowl)

4

 Tbsp lime juice (1 tablespoon per bowl)

½ cup

 ground roasted peanuts

Roasted chili flakes or regular chili flakes, to taste (see note)

24 oz

(

720

ml) pork stock

100g

 Asian-style fish cakes, thinly sliced (store bought)

160

 g fresh egg noodles (thin) or another noodle of your choice (see note)

1 ½

 cup bean sprouts

½ cup

chopped cilantro
Chili vinegar (optional, see note)
---
Instructions
For the broth:
Wash bones in cold water, then add to a large stock pot. Cover with about 3 L of cold water and bring to a simmer; let simmer for about 45-60 mins (do not let boil). Skim off the scum that has floated to the top using a fine mesh skimmer or a ladle, then add garlic, cilantro roots, peppercorns, lemongrass. Simmer for 1 more hour then keep hot until ready to use.
For the ground pork:
Add water to a small pot, then bring to a boil over medium high heat. Add ground pork and fish sauce and cook, stirring constantly to break up big chunks, until the pork is fully cooked.
For fried garlic:
Add garlic to a small pot and add just enough vegetable oil to barely cover. Fry over medium low heat until the garlic is golden brown. Remove from heat and immediately transfer into a bowl to stop it from cooking further. (Note: For soups, you can keep the garlic in the oil, but if you want to keep the garlic crispy for sprinkling on other dishes, drain the garlic from the oil).
Assembly:
Blanch bean sprouts and fish cakes in boiling water for about 7-10 seconds just to heat them up, then remove from the water (keeping the water) and divide into serving bowls. Cook noodles in the boiling water until it's just slightly underdone, drain and divide between serving bowls. To each bowl, add 2 heaping tablespoon of the cooked ground pork.
In a pot or a large bowl, make the broth by combining sugar, fish sauce, lime juice, ground peanuts, chili flakes, and 720 ml of the pork stock (make sure it is very hot!); stir to dissolve the sugar and pour the broth over the noodles. Top each bowl with cilantro and fried garlic & garlic oil; serve immediately. After tasting, feel free to adjust the flavour with chili vinegar, more fish sauce, lime juice, sugar or chili flakes!
---
Notes
If making your own roasted chili flakes, bake small dried Thai chilies at 300 F for 5-7 minutes or until the chilies darken slightly and smell smoky. Grind in a coffee grinder until fine. For citrusy chili flakes, you can bake a few kaffir lime leaves along with the chilies and grind it all together.
Noodles: I recommend choosing thin noodles for this soup. The given weight is for fresh egg noodles only; if you use another kind of noodles, the weight will be different.
Chili vinegar is an optional condiment, but it is always served with noodle soups in Thailand. To make, simply chop some Thai chilies and cover with white vinegar and let sit for 15 minutes to infuse before using.
Some ingredients given in my video have different amounts from this list because I was assembling 1 bowl of noodles only. I mentioned in the video that street vendors mix the broth one bowl at a time because of different customer orders, but when making this at home, you can just mix a big batch of broth if everyone agrees on the flavour!