---
This is by far my favourite chocolate chip cookie recipe, and trust me, I've made MANY a chocolate chip cookies in my life. It's a relatively simple recipe, but there are a couple of tricks in here you'll want to know for extra yumminess. Make these and bring to your Christmas dinner, or whatever you're doing for this holiday season, and I promise you people will be in love!
How to Best Enjoy These Cookies
Seriously, these are best eaten shortly after they come out of the oven—when cookies have cooled enough so the edges are crispy, but the chocolate is still gooey and melty inside, and the middle is nice and chewy and even slightly warm...omg there is just nothing like it!! However, this doesn't mean you gotta make them right away, you can simply reheat a completely cooled cookie in a 350°F oven for 5-7 minutes, or until they soften. Then let them cool for about 10 minutes or until cool and firm enough to pick up, and you'll get the same effect. If making as a gift it's worth including reheating instructions with them cookies 🙂
What's With the "Aging" of Cookie Dough?
In the recipe I call for the dough to be "aged" for 2 days in the fridge. Sounds unnecessary right? Well, trust me, it's totally worth while. I was super skeptical of this when I first came across it, but I had to see it for myself so I baked up 3 batches, one right away, one at 1 day aged, and one at 2 days aged. And indeed the flavours of the cookie became noticeably better at 1 day, but significantly better after 2 days. What do I mean by better? More intense in every way. It's like all the flavours that are there in the cookies are amplified plus a more caramelly note to the dough. And the cookies brown more deeply.
How Does "Aging" of Dough Work?
How does it work? Well, to put it simply, when cookies bake and brown, protein and starch molecules breakdown and then rearrange into more flavourful versions of themselves. This process takes time to complete, so when you rest the dough, the proteins and starch get a chance to breakdown more, so that by the time they bake, the result is a more fully developed flavour. This is explained in more detail in this Serious Eats article here (you have to scroll down close to the end of the article to get to this part, but the whole article is very interesting and worth a read.)
Freezing the Cookie Dough
Yes, you can freeze these and bake up only as many as you want to eat, so you'll always be eating freshly baked cookies! Freeze the pre-portioned dough in a freezer bag, and get as much as out of them as you can. When you want to make them, lay out frozen cookie dough on a baking sheet and let sit at room temp for 30 minutes while you preheat the oven. Bake at 350°F, and you may need to bake them for a minute longer than normal. Important note: as you'll see the key to fully developed flavours in these cookies is 48 hours of aging in the fridge. You want to make sure you AGE THEM FIRST before freezing because once they freeze, the aging process will not continue.
Cookie Baking Temperatures: 350°F? or 375°F?
As I mentioned in the video, you can go about this one of two ways. The lower temp will give you wider spread, resulting in thinner crispier cookies, and the higher temp will give you less spread and thicker cookie. But I recommend that you first do a test batch at 350°F for 15 minutes and adjust from there, because there are many factors involved in how far a cookie spreads aside from oven temperature...so it's good to know where your starting point is. In the video I baked mine at 350°F.
*Extra Goodies for Patreon Members: In this episode's "Show After The Show" I troubleshoot some common cookie problems, so if something goes wrong, you know how to fix it! Click here to find out more about becoming a Patreon member!
Watch The Full Video Tutorial!
All my recipes come with step-by-step video tutorials with extra tips not mentioned in the blog post, so make sure you watch the video below to ensure success - and if you enjoy the show, please consider subscribing to my YouTube channel. Thank you!
Print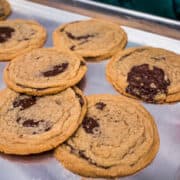 My Best Chocolate Chip Cookies
---
Description
This recipe is adapted from the recipe from the memoir The Measure of My Powers by Jackie Kai Ellis who is the founder of a local bakery in Vancouver.
---
285 g

unsalted butter, room temp

230 g

granulated sugar

285 g

dark brown sugar

2 tsp

vanilla extract

2

large eggs, room temp

470 g

all-purpose flour

1 ½ tsp

fine salt

1 ½ tsp

baking powder

1 ¼ tsp

baking soda

450g

(1lb) dark chocolate discs/wafers

Optional garnish: Large flakes of salt like fleur de sel or maldon salt
---
Instructions
Place flour and salt in a large mixing bowl. Sift baking powder and baking soda through a small sieve into the flour. (This is to prevent little clumps of baking soda that often form, especially in older baking soda, from remaining unmixed, and it also helps distribute them. I always do it for all my baking recipes.) Whisk everything together until well mixed.

In a stand mixer with a paddle attachment, or an electric hand-held mixer, mix butter on low speed briefly just to make sure it is fully softened. Add brown and white sugar and mix on medium speed until the colour is lightened and the mixture looks fluffy. Stopping to scrape the bowl and paddle once in between. 

Add vanilla and eggs, then mix on medium speed just until well incorporated, scraping down sides as needed.

Add dry ingredients in 4 instalments, mixing just for a few seconds each time until the flour is no longer sitting on top of the dough. This is to prevent the mixer from kicking up flour as it stirs. *If using a hand held mixer, switch to a wooden spoon and stir everything together, as this is quite a thick dough for the hand held.  
After the last addition of flour, mix very briefly just until there's a little bit of flour left unmixed. Do not mix fully yet at this point.
Add the chocolate discs then continue to mix on low speed just until all the flour is incorporated into the dough and the chocolate is evenly distributed.
Portion the dough out into 2-inch balls and place them onto a tray or a big container—I like using a #30 scoop for this and I fill it so it's just a bit rounded on the bottom. Separate each layer of dough with plastic wrap so they don't stick together. *If using chocolate discs, check to see if there are any large disc of chocolate exposed on the bottom of the ball, if so, push some dough to cover it. Because these chocolate discs are so large, if you have an big exposed piece sitting flat on the bottom it'll just melt and stick to the pan when baking and you'll lose chocolate!
Cover the dough tightly and refrigerate for 48 hours. Yes, trust me, this makes all the difference!
When ready to bake, preheat oven to 350°F. Let it preheat for at least 30 minutes. **If after your first batch you find that the cookies are spreading too much, increase the temp to 375°F and bake for 11-12 minutes.
Once the oven is ready, pull cookies out and put them on baking sheets lined with parchment paper or silicone mat. Make sure the cookies are at least 2 inches apart (you should only put 6 cookies on a half sheet pan). Bake in the middle rack for 15 mins until the edges are golden brown but the centre is still soft.
To bake frozen cookie dough:
The dough can be frozen in a freezer bag for up to 2 months. Let the dough sit on a baking sheet at room temp for at least 30 minutes. Meanwhile, preheat the oven to 350°F. You may need to let the cookies bake for a minute longer than usual. If you remember to plan ahead, you can also pull the dough out from the freezer and let them thaw in the fridge overnight, then bake as usual.
---
Notes
When baking cookies, always bake a test batch first with just 4-6 cookies. Everyone's ovens are different, so you may find that after you bake your first batch you need to adjust timing/temperature a bit. Or that you have a hot spot and need to rotate the pan halfway.

Remember to bring out your butter and eggs at least few hours before you start so they will come to room temp. Cut your butter into small pieces so it soften faster.

Don't trust the oven "preheat" alarm! I use an oven thermometer, and I find that many ovens say they're "ready" far before the center of the oven as reached temperature. Let it preheat for at least 30 minutes to be sure.

Get an oven thermometer to help calibrate your oven. Many ovens run a little hot or a little cool, so it's a useful thing to know 🙂 They're inexpensive and you can get one online!
Want to save this recipe? Pin it!