I use glass noodles all the time, but I never thought I could make it at home. Turns out, it is one of the easiest noodles to make, AND the process is so incredibly satisfying!
Fresh homemade glass noodles are more tender than dry ones, but they still have that subtle elasticity. They make the perfect cold salads, and in this post I will share how to make the noodles and a simple soy-sesame dressing that pairs perfectly with them.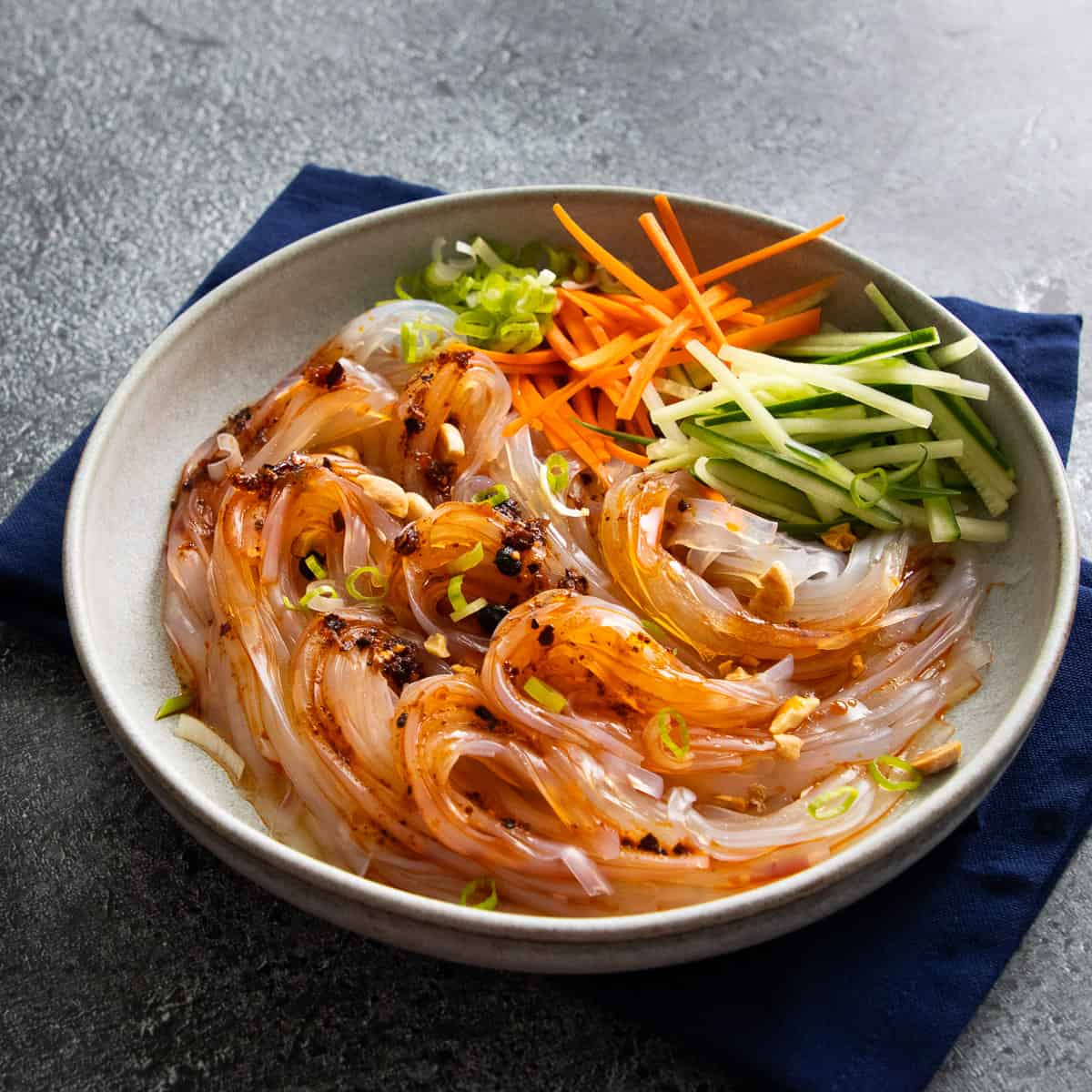 What are glass noodles?
"Glass noodles" is a term that's used to refer to any noodles that are clear; and there are a few varieties made from different things. In Thailand, they are made from mung bean starch, (which is what we're using today), but Korean glass noodles are made from sweet potato starch. Some brands will mix in other starches such as pea starch to cut costs.
In my recipes when I refer to glass noodles I am talking about woonsen, which are the very thin Thai noodles made from mung bean starch; and you can buy them dry at most Asian grocery stores. What we're making today is made from exactly the same ingredients, but using a different process. These fresh noodles are also called "mung bean jelly noodles."
Korean and Chinese Mung Bean Jelly Dishes
I first came upon the idea of homemade glass noodles not from a noodle recipe, but from a Korean mung bean jelly appetizer in Maangchi's cookbook. I was intrigued because these are cubes of jelly made from mung bean starch just like glass noodles.
Sometime later I walked by a Uyghur restaurant in my neighborhood, and they had a "mung bean jelly noodles salad" on their sandwich board. This intrigued me further and sent me researching, which is when I discovered a Chinese dish called liang fen. The process of making these noodles looked so cool yet so easy that I just HAD to try it.
The recipe I ended up landing on is different from the aforementioned dishes, particularly in regard to the starch-to-water ratio (which is really all there is to this recipe!). I used a higher starch ratio that I think yielded the perfect texture for the size of the noodles that I ended up with.
Ingredients for Homemade Glass Noodles
You need only two ingredients to make homemade glass noodles (mung bean jelly noodles), but you will need a couple of tools.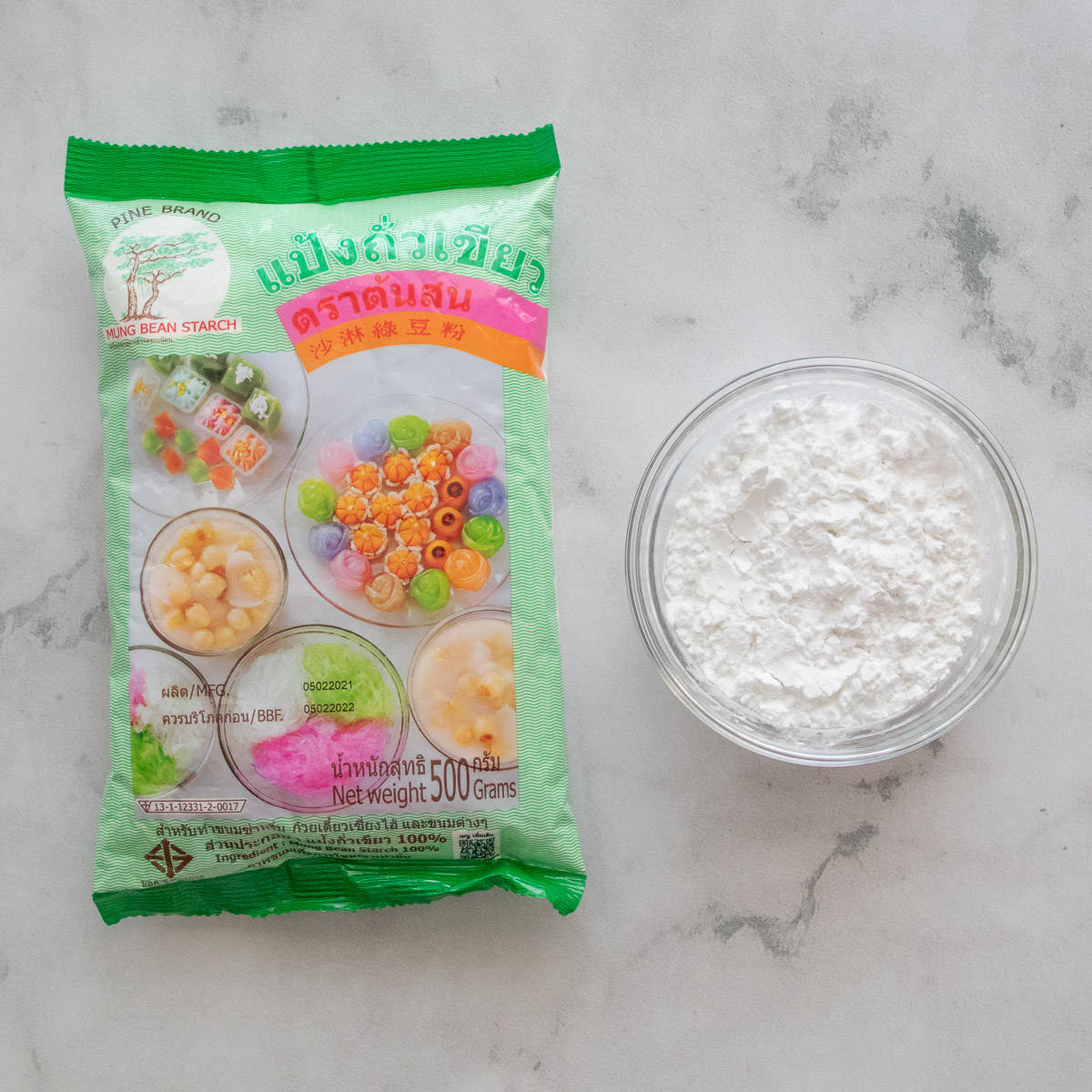 Mung bean starch. I am using the classic Thai brand of mung bean starch, Pine Brand, who sponsored this post. If you cannot find it, Korean grocery stores also carry mung bean starch, it is called Cheongpomuk-garu. Well-stocked Southeast Asian markets and Chinese markets are also worth checking out.
Water. That's it!
A couple of tools you'll need:
Large hole grater. I loooove this Microplane extra coarse grater (pic below) which worked perfectly and yielded the perfect size noodle. This is also my go-to grater for everything else - cheese, zucchini, carrots, etc. - because I find it to be easier to handle than a box grater and takes up wayyyy less room!
Note: They do sell liang fen graters online made specifically for this job, but they do have bigger holes and will create bigger noodles. I have not personally tried using it.
A rectangular mold. You will need a heat resistant container that is no larger than 8x8 inches. A glass food storage container or a loaf pan is perfect.
Ingredients for the Glass Noodle Salad
Here are all the ingredients you'll need for the salad; for the amounts, see the recipe card below.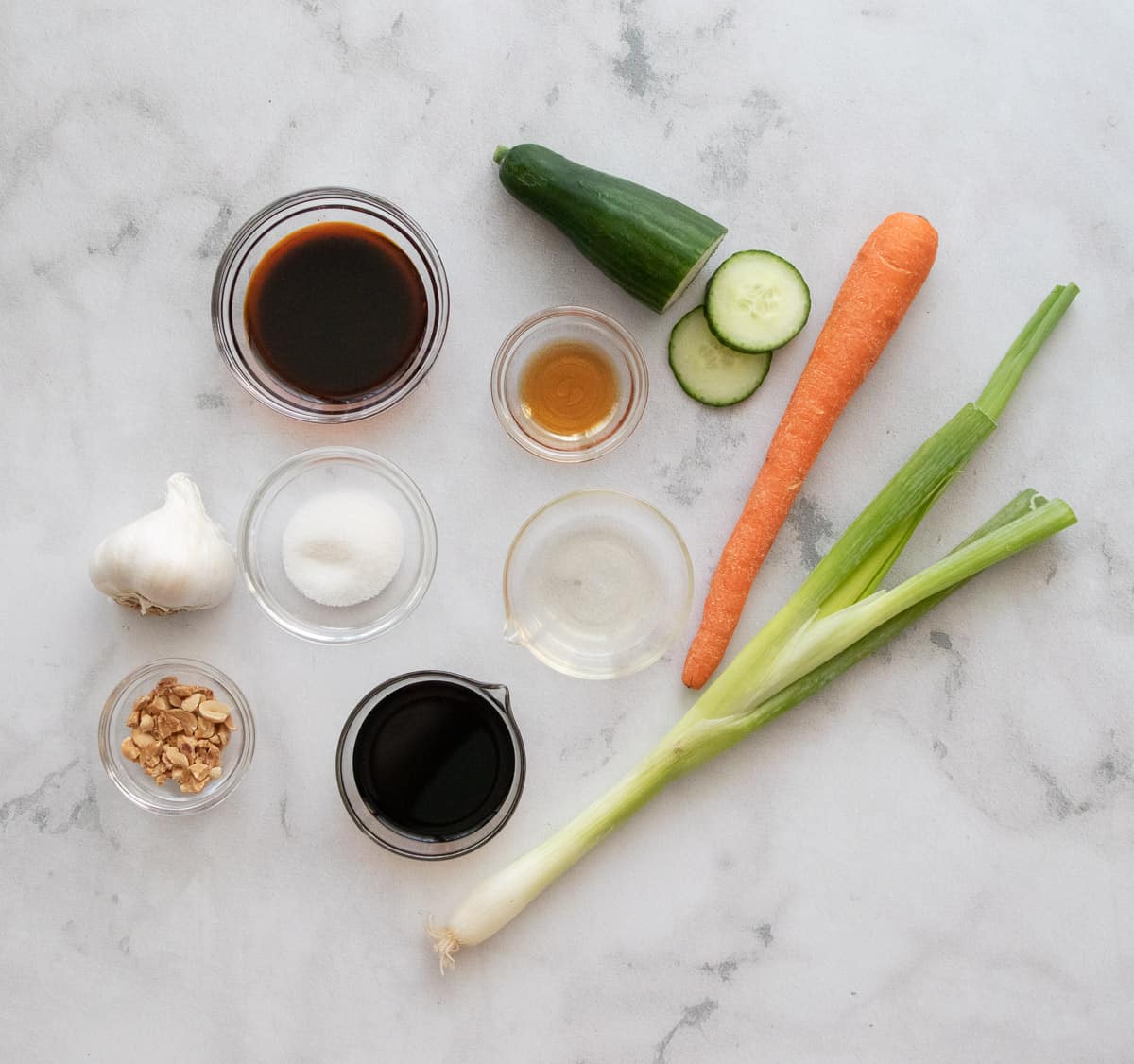 Garlic
Soy sauce, I used Japanese soy sauce for this one.
Sugar
Rice vinegar
Toasted sesame oil
Green onion, you can also add chopped cilantro, mint, or other fresh herbs.
Chili crisp or chili oil. This really makes the dish. A Sichuan style chili crisp such as lao gan ma is great for this and is what I use.
Roasted peanuts, chopped, or sub toasted sesame seeds (optional)
English cucumber
Carrot, feel free to sub other crunchy veg.
How to Make Fresh Glass Noodles
Pour about ⅔ of the water into a medium pot and bring to almost a simmer over high heat. Meanwhile, stir the mung bean starch together with the rest of the water.
Once the water steams and bubbles start to form (but it is not simmering) reduce the heat to medium high, then give the starch slurry a stir and pour it into the pot while stirring.
Keep stirring CONSTANTLY until the thickens into a white paste.
Once it turns white, keep stirring until the paste turns translucent. Once it is no longer changing and everything looks evenly translucent, remove from heat.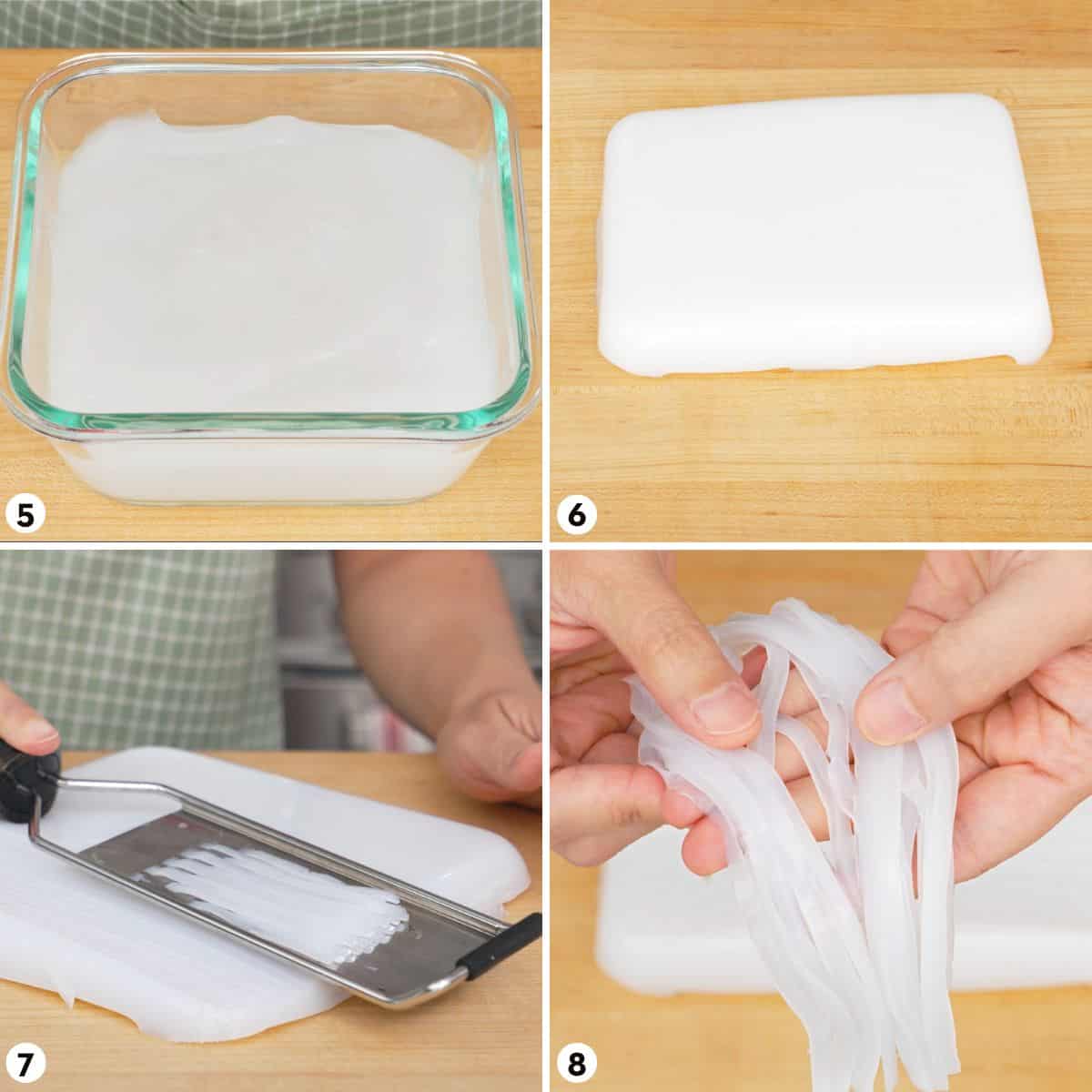 Pour into the prepared mold and let cool to room temp, then chill for at least 3 hours and ideally overnight where it will solidify and firm up.
Pop the chilled jelly out onto a clean work surface.
Use a grater to grate the jelly, creating noodles, by applying even pressure as you pull the grater towards you.
There're your noodles! These are ready to use now, but for a more elastic texture and clarity I recommend blanching them.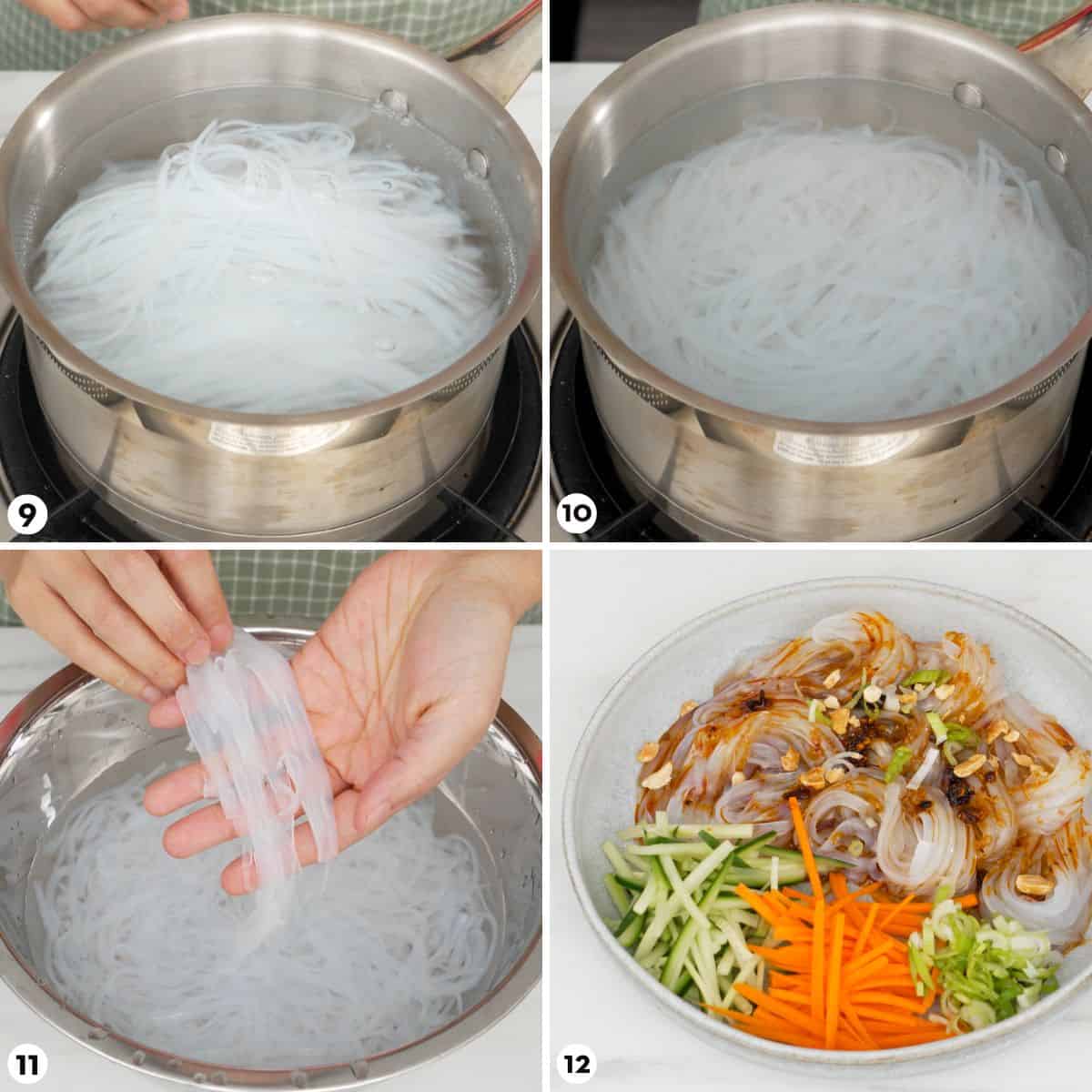 Blanch the noodles in boiling water.
Once the noodles turn translucent (about 10 seconds) they are done.
Drain and cool them by running them under cold tap water. They are now ready to use!
Combine the ingredients for the salad dressing together, pour over plated noodles and place the veggies on the side. Mix it up before you eat!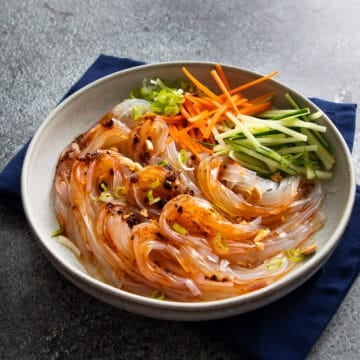 Homemade Glass Noodles with Sesame Soy Dressing
Easy homemade glass noodles (mung bean jelly noodles) are tender, slightly elastic and so refreshing. Tossed in a sesame soy dressing, it is the perfect side to a summer meal, or as a light healthy lunch! Gluten free and vegan.
Equipment
Glass or metal rectangular mold, no larger than about 8x8 inches
Ingredients
Homemade Glass Noodles (mung bean jelly noodles)
*Makes enough for about 3x of the salad recipe below (6 servings total)
⅔

cup

mung bean starch

3

cups

water
The Salad (serves 2)
1

clove

garlic

2

Tablespoons

soy sauce

2

teaspoons

sugar

2

teaspoons

rice vinegar

1

teaspoon

toasted sesame oil

,

add more for a stronger sesame flavour

9

oz

homemade glass noodles

,

(mung bean jelly noodles)

1

green onion

,

chopped

2

teaspoons

chili crisp

,

such as lao gan ma

2

Tablespoons

chopped roasted peanuts

,

or toasted sesame seeds

3-

inch

section of an English cucumber

,

julienned

2-

inch

section of a carrot

,

julienned
Check Out Ingredients and Kitchen Tools I Use
All my recipes come with step-by-step video tutorials with extra tips not mentioned in the blog post, so make sure you watch the video to ensure success. If you enjoy them, consider subscribing to the YouTube Channel to not miss an episode. Thank you!
Subscribe to my YouTube Channel
Instructions
For the noodles:
Have the mold ready, which should be a rectangular, heat-resistant container such as a glass food storage container or loaf pan. Size should not be any bigger than 8x8 inches to allow for enough thickness.

Add roughly two thirds of the water to a medium pot and bring to almost a simmer over high heat. Meanwhile combine the remaining water with the mung bean starch and stir until there are no more lumps.

3 cups water,

⅔ cup mung bean starch

Once the water is steaming and bubbles start forming at the bottom (but it's not simmering or boiling), reduce the heat to medium high.

Give the starch mixture a stir once more and pour it into the water WHILE STIRRING with a rubber spatula. Keep stirring constantly until the mixture is thick and uniformly translucent. (I highly recommend watching the video to see what this looks like.) This process should take only 2-3 minutes, so do not walk away or stop stirring. Remove from heat and immediately pour into the prepared container, smoothing out the top.

Let cool at room temperature for about 2 hours, then refrigerate for at least 3 hours (or ideally overnight) until the jelly is completely chilled and has become cloudy. (Refrigerating the jelly makes it firmer and much easier to cut/grate the jelly into noodles.)

Unmold the jelly by loosening the sides with a knife (if needed), then turn the mold over and the jelly should just pop out easily.
To cut the noodles (this is the fun part!):
Using a grater: Press the grater gently onto the top of the jelly and pull it towards you, maintaining firm pressure on the jelly as you grate so the noodles are not too thin.

Place the noodles into a bowl and repeat the grating. Once you reach the end of the block, you will find it more difficult to grate, so at this point I switch to a knife and cut them by hand.

Using a knife: Slice the jelly into sheets as thinly as you; aim for somewhere between 1/16 - ⅛ of an inch. Then cut each sheet into noodles about ¼ inch wide (or whatever width you like).

Serving tips: Once you have the noodles you can use them right away, but for a more elastic texture and clearer noodles, I recommend blanching them in boiling hot water for about 10 seconds until the noodles are translucent again. Drain and rinse them under cold tap water until they are completely cooled.
To make the salad:
Make the dressing by grating the garlic with a microplane into a small mixing bowl; or alternatively press or finely mince it. Add the soy sauce, rice vinegar, sugar and sesame oil and stir until the sugar is dissolved.

1 clove garlic,

2 Tablespoons soy sauce,

2 teaspoons sugar,

2 teaspoons rice vinegar,

1 teaspoon toasted sesame oil

Plate the noodles into a shallow serving bowl. (For a nicer presentation, see video for how to make pretty little noodle bundles.) Drizzle the dressing evenly over the noodles, then top with the chili crisp, green onions and roasted peanuts or sesame seeds. Place the cucumber and carrots on the side and serve. Mix everything together before enjoying!

9 oz homemade glass noodles,

1 green onion,

2 teaspoons chili crisp,

2 Tablespoons chopped roasted peanuts,

2- inch section of a carrot,

3- inch section of an English cucumber

*Storage: Leftover salad will keep for a day in the fridge, but the noodles will firm up slightly and become cloudy again, and the noodles will also give off some water as they sit, diluting the dressing. So it is best to not keep any leftovers, but if you must, it will still taste "fine" after 1 day in the fridge.It is best to grate/cut only as much noodles as you will eat; but if you do have leftovers, they will keep in the fridge for a few days, but they will give off water as they sit and become firmer. Leaving it in a block will minimize water loss.
Watch my videos AD-FREE and get bonus content on Patreon!
Tried this recipe? Share a pic!
Tag @hotthaikitchen on Instagram and Twitter!