Nam tok น้ำตก is a grilled meat Thai salad that hails from the northeast of Thailand. This version made with beef is a "steak salad," but this isn't your average bowl of leafy greens with a sliced steak on top. Nam tok is made almost entirely of steak; no vegetables, just lots of fresh herbs and a spicy, tart dressing. Served with sticky rice, it's one of the best dishes the Northeast has to offer, and is so easy to make at home!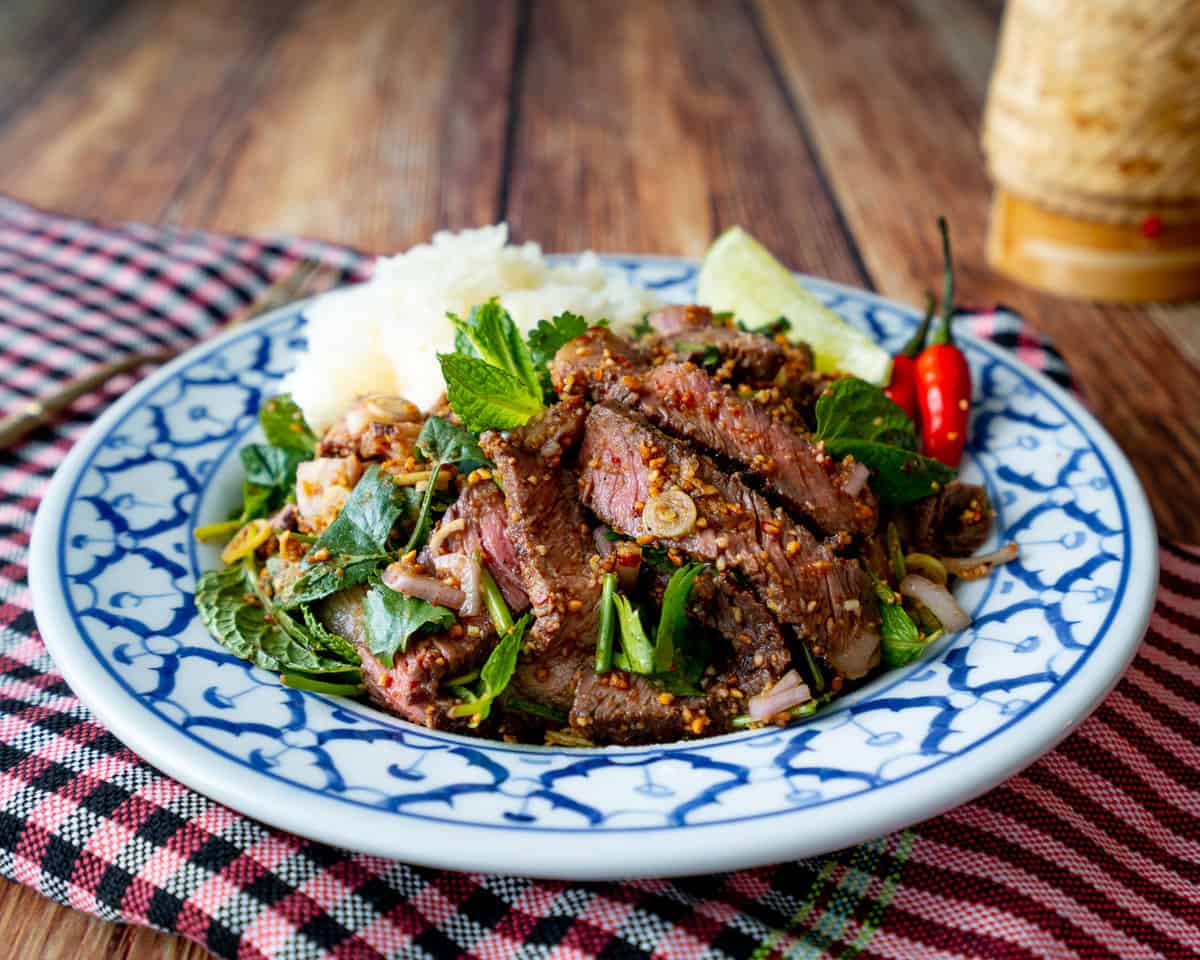 What is "Nam Tok"?
Nam tok literally means "falling water" or "waterfall," so you might have seen this steak called "waterfall salad" on some menus. The name refers to the dripping (i.e., falling) of meat juices as it's being grilled; so the one requirement for this dish is that the meat has to be grilled. There are two common types of nam tok: one made with pork, usually grilled pork jowl, and the other made with beef.
Ingredients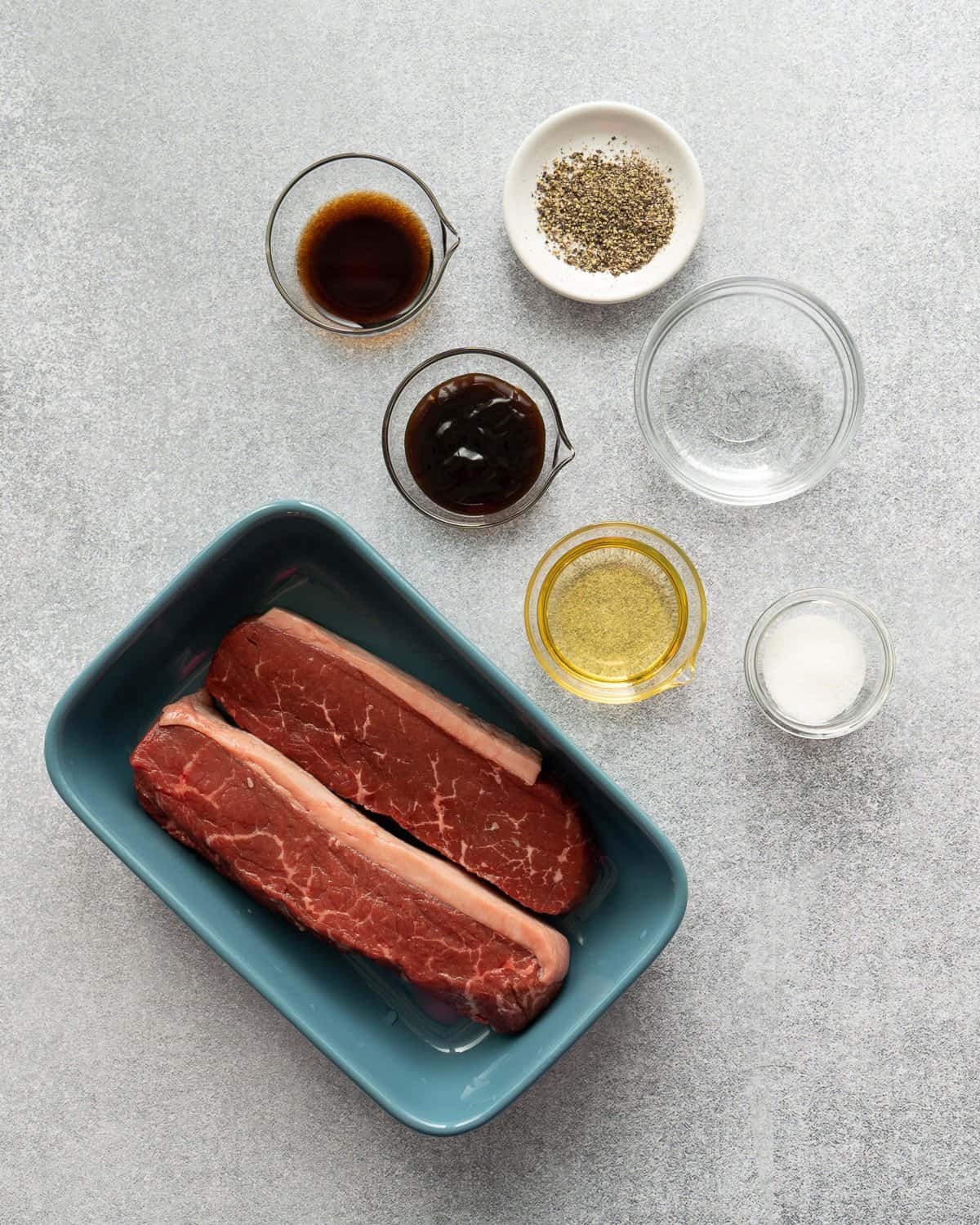 Ingredients for the Steak Marinade
This marinade is a simplified version of my ultimate steak marinade recipe because the steaks are going to get even more flavour from the salad.
Grilling steaks. Pictured are picanha steaks, also known as "top sirloin cap," but any other grilling steaks can be used. In Thailand, tri-tip is quite common.
Oyster sauce. Check out this post for how to choose the best oyster sauce.
Soy sauce. Watch this video for a soy sauce 101.
Sugar
Water
Neutral oil
Black pepper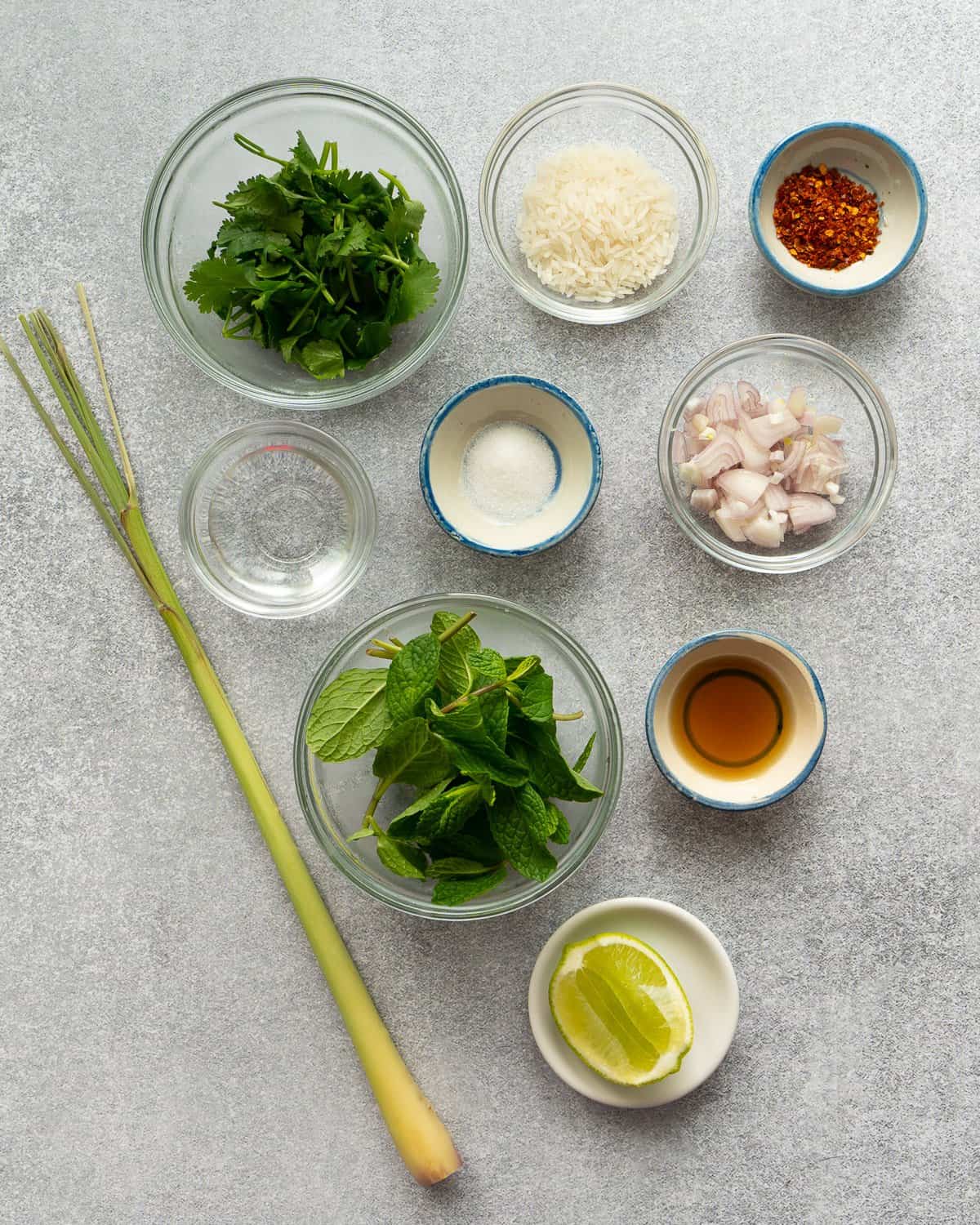 Ingredients for the Salad
Uncooked jasmine or glutinous rice for making toasted rice powder
Makrut lime leaf (optional, not pictured). This is for adding fragrance to the toasted rice powder.
Cilantro
Mint
Shallots
Lemongrass
Shallots
Sawtooth coriander (optional, not pictured)
Roasted chili flakes - You can simply toast some plain chili flakes in a dry skillet over low heat for just a minute or so, until it darkens slightly and smells smoky. Or toast whole chilies, then grind.
Fish sauce. Learn more about choosing the best fish sauce here.
Lime juice
Water
Sugar
Thai sticky rice, for serving. This salad is always paired with sticky rice and I highly recommend it. Check out this post for how to make sticky rice.
How to Make Thai Grilled Steak Salad
Here's a bird's eye view of how to make neua yang nam tok, but be sure to watch the video tutorial first to ensure success!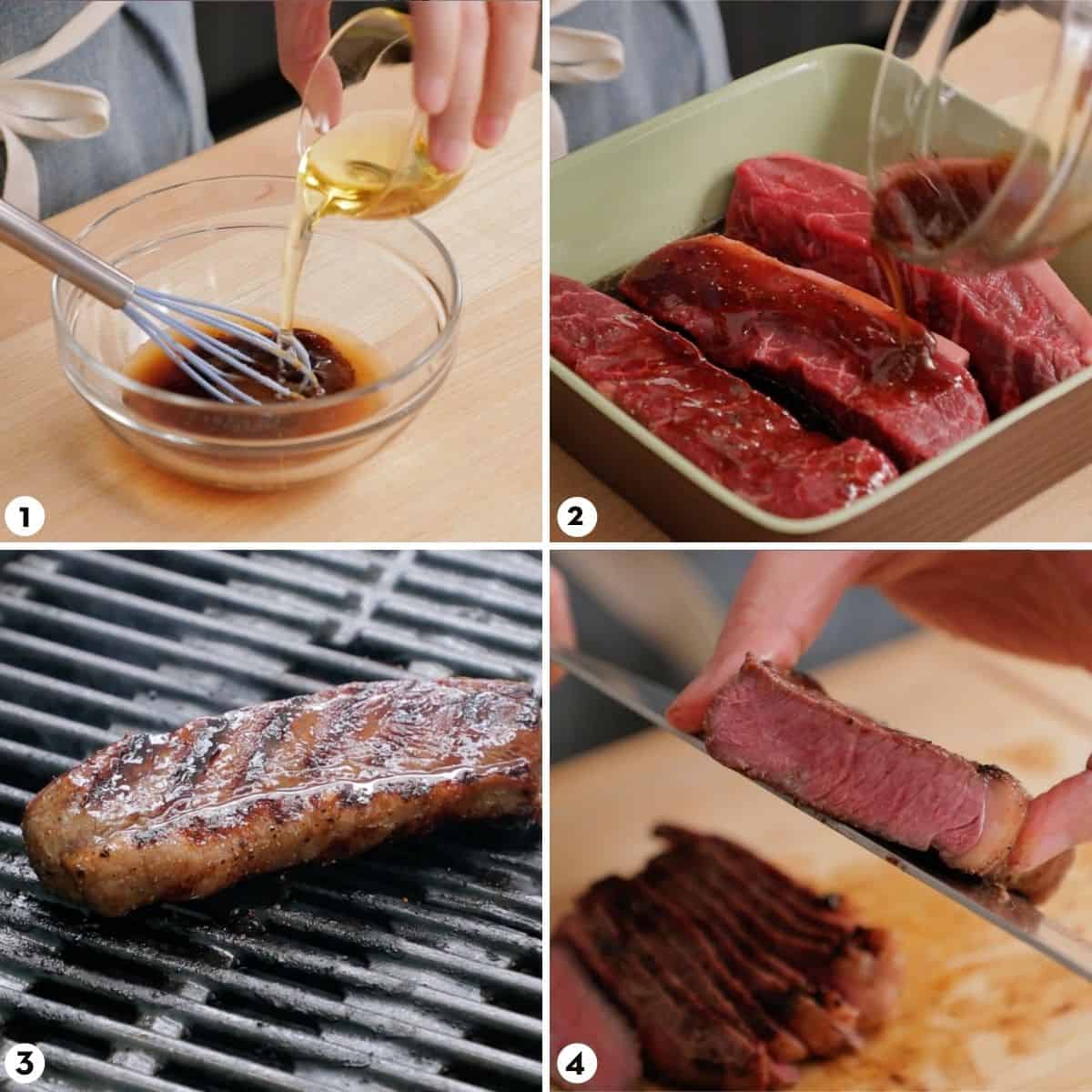 Make the marinade by combining all ingredients.
Marinade steaks for at least 2 hours.
Grill the steaks, flipping at least twice for more even cooking.
I recommend medium to medium-well doneness for this recipe. Rare steaks don't hold up as well in this salad.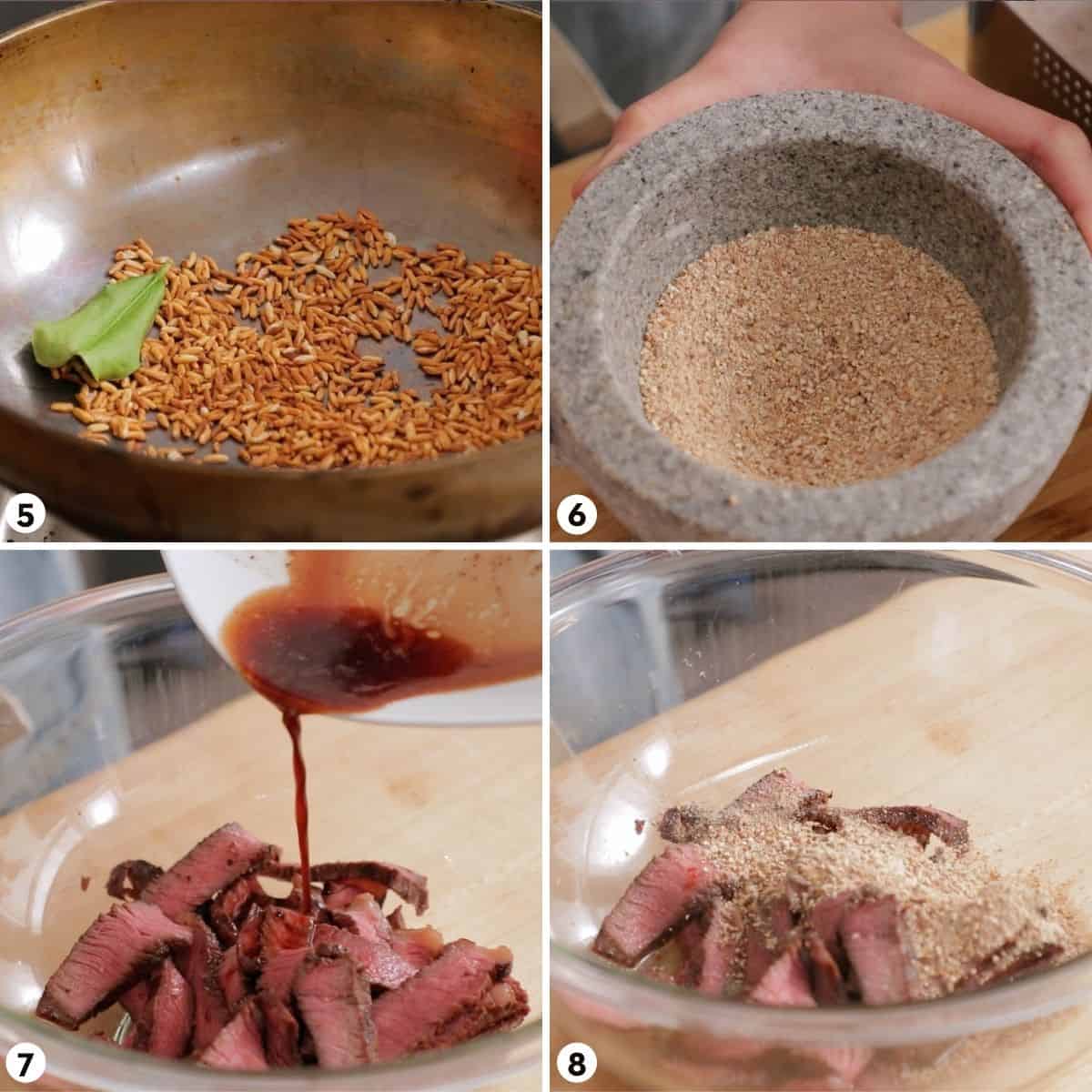 Toast the rice with a makrut lime leaf in a dry skillet or wok until browned.
Grind into a powder.
Slice the steak and place into a mixing bowl, adding any juices collected during resting.
Add all dressing ingredients and the toasted rice powder and toss.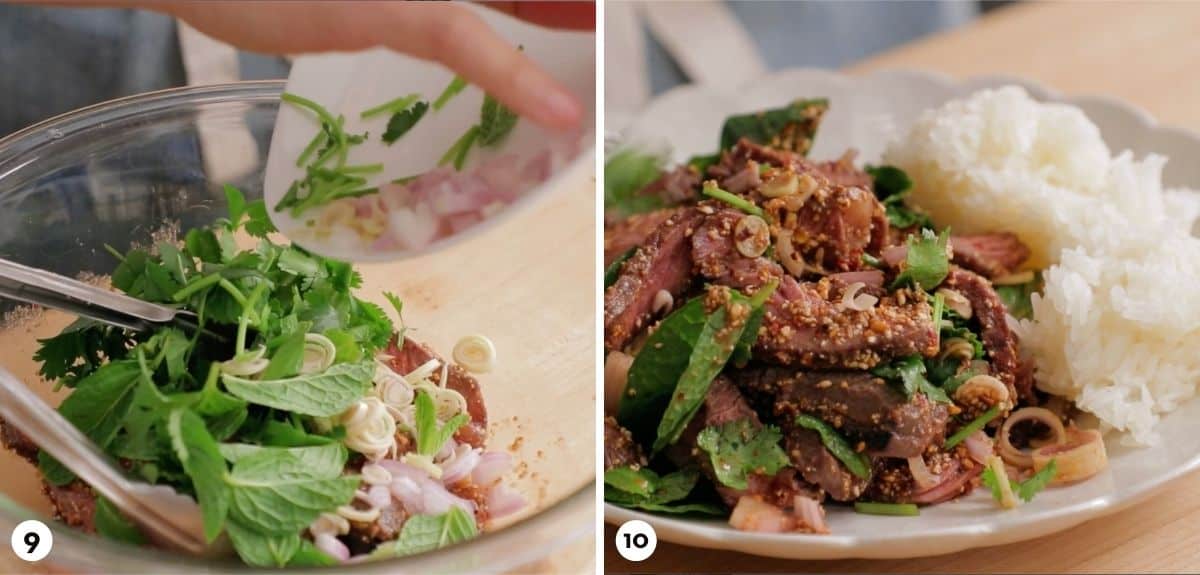 Toss in all the fresh herbs.
Serve immediately with sticky rice!
PS. If you love beef, also try this shaking beef recipe that's even quicker to make than this salad!
A Tool for Navigating Beef Cuts
There are sooo many cuts of beef on the market, and it's impossible to remember which cut is good for what. If you've ever wanted to try a new cut but not sure what to do with it, check this out. Canada Beef, our sponsor for this post, has launched the Canadian Beef Information Gateway which breaks down over 70 cuts of beef, complete with info on how to best cook them and new recipes you can try out.
Check it out and you'll be amazed! Access the Gateway here or scan this QR code below!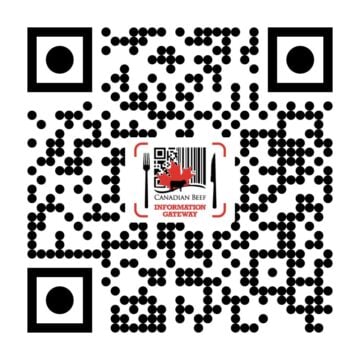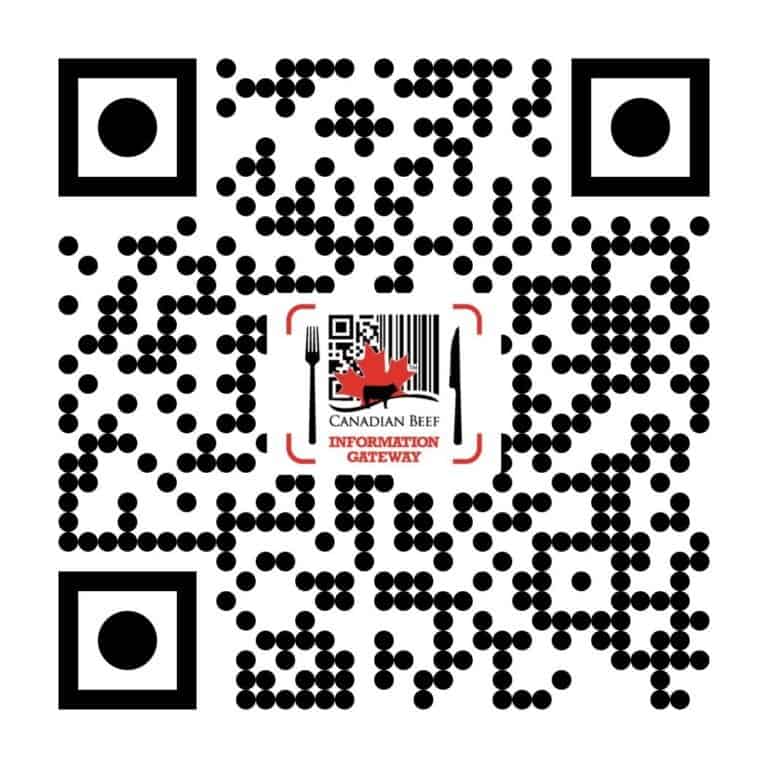 Frequently Asked Questions
What is the best cut of steak for a steak salad?
There are a lot of options depending on your budget. I'm using picanha for this, which can be hard to find, so any of the following would be a good choice: tri-tip, top sirloin, hanger, bavette (flap), skirt, flank, or flat iron. Higher amounts of marbling (fat) is better, so keep that in mind when you're looking at all the options.
Can I make this salad in advance?
You can prep some of the components in advance, but I recommend tossing the salad right before serving as the toasted rice powder will absorb all the moisture from the dressing and the herbs will wilt. You can do any of the following ahead of time:

- Marinate the steaks up to one day ahead. Marinated steaks can also be frozen.
- Cook the steaks up to a few days ahead. Keep it in the fridge and re-grill to heat it up before serving.
- Toast the rice. Keep it in a sealed container and grind when ready to use.
- Up to a few hours before serving; chop the herbs and combine the seasonings for the dressing.
Can I make this with another meat?
Yes! Pork is another common meat used for nam tok, and you can use the recipe for Thai BBQ pork jowl here for the marinade. Other meats are not common for this dish in Thailand, but you can certainly try it with chicken (dark meat recommended) or lamb.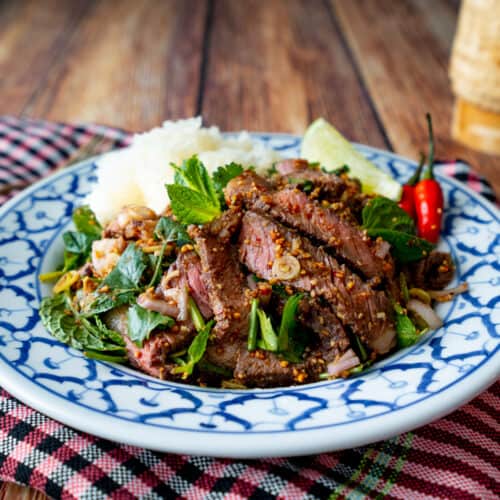 Thai Grilled Steak Salad - Neua Yang Nam Tok
A steak salad recipe like you've never seen before. Marinated grilled steaks are thinly sliced and tossed with an abundance of Thai herbs and a spicy tart dressing. A classic dish of Northeastern Thailand.
Ingredients
For the Marinated Steak
8

oz

picanha steak, tri-tip, or another grilling steak

,

about 1-inch thick

¼

teaspoon

ground black pepper

1

teaspoon

soy sauce

1 ½

teaspoons

oyster sauce

¾

teaspoon

sugar

½

tablespoon

water

2

teaspoons

neutral oil
For the Salad
2

tablespoons

uncooked jasmine or Thai glutinous rice

1

makrut lime leaf

,

optional

2

teaspoons

fish sauce

2

tablespoons

water or unsalted chicken or beef stock

1

tablespoon

fresh lime juice

½

teaspoon

sugar

½

teaspoon

roasted chili flakes

,

or to taste

1

small stalk

lemongrass,

bottom half only, thinly sliced

3

tablespoons

thinly sliced shallots

½

cup

mint leaves

,

loosely packed

½

cup

chopped cilantro

2-3

leaves

sawtooth coriander

,

chopped, optional

Thai sticky rice,

for serving
Check Out Ingredients and Kitchen Tools I Use
All my recipes come with step-by-step video tutorials with extra tips not mentioned in the blog post, so make sure you watch the video to ensure success. If you enjoy them, consider subscribing to the YouTube Channel to not miss an episode. Thank you!
Subscribe to my YouTube Channel
Instructions
Combine all steak marinade ingredients and stir until the sugar is dissolved. Place the steak in a sealable plastic bag or in a container that isn't much bigger than the size of the steak, then add the marinade and toss to coat the steak all over. Marinate for at least 2 hours and up to overnight, turning the steak at least once in between to redistribute the marinade. If marinating for more than 2 hours, put the steak in the fridge.

8 oz picanha steak, tri-tip, or another grilling steak,

¼ teaspoon ground black pepper,

1 teaspoon soy sauce,

1 ½ teaspoons oyster sauce,

¾ teaspoon sugar,

½ tablespoon water,

2 teaspoons neutral oil

If refrigerated, bring the steak out to room temp at least 30 minutes before grilling. Grill in a closed preheated barbecue over medium-high heat (400°F/200°C) for 6 to 8 minutes for a ¾ inch (2 cm) thick steak for medium doneness. Turn the steak at least twice, or every 1.5 minutes or so, for more even cooking.

*For this dish I prefer medium doneness, so I pull it off the grill at an internal temperature of 135°F, and let it rest until the final temperature reaches 145°F. Insert an instant-read thermometer sideways into the center of the steak for an accurate reading. Allow the steak to rest on a plate while you prep the rest of the salad, keeping all the liquid that pools on the plate.

While the steak rests, make the toasted rice powder by adding the rice and the makrut lime leaf, (if using), to a dry skillet and cook over high heat, stirring constantly until the rice has developed a dark brown colour, or about 3-4 minutes. Pour the rice and lime leaf onto a plate to cool slightly, then grind into a powder using a mortar and pestle or a coffee grinder.

2 tablespoons uncooked jasmine or Thai glutinous rice,

1 makrut lime leaf

Once the steak has rested for at least 5 minutes, thinly slice it into bite-sized pieces, then add to a medium mixing bowl along with any of the collected steak juices. Add 1 tablespoon (15 ml) of the water or stock, plus the fish sauce, lime juice, sugar, chili flakes, and the toasted rice powder; toss to mix well.

2 teaspoons fish sauce,

2 tablespoons water or unsalted chicken or beef stock,

1 tablespoon fresh lime juice,

½ teaspoon sugar,

½ teaspoon roasted chili flakes

Add the lemongrass, shallots, mint, cilantro, and sawtooth coriander (if using) and toss to mix. Taste, and if the flavour feels a little too salty, add the remaining water or stock to dilute. Serve immediately with Thai sticky rice.

1 small stalk lemongrass,

3 tablespoons thinly sliced shallots,

½ cup mint leaves,

½ cup chopped cilantro,

2-3 leaves sawtooth coriander,

Thai sticky rice
Watch my videos AD-FREE and get bonus content on Patreon!
Nutrition
Calories:
326
kcal
Carbohydrates:
20
g
Protein:
25
g
Fat:
16
g
Saturated Fat:
7
g
Polyunsaturated Fat:
1
g
Monounsaturated Fat:
8
g
Cholesterol:
69
mg
Sodium:
585
mg
Potassium:
522
mg
Fiber:
2
g
Sugar:
3
g
Vitamin A:
509
IU
Vitamin C:
7
mg
Calcium:
56
mg
Iron:
4
mg
Tried this recipe? Share a pic!
Tag @hotthaikitchen on Instagram and Twitter!
Love to Grill? Check out these recipes!