---
This is my favourite chocolate cake recipe which I've been making for 10 years! It's super moist and chocolatey, and I also made this cake using 50% whole wheat flour and a ton of zucchini (to make up for the white chocolate cream cheese frosting!). It's also very easy to make, and it is a forgiving batter that is essentially foolproof, not to mention beautiful to serve once you frost it and sprinkle it with some pistachios!
Watch The Full Video Tutorial!
All my recipes come with step-by-step video tutorials with extra tips not mentioned in the blog post, so make sure you watch the video below to ensure success - and if you enjoy the show, please consider subscribing to my YouTube channel. Thank you!
Print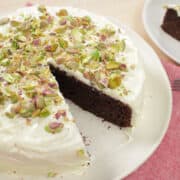 Chocolate Zucchini Cake (my fave chocolate cake!)
---
Chocolate Zucchini Cake
½ cup

(65 g) All-purpose flour (see note)

½ cup

(65 g) whole wheat flour

½ cup

(45 g) cocoa powder

¼ tsp

salt

¼ tsp

baking soda

½ tsp

baking powder

Optional: 1 teaspoon cinnamon (I don't usually add it in my cake, but you can if you like the combination of chocolate and cinnamon)

¾ cup

(170 g) brown sugar, dark or light, packed

½ cup

(120 ml) neutral-flavoured oil such as vegetable oil (I used avocado oil in mine)

2

eggs

1 tsp

vanilla extract

⅓ cup

(80 ml) plain yogurt (can be fat-free or full-fat) 

1 cup

(150 g) zucchini, grated (if measuring by volume, pack the zucchini gently to make sure there are no big gaps in the measuring cup, but don't pack it tightly)

½ cup

chocolate chips
Note: If measuring dry ingredients by volume, spoon flour into a measuring cup until over-full without tapping or shaking the cup, then level it off with a straight edge. 
White Chocolate Cream Cheese Frosting
This recipe frosts exactly one 8-inch round cake with almost none leftover.
4 oz

 (115 g) cream cheese, let sit at room temp for

30

minutes (use the regular, block type, not the spreadable kind)

4 Tbsp

butter (56 g), unsalted, let sit at room temp for

30

minutes

½ tsp

vanilla extract

1.5 oz

(45 g) white chocolate (not white chocolate chips)

⅓ cup

(45 g) icing sugar
---
Instructions
Preheat the oven to 350°F (180°C).
Grease 1 round 8-inch cake pan with  a little oil or butter, then line the bottom with a piece of parchment paper (see video for how to easily cut out a round piece of parchment paper for the bottom of your pan).
In a large mixing bowl, combine all-purpose flour, whole wheat flour and salt. Sift over the cocoa powder, baking soda, and baking powder. Whisk to combine thoroughly. 
With an electric mixer or a whisk, beat together brown sugar and oil until well combined, pushing on any lumps of sugar to break them apart. Beat in eggs, one at a time, until lightened in colour and looks foamy. Beat in yogurt and vanilla just until mixed. Stir in the zucchini with a rubber spatula or wooden spoon.
Make a well in the dry ingredients, pour in the liquid mixture and stir the batter. Once the batter is almost well combined, but not quite, stop and scrape off any dry flour or gunk that might be stuck to your spatula or wooden spoon. Finally, add chocolate chips and stir just until well combined and there is no more dry flour.
Bake in the middle rack for about 40-45 mins, or until the toothpick inserted comes out without any batter on it. Because the cake is so moist, if the toothpick comes out with a little cake smudge on it, it's okay, as long as there is no wet batter.
Let the cake cool for about 5 minutes in the pan (during this time, the cake will shrink slightly and pull away from the sides of the pan making it easier to remove). Run a metal spatula or a thin knife along the edges of the cake to make sure it comes loose from the pan, then invert the cake onto a cooling rack and let cool completely before frosting.
For White Chocolate Cream Cheese Frosting: Melt white chocolate in the microwave for about 20 seconds or until it just starts to melt around the edges. Stir the chocolate and it should melt more as you stir. Keep stirring until there are no more lumps, and if it won't melt completely, microwave it again very briefly (10 seconds) to get it a little hotter. Let the chocolate cool completely to room temperature. Beat cream cheese and butter on high with an electric mixer until smooth and fluffy. Then beat in cooled melted chocolate until smooth.  Add icing sugar and vanilla and beat till light and fluffy (2-3 minutes).
Once the cake is cool completely, frost the top and sides, and sprinkle with chopped pistachios, fresh fruit, or other garnishes of your choice.
---