During Thanksgiving and other holidays people often ask me for ideas for adding Thai flavours to their feast. If you're looking to make something a little different this holiday season, but still want the comfort of traditional dishes, this is the perfect mashup.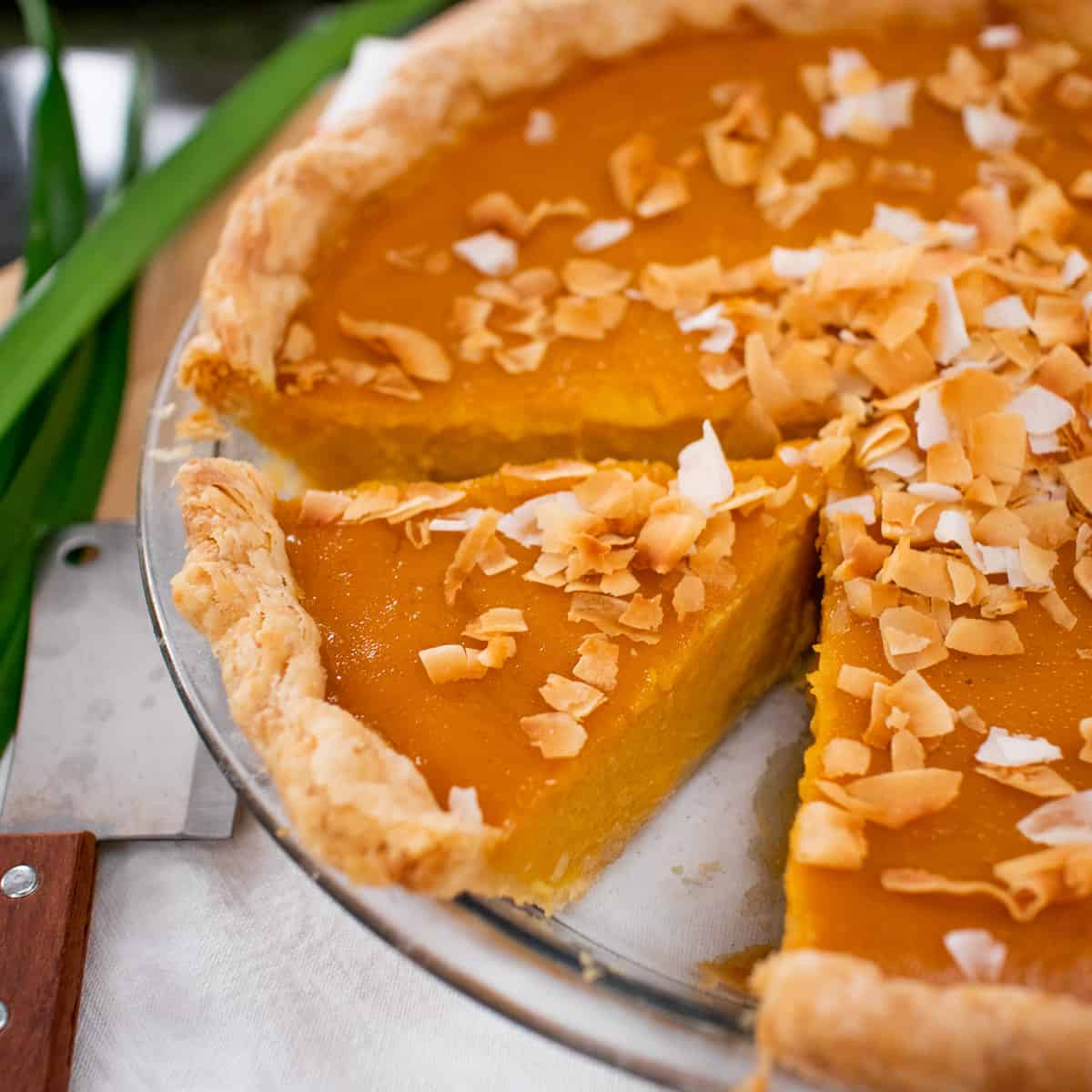 I got the idea for this recipe because I realized that we have a Thai dessert called kanom maw gaeng that is structurally very similar to pumpkin pie - a baked custard with a mashed vegetable mixed in. Typically we would use mashed taro or mung beans mixed with coconut milk, palm sugar and pandan leaves.
So I wondered how it would turn out if I replaced the taro or mung beans with pumpkin puree and then bake it into a pie. 🧐
Well, it turned out delicious beyond expectation. You get the flavour, creaminess and richness of the coconut, the caramel notes of palm sugar, and the floral aroma of pandan leaves, all with the silky, soft texture of pumpkin. And the crust adds an element of crunch that kanom maw gaeng doesn't have but certainly would benefit from!
What Makes This Recipe Work
Reducing the coconut milk by half concentrates its flavour and richness, so you can squeeze more coconut flavour in without more liquid than the pie can handle.
The ratio of pumpkin, coconut, and eggs is designed to create a soft, luscious, creamy custard that just holds together well enough to slice, but melts in your mouth instantly. No dense, solid, cloying pumpkin pie here!
Topping the pie with toasted coconut adds texture and complimentary flavour to the pie. The key is to make sure you toast the coconut DARK to develop a nutty flavour, then mix in a little untoasted coconut for better colour contrast.
Important Notes on Ingredients
Pandan leaves are key to the Thai flavour of this pie, and they're the most common flavour added to Thai desserts. You can find the leaves fresh or frozen at Asian grocery stores that carry a good selection of Southeast Asian ingredients (Thai, Vietnamese, etc.). You can also use pandan extracts, though it's not as good as the real thing. If you really cannot find them, substituting a teaspoon of vanilla will do.
Palm sugar. Not all palm sugars are created equal, and if you have a choice of a few different brands I always suggest going with the most expensive one as it's a sign of a more pure palm sugar with less white sugar mixed in. For more on how to choose the best palm sugar, watch this video: The Ultimate Guide to Palm Sugar
Coconut milk. Quality of coconut milk varies significantly between brands on the market, and you'll want to choose the best one, especially for desserts. Watch my video on The Ultimate Guide to Coconut milk to see my recommendation on brands and also how to identify "good" vs "bad" coconut milk. While we're on the subject of coconut milk, check out my mini documentary on How Coconut Is Made: From Farm to Can!
Pumpkin purée. For this recipe I used E.D. Smith brand (not sponsored), which is widely available in Canada. I want to caution you though that when you buy the pumpkin make sure you're buying "pure pumpkin" and NOT "pumpkin pie filling"! I didn't really pay attention when I was shopping and grabbed the wrong one because the packaging looks so similar. Pumpkin pie

filling

already has sugar and spices mixed in, so it will NOT work for this recipe.
What To Do With Leftover Pumpkin Purée
It's inconvenient, but this recipe does not use whole cans of pumpkin puree, so you're bound to have some left over. Here are some ideas on what to do with it:
Soup. You may not have enough left to make pumpkin soup, but you can add it into any other soup (like chicken soup) and it'll act as a thickener.
Smoothies. Pumpkin is nutritious and high in vitamin A - so after you feel guilty about eating pie, go make yourself a healthy smoothie with the remainder.
Pasta sauce. Stir it into your regular tomato-based pasta sauce for something richer and creamier. This works especially well for lasagna.
Thai curries. Yes! It's a perfect addition to this red curry with chicken and squash recipe and vegan red curry recipe. Just add it to the sauce and it will make a richer, creamier curry. Totally not traditional - but it works!
Have young kids? I mix pumpkin puree into my 20-month-old son's yogurt but you can mix it into many other foods your kids are eating, especially ones that are saucy like mac and cheese or casseroles. For younger babies you can just feed it to them straight up as baby food.
Don't want any more pumpkin? Freeze it! It'll last in the freezer for a few months.
Watch the full video tutorial!
All my recipes come with step-by-step video tutorials with extra tips not mentioned in the blog post, so make sure you watch the video below to ensure success - and if you enjoy the show, please consider subscribing to my YouTube channel. Thank you!
Print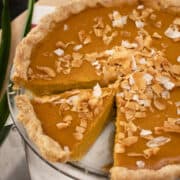 Coconut Pumpkin Pie
Author:

Pailin Chongchitnant

Prep Time:

30 mins

Cook Time:

1 hour

Total Time:

1.5 hours + 2 hours cooling time

Yield:

8-10 servings
---
Description
This recipe takes the traditional Thanksgiving pumpkin pie and combines it with some of the iconic flavours of Thai desserts: coconut, palm sugar, and pandan leaves. The result is an incredibly tasty pie with a unique touch that still gives you the rich, creamy, silky pie experience you want for the holidays.
---
1

single pie crust, unbaked (see this recipe for my easy pie crust)

1 ½ cup

coconut milk 

1

pandan leaf (18 inches), cut into

1

-inch pieces

225g

finely chopped palm sugar 

 ¾  teaspoon fine salt

2 cups

pumpkin puree, canned

3

large eggs, lightly beaten
~¼ cup shaved coconut for garnish, or another garnish of your choice
Optional: whipped cream or coconut whipped cream for serving
---
Instructions
Parbake the Crust: 
Preheat the oven to 375°F (190°C) and set the rack on the lowest rung. 

Line the pie plate with your pie dough, dock (poke) it all over with a fork to prevent puffing, and then chill for 2 hours or freeze for 30 minutes. 

Cut a piece of parchment paper so it's at least 2 inches bigger than the pie plate on all sides. Crumple it up well and then smooth out and place it on top of the pie crust. Fill the parchment / pie crust with your "pie weight" of choice (ex. sugar, dry rice, or dry beans) and then place the pie plate onto a baking sheet.

Bake for 20-25 mins or until the edges look cooked but have very little to no colour on them (make the filling while this bakes).

Remove from the oven, grab the parchment on all corners and lift the pie weight off and rest it in a bowl. Then put the crust back into the oven for another 4-5 minutes to dry up the bottom.

(If using rice or beans for weight you can save them up for future pie crusts, but they will not cook up the same otherwise. If using sugar, you can cook with it again, though some of the sugar at the bottom might harden a bit due to the absorbed moisture. )
Make the Filling:
Add coconut milk and chopped pandan leaf to a pot and bring to a boil over medium heat. Boil for about 10 minutes or until reduced by exactly half (you will need to measure it). Keep an eye on it so it does not boil over (if the sides are burning your flame is too high and is licking the sides of the pot).

Once reduced, strain the coconut milk into a measuring cup and see if you have ¾ of a cup (180 ml) left. If you have a little less, that's okay. If it's a lot less just add a bit of water back in to get it to ¾ cup. But if you have more you want to keep reducing it, otherwise your filling might be too soft.

Discard the pandan leaves and return the ¾ cup of coconut milk to the pot. Add salt and palm sugar and cook over medium heat for 1-2 more minutes, just until the sugar is dissolved.

Remove from heat and whisk in pumpkin puree until combined.

Add the eggs and stir until well combined, making sure to scrape the edges and bottom of the pot with a rubber spatula to ensure everything is mixed in.

Pour the filling into the parbaked crust and bake on the bottom rack for about 1 hour, or until it reaches an internal temp of about 170°F. It should look puffed up, and when you jiggle the pan the center should jiggle a bit like jello but it should not "ripple" like liquid. You can always stick a knife into the center and pry it open slightly to see whether it has set.

Let cool completely (at least 2 hours) before garnishing and slicing. 

While the pie cools, you can toast the coconut for garnish by spreading it out on a sheet pan, leaving an empty space in the middle for more even baking. Bake in the same oven (350°F) for 5-7 minutes or until the coconut has a deep golden brown colour. (It may take less time if using a different shape of coconut - and keep an eye on it as the coconut burns quick!). If you want you can mix the toasted coconut with a little bit of untoasted for a more colourful garnish. 

Once the pie is cool, sprinkle the toasted coconut on top of the pie. This pie will keep at room temp for 1 day, but will keep in the fridge for up to a week.
---