Granola with Traditional Thai Flavours
In Thailand we have a traditional snack called kra ya saat, and it's very much like a sticky granola bar, but made of puffed rice instead of oats. (Or come to think of it, maybe it's more like a Thai version of Rice Krispie squares??). The puffed rice bars are studded with coconut, sesame seeds and peanuts, and held together by a syrup made from palm sugar and coconut milk.
In my house, we LOVE granola and we make it regularly using this amazing granola recipe that I've shared before. But then I thought, hmm, wouldn't it be great if the nutty flavours of kra ya saat were made into crispy granola? I had to try it, and I was blown away by how well it worked and how GOOD it turned out!
I was also shocked by how much it actually tastes like kra ya saat. But honestly I like the granola more because my problem with kra ya saat is that it is rather sticky and not crunchy; but this way I get the flavours of kra ya saat, but with the crispiness of granola. The best of both worlds!

More Breakfast Recipes
Watch the Full Video Tutorial!
Print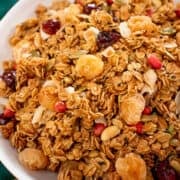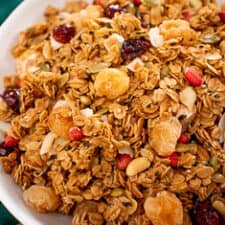 "Thai" Granola with Coconut & Sesame
---
1 cup

of coconut flakes or

½ cup

dried shredded coconut

2 Tbsp

sesame seeds (see note)

100g

palm sugar (½ cup packed)

¼ cup

virgin coconut oil (unrefined)

¼ cup

coconut milk

¼

  teaspoon salt

3 cups

rolled oats or quick oats

2 cups

total of dried fruits, nuts, seeds of your choice (but to stick to the "kra ya saat" theme you want to have roasted peanuts in the mix)
Note: I use half black and half white sesame seeds. While you can do only one type if you'd like, I find the white ones disappear into the granola and you can't really see them in the finished product, and doing all black creates too many "black dots" in the granola which isn't as pretty. Presentation is more of a concern for me cuz I have to take a nice photo for every recipe! You, of course, can do whatever you like 🙂
---
Instructions
Preheat oven to 325 F (165 C). Line a large baking pan with parchment paper or silicone liner.

In a dry saute pan, add sesame seeds and toast over medium high heat until the white ones are aromatic and golden brown. If using black ones, they should start to pop, smoke, and become aromatic. Remove and let cool.

In the same pan, reduce the heat to low, add the coconut and stir quickly until it is a deep brown colour (not light brown, you want it darker for a more toasty flavour). This can happen very quickly especially if you're using finely shredded coconut, so be sure to stir very quickly and have a plate ready to remove from the pan. Set aside.

Have the oats ready in a large mixing bowl.

For the syrup: in a small pot, stir together palm  sugar, coconut milk, coconut oil and salt. Bring to a simmer over medium heat and keep cooking until all the sugar is all dissolved, stirring occasionally.

Turn off the heat then stir in the sesame seeds, and if you're using finely shredded coconut or any other small seeds, you'll want to add that into the syrup as well. If using large flakes of coconut you can add it in at the end with the dried fruit.

Drizzle the syrup over the oats and toss to thoroughly and evenly coat.

Spread evenly on the baking sheet, leaving a bit of an empty space in the centre for more even baking (see video).  Bake for 30-35 minutes total, taking it out after about 15 minutes to stir.

When done, the oats should have darkened into a deep golden brown colour and will be completely crispy once cool. They will not be crispy when hot, so to check for crispiness, take a little bit of the mixture and blow on it to cool it down quickly and see. If not yet crispy, keep baking in 5 minute increments.

Leave to cool on the baking sheet, then transfer into a large mixing bowl, breaking large pieces up gently with a wooden spoon.

Stir in coconut flakes and all of your dried fruits, nuts and seeds.

Store in an airtight container in a cool, dry place and it should last at least 2 months. Note: If using longans as I did, they will dry out after about a month because the oats will absorb their moisture. So if you make a large batch that you plan on keeping for a while, maybe add the longans in when you're eating.
---