---
Watch The Full Video Tutorial!
All my recipes come with step-by-step video tutorials with extra tips not mentioned in the blog post, so make sure you watch the video below to ensure success - and if you enjoy the show, please consider subscribing to my YouTube channel. Thank you!
Print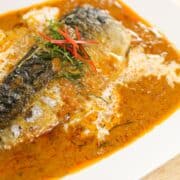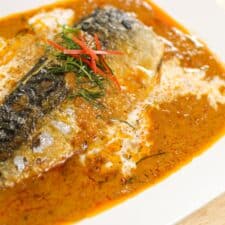 Mackerel in Red Curry Sauce - "Choo Chee"
---
2

 mackerel fillets

2

-

3

tablespoon red curry paste (see note)

¼ cup

+

⅔ cup

coconut milk

1 tsp

palm sugar, finely chopped

1

-

2

teaspoon fish sauce, to taste

3

 kaffir lime leaves, center rib removed, finely julienned

Spur chilies or red bell pepper, finely julienned for garnish (optional)

1

-

2

tablespoon extra coconut milk for garnish (optional)
Note: If you want to make your own red curry paste, see this recipe, but reduce salt and shrimp paste amounts by half. 
---
Instructions
Add ¼ cup of the coconut milk to a wok or a saute pan wide enough to hold the fish and bring to a boil. Add curry paste and cook, stirring constantly, reducing it until thick and until the coconut oil start separating from the paste. (If the coconut oil does not separate and the curry paste is very thick, just proceed with the recipe; some coconut milk has been processed to prevent separation.)
Add the remaining coconut milk, palm sugar and fish sauce; stir to mix and simmer for a few minutes until the sauce has thickened to the desired consistency—you want the sauce to be rich and thick, but still easily pourable. When the sauce is close to being done, add half of the julienned kaffir lime leaves, let infuse for a minute or until the sauce has reached the desired consistency.
Taste and adjust seasoning, making sure that the sauce is strongly seasoned as it'll be softened when you have it with the fish and the rice. Set the sauce aside, covered if possible, while you cook the fish.
Pat the fish dry. In a large sauté pan, add enough vegetable oil to coat the bottom of the pan and heat over medium high heat. Once hot, place the fish, skin-side down, and cook for about 2 minutes or until the skin is golden. Flip the fish and cook the other side for 1 more minute or until done. Remove and set aside.
Bring the sauce back to a boil, adding more water if it has become to thick. Add the fish to the sauce, skin-side up, and let it simmer in the sauce just for 30 seconds to a minute, trying not to let the sauce get on the skin.
Remove from heat and transfer the fish onto a serving plate. Pour the sauce around the fish, drizzling a little bit of sauce across the fillet. Pour the extra coconut milk on top (if using) and garnish with the remaining julienned kaffir lime leaves and julienned bell pepper. Serve with jasmine rice.
---