Red curry is the first curry I recommend people make if they are new to Thai cooking. The process is quick, and it is so simple it is essentially fail-proof, but the flavours are so complex and very representative of the spirit of Thai cuisine.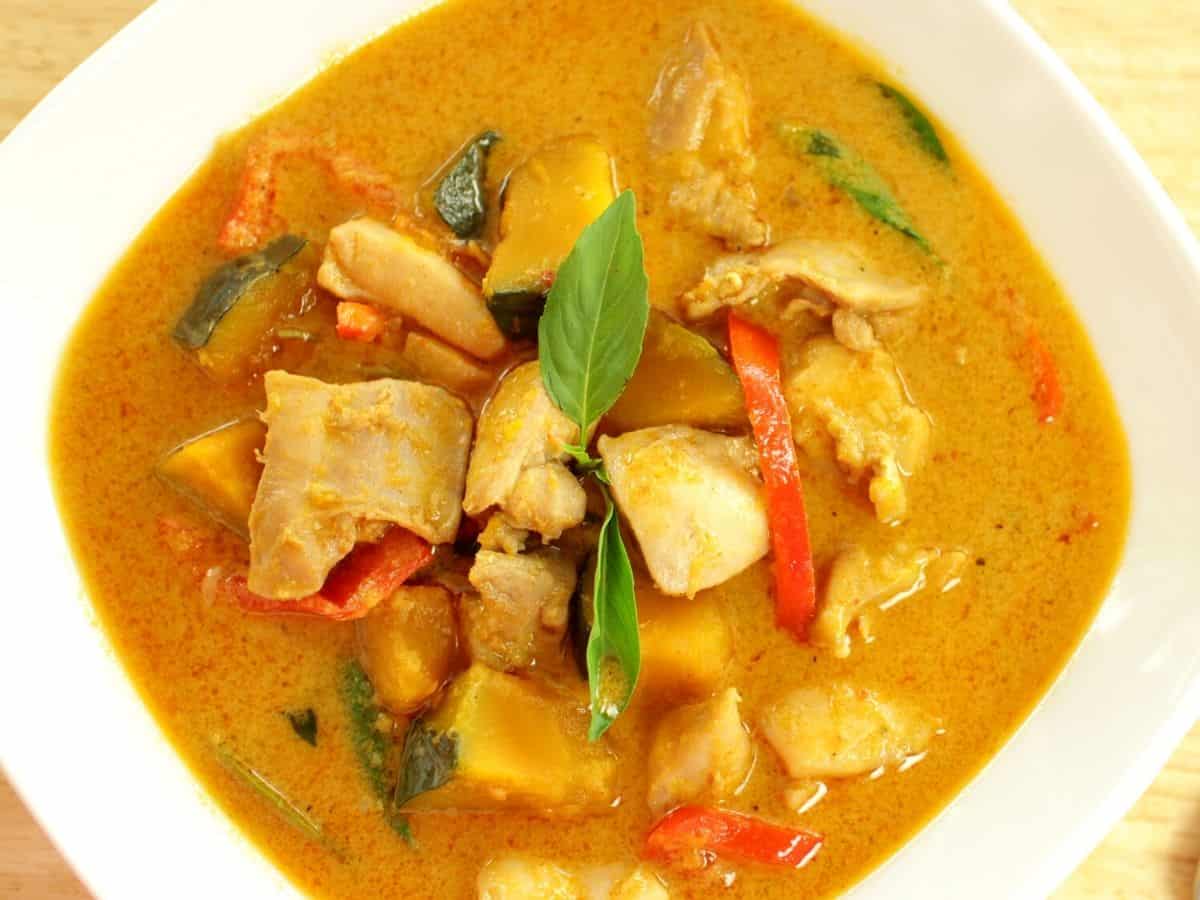 Ingredients for Thai Red Curry
Red curry paste - I've included a homemade red curry paste recipe, but don't feel like you need to make it for curry to be "legit". It's time consuming, and even most Thai people buy their curry pastes. If you're buying, I highly recommend checking out this post for how to choose the right curry paste for you.
Coconut milk - This is what makes the curry rich and creamy, and it's important to use good quality, full-fat coconut milk. Watch this video for how to choose the best coconut milk.
Chicken thigh - I highly recommend using chicken thighs over breast so that it can have time to braise in the liquid so it will become tender and load the curry sauce with more chicken flavour.
Chicken stock - you can theoretically use water, but for maximum flavour, go with chicken stock. You can use store bought or homemade stock, but make sure it's unsalted because the curry paste and fish sauce are both quite salty already.
Fish sauce - soy sauce can be used instead in case of allergies or if making a vegan version. Watch this video for how to choose the best quality fish sauce
Palm sugar - it is traditional to use palm sugar, but light brown sugar or granulated sugar are fine substitutes because the curry is strongly flavoured, so it won't much much difference.
Kabocha squash - this creamy, sweet squash is the perfect pairing with red curry, but feel free to substitute other vegetables. More on this below.
Thai basil - If you don't have it, regular Italian basil will do.
Red pepper - this is added just for some colour. Red bell pepper will do, or anything mild.
Ingredients for Thai Red Curry Paste
Mild (large) dried chilies - these are added for flavour and colour
Spicy (small) dried chilies - these are added for heat, so add as much as you want.
Coarse sea salt - coarse salt adds abrasion to help other ingredients grind better, if pounding by hand
White peppercorns
Shallots
Garlic
Galangal - ginger is not a good substitute. Look for frozen if fresh is unavailable
Cilantro roots or stems
Makrut (kaffir) lime zest - you can omit it from the paste and add 5-6 makrut lime leaves when cooking the curry.
Fermented shrimp paste - optional. Omit or use miso paste.
What other kinds of meat can I use?
Anything and everything. Seriously! While other curries in Thailand have common meat pairings, for example massaman is usually paired with chicken or beef, the basic a Thai red curry can take any and all proteins and vegetables.
This is because the flavours of red curry is "basic" relative to other curries, meaning it doesn't have a lot of spices (compared to Thai massaman curry, for example), so the flavours can go with anything from delicate fish to gamey beef, or even no meat at all such as this amazing vegan red curry.
In this recipe I'm using chicken, and I prefer chicken thighs and let it cook for a while to tenderize, because the longer cooking time allows it to absorb the flavour of the curry as it cooks. If you want to use chicken breast, you can, but it requires slightly different instructions as indicated in the written recipe.
What kind of vegetables are best in a red curry?
Again, anything and everything! I like using kabocha squash because creamy squash and red curry is one of my absolute favourite flavour pairings. While you can use a different kind of squash or whatever vegetables are available to you, here are a few common pairings in Thailand: bamboo shoots (see the green curry recipe for how to deal with bamboo shoots), pineapple, and winter melon.
Pro Tip: Changing up the protein and veggies
If you're going to use different proteins or vegetables, you totally can! But make sure you adjust the cooking time accordingly. Some proteins such as shrimp and chicken breast only want to be cooked briefly, just until they're done, so be sure to add these at the end. Some vegetables take a long time to cook, others take 30 seconds. You will have to use your judgement here, or check out my other curry recipes to see how different ingredients are handled!
Is it better to make the curry paste from scratch?
Not necessarily. I want to get this misconception out of the way because it hinders many people from making Thai food. You do not have to make the curry paste, and most Thai people do not make their own curry paste. Growing up in Thailand my family always bought curry pastes, with the exception of very simple curries such as the sour curry or gaeng som.
Making curry paste takes a lot of time and energy, and even if you're using a power tool to help, gathering ingredients is no small feat. And just because you made the curry paste from scratch, does not mean you'll end up with a better curry than one you made using store bought. Think of it like jam...sure you can spend the time and effort to make your own jam, and it'll probably be better than Smucker's, but is it going to be better than that really great jam from the farmer's market? Maybe, but maybe not.
So when I make curry paste, I do it more for the experience of it. It connects me to the dish and the cuisine in a deeper way, it's a labour of love, and I love it when I can really taste the difference between mine and the store bought one. Or sometimes I make it because it's not available to buy, such as the paste for kao soi.
So how can making it be worse than buying? Well, if you don't have the right ingredients and have to make substitutions, for example. Or if you don't have the right tools and end up with a paste that's too-coarse, it also may not be as good. Or maybe you want to do it by hand but find that it's way more work than you thought (and it is always more work than you thought), turning the whole experience unpleasant!
Which Brand of Curry Paste is the Best?
While I can recommend a few, not all brands are good for all people, and I encourage you to watch this comprehensive guide to Thai curry pastes where I go through how to choose a good brand for you.
While I haven't tried all of the brands out there, these are the few Thai brands that I have tried and like: Maeploy (my go-to because I like the flavour, but it's heavy on the salt), Maesri (a little spicier), and Aroy-D.
If you don't have an Asian market nearby, Thai Kitchen Brand is widely available and I recommend this brand for those with low spice tolerance as it is not very spicy and has good flavours. However, I find that you have to use quite a bit more of it than the Thai brands mentioned above.
---
Check out more Thai curry recipes!
---
Before you start, be sure to watch the video tutorial to ensure success! I always include little tips and tricks not mentioned in the blog post. The video is in the recipe card below, but you can also watch it on YouTube!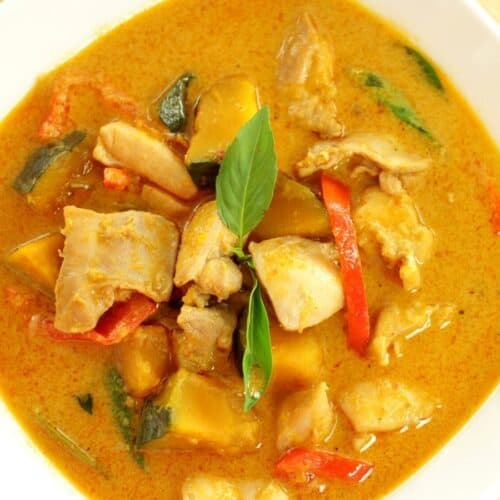 Thai Red Curry with Chicken and Squash
This classic recipe is a great one to start with if you've never made a Thai curry before. Easy, but totally delicious and fail-proof. You can use store bought curry paste and it'll be a simple, weeknight-friendly meal, or go all out and make your own curry paste! Gluten free.
Ingredients
2

cups

kabocha squash

,

bite-sized pieces

1 ½

cup

coconut milk

4-6

tablespoon

red curry paste,

recipe below or store-bought (see note 1)

1

lb

chicken thigh

,

boneless, skinless, 1.5-inch cubes (see note 2 if using chicken breast)

1

cup

chicken stock

2

tablespoon

fish sauce,

if using store-bought paste, you may need less

2-3

tablespoon

palm sugar,

chopped

1

cup

Thai basil

A handful

Julienned red pepper for some colour

,

optional
Red Curry Paste
0.4

oz

mild (large) dried chilies

,

see note 3

0.2

oz

spicy (small) dried chilies

,

see note 3

1

teaspoon

coarse sea salt

¼

teaspoon

white peppercorns

¼

cup

chopped shallots

3

tablespoon

chopped garlic

3

tablespoon

chopped lemongrass

1

tablespoon

chopped galangal

2

cilantro roots

,

or about 6 cilantro stems

1

teaspoon

chopped kaffir lime zest

,

see note 4

1

teaspoon

shrimp paste
Check Out Ingredients and Kitchen Tools I Use
Notes
You can use more or less curry paste depending on your spice tolerance. If using a new curry paste brand, start with 4 tablespoons, unless you like things very spicy then you can add more.

If using chicken breast, cut into ½-inch strips and marinade in ½ tablespoon fish sauce for 15 mins.

Mild dried chilies are added for colour and flavour, while the spicy ones are added to customize the paste's spice level. Mild chilies tend to be large, and I use guajillo or puya peppers for this. Spicy chilies tend to be small, such as chile de arbol. If you can only find the small ones, make sure you remove all the seeds and white pith to remove some heat.
If you don't have kaffir lime zest, you can add 2-3 kaffir lime leaves to the curry, torn into chunks, about 3 minutes before the curry is done. Or substitute regular lime zest int he curry paste.
All my recipes come with step-by-step video tutorials with extra tips not mentioned in the blog post, so make sure you watch the video to ensure success. If you enjoy them, consider subscribing to the YouTube Channel to not miss an episode. Thank you!
Subscribe to my YouTube Channel
Instructions
Wash the kabocha squash and slice off any part of the skin that has blemishes, otherwise the skin can be left on. Remove the seeds by scraping off with a spoon and cut into bite-sized cubes. If you have leftover squash, try using it in this stir-fry recipe!

Bring ½ cup of coconut milk to a boil, add curry paste and stir to break up lumps. Continue cooking and reducing over medium high heat until it is very thick and the coconut oil starts separating from the curry paste (if the paste is very thick but no oil is separating, don't worry, just proceed with the recipe).

1 ½ cup coconut milk,

4-6 tablespoon red curry paste

If using chicken thigh, add the chicken and toss to mix with the paste; if using breasts, hold off for now and just proceed with the next step.

Add the remaining coconut milk and chicken stock. Season with 1 tablespoon of the fish sauce and 2 tablespoon of the palm sugar. Stir to mix and simmer for about 8 minutes.

1 ½ cup coconut milk,

1 cup chicken stock,

2 tablespoon fish sauce,

2-3 tablespoon palm sugar

Stir in the kabocha squash and simmer for about 5 minutes. If using chicken breast, add the chicken now and cook for another 2 minutes until both the chicken and the squash are done. If using chicken thighs, just keep it going until the squash is fully cooked, 6-8 minutes.

Remove from heat and adjust seasoning with the remaining fish sauce and palm sugar as needed. Stir in Thai basil and red pepper, if using. Serve immediately with jasmine rice.

1 cup Thai basil,

A handful Julienned red pepper for some colour
Red Curry Paste
Cut chilies into chunks, remove the seeds, then grind in a coffee grinder until fine.

0.4 oz mild (large) dried chilies,

0.2 oz spicy (small) dried chilies

In a heavy-duty mortar and pestle, add lemongrass, galangal, cilantro roots, kaffir lime zest, white peppercorns and salt. Pound until fine.

1 teaspoon coarse sea salt,

¼ teaspoon white peppercorns,

3 tablespoon chopped lemongrass,

1 tablespoon chopped galangal,

1 teaspoon chopped kaffir lime zest,

2 cilantro roots

Add ground chilies and pound to mix.

Add garlic and shallots, pound until fine.

3 tablespoon chopped garlic,

¼ cup chopped shallots

Add shrimp paste, pound to mix.
Watch my videos AD-FREE and get bonus content on Patreon!
Tried this recipe? Share a pic!
Tag @hotthaikitchen on Instagram and Twitter!