---
This recipe is an easy version of the classic curry puffs, but I can guarantee that it's just as delicious! The original version requires making two different types of dough and a set of rather complicated maneuvers to wrap them. They're beautiful treats in the end, but with my schedule these days, I'm very much biased towards easy!
Watch The Full Video Tutorial!
All my recipes come with step-by-step video tutorials with extra tips not mentioned in the blog post, so make sure you watch the video below to ensure success - and if you enjoy the show, please consider subscribing to my YouTube channel. Thank you!
Print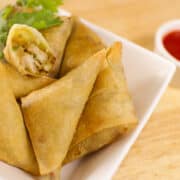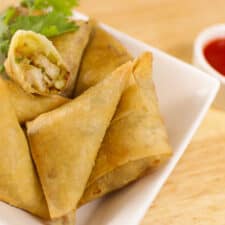 Easy Chicken Curry Puffs กะหรี่ปั๊ป
---
200 g

yellow-flesh sweet potato, peeled and small diced

1½ Tbsp

vegetable oil

½ cup

small diced onion

A pinch of salt

1½ tsp

curry powder

200 g

 ground chicken (preferably a coarse grind)

1 Tbsp

soy sauce

1 tsp

fish sauce

1½ tsp

sugar

¼ tsp

ground white pepper

8

cilantro stems, finely chopped

6

sheets of 10-inch spring roll wrappers (see note)

1

egg, beaten well

Vegetable oil for frying
Note: if you can't find 10-inch spring roll wrappers, you can use 8 sheets of 8-inch spring roll wrappers, cut into 3 strips instead of 4. These will be a bit larger and have a thinner shell in the end, but they will work just fine.
---
Instructions
Steam sweet potato for 10 minutes just until a fork can go through with no resistance, but the pieces should still maintain their shape.
For the filling: In a wok or a saute pan, heat vegetable oil over medium heat. Add onion, season with a pinch of salt, and saute until the onion is translucent and starts to brown slightly. Add curry powder and stir for about 15 seconds. Add chicken and toss just until there are no big clumps. Add sweet potato, soy sauce, fish sauce, sugar and white pepper. Toss the filling constantly over medium heat until there is no more liquid pooling at the bottom of the pan, and the potato has broken down enough that it allows the filling to be creamy and hold together better, about 5 minutes. If the filling is dry but it's still crumbly and not holding together, add a little water and continue to cook and stir. Stir in cilantro stems and remove from heat.Taste and adjust seasoning with more salt as needed. Let cool to room temperature before wrapping.
To wrap: Cut the 10-inch spring roll wrapper into 4 equal strips, and place about 1 tablespoon of filling at the end of the strip. Wrap each piece into a triangle, following the methods shown in the video, sealing the end with the beaten egg. To make large ones, cut the wrapper into 3 strips, use about 3 tablespoon of filling, and wrap each piece twice (the first wrapping doesn't need to be sealed with egg).
To Fry: Heat at least 1½ inch of vegetable oil in a pot to 350 °F (175 °C). Add the curry puffs and fry for 3-4 minutes until golden brown. Drain on paper towel, and let cool slightly before serving. Serve with Sriracha Hot Sauce.
To Bake: Preheat the oven to 425°F (220°C) and set the rack in the middle. Place the curry puffs on a baking sheet and brush with vegetalbe oil. Bake for 20 minutes, turning them halfway through. (Note: Baking them yields good results, but I personally prefer frying because they end up crispier with a moister interior.)
---