---
With the recipe, you'll never need to buy another bottle of Sriracha again! It's easy, quick, and in my opinion it's way tastier than the store bought stuff. (Yes, it's even better than the original Thai Sriracha!)
Here are some recipes you can use your new hot sauce for: Pad Thai (variation 2), Sweet & Sour Stir-Fry, Thai Omelette.
Watch The Full Video Tutorial!
All my recipes come with step-by-step video tutorials with extra tips not mentioned in the blog post, so make sure you watch the video below to ensure success - and if you enjoy the show, please consider subscribing to my YouTube channel. Thank you!
Print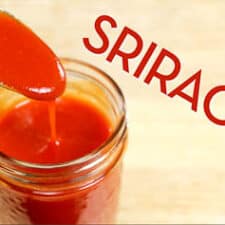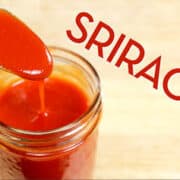 Homemade Sriracha Hot Sauce ซอสพริกศรีราชา
---
150 g

red, hot chili peppers of your choice, roughly chopped (see note)

10

cloves garlic, peeled and crushed just until broken
About

1 cup

distilled vinegar (5% vinegar)
About

¼ cup

+

1

-

2

Tbsp sugar

1 tsp

salt
Note: The original Thai Sriracha is made from spur chilies, but the popular one from Huy Fong Foods is made from red jalapenos. Fresno and red serrano chilies are two other good options. Use whichever red, hot chili peppers you have access to, as long as they have a substantial amount of flesh, so we can achieve the thick, luscious consistency iconic of Sriracha. The spiciness of this sauce will vary depending on the pepper you use, but if the peppers you have are not spicy enough for you, you can add extra Thai chilies to boost the heat.
---
Instructions
Add chilies and garlic to a small pot and add just enough vinegar to cover (you may need a little more or less than 1 cup).  Simmer on low heat for about 15 minutes, or until the garlic cloves are soft.

Transfer to a blender—if you want to tone down the heat slightly, leave behind the seeds. You can do this by using a slotted spoon to transfer just chilies and garlic to the blender, then pour remaining vinegar into blender through a strainer to catch seeds. (See video for this technique).

Blend until smooth.

Strain the sauce through a fine mesh sieve into a small pot, pushing out as much liquid as possible with a rubber spatula, and occasionally scrape the bottom of the sieve with a knife to get the sauce that is hanging on there.

Put the sauce back on the stove over medium heat. Add salt and ¼ cup sugar and stir until the sauce comes to a simmer. Remove from heat, taste, and adjust seasoning with the remaining sugar if needed. 

S

tore in an airtight container in the fridge, it should last you a few months.
---