---
Well, since we're all social distancing and/or on lockdown due to covid19, filming for HTK has had to be postponed. So I'm home...as we all are. But since the cooking continues, I thought I would share with you anyway what I am cooking! It's not the slick video that you're all used to seeing on my channel, but it's what we can manage right now given the circumstances. Hope this finds everyone well, safe, and sane, and I hope I can provide some entertainment and inspiration while you're all stuck a home!
For many of you, there's no longer a need to get up early to go to work or school because of lockdown/social distancing, so you might have more time to make a pancake breakfast! I am not one of them unfortunately...with a baby at home and no more childcare help...I'm busier than ever before!
But for those who do, I wanted to share my best pancake recipe for this occasion. These are the best pancakes I've ever had, honest. So good I've been making it for over 10 years and still haven't had any better ones! So light, super fluffy, just perfect.
There are a few reasons why these are extra good. The cake flour for extra tenderness, the yogurt for the wonderful flavour, just the right amount of salt and sugar, and most importantly the whipped egg whites for that light fluffiness!
Enjoy!
Watch The Full Video Tutorial!
All my recipes come with step-by-step video tutorials with extra tips not mentioned in the blog post, so make sure you watch the video below to ensure success - and if you enjoy the show, please consider subscribing to my YouTube channel. Thank you!
Print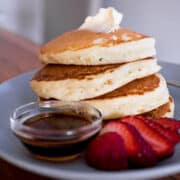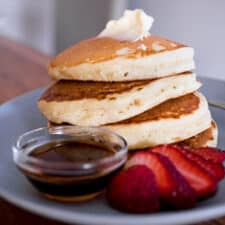 My Best Fluffy Pancake Recipe
---
1 cup

All purpose flour

1 cup

cake flour (or use another cup of AP flour, but cake flour will yield more tender pancakes. You can also do

1 cup

whole wheat flour for something healthier.)

1 tsp

baking soda

1 tsp

baking powder

½ tsp

salt (fine table salt)

1 cup

full-fat or 2% plain yogurt (or use

2 cups

buttermilk and omit the milk)

1 cup

milk

1 tsp

vanilla

2

eggs, white and yolks separated

3 Tbsp

butter

3 Tbsp

sugar
Whatever toppings and syrups you like!
---
Instructions
Sift together both flours, baking soda, baking powder and salt into a large mixing bowl. (If using all-purpose only you can just whisk everything together, but if using cake flour you have to sift.)
Separate the eggs, putting the whites in a mixing bowl you will use to beat up a meringue, and the yolks in a medium mixing bowl.
To the yolks, add yogurt, milk, and vanilla; whisk until well combined.
Melt the butter in the microwave, then whisk it into the milk mixture (pour as you whisk).
Make a well in the centre of the dry ingredients and pour the milk mixture into it. Use a rubber spatula and mix just until you no longer see any dry flour, lumps are okay.
With a hand held mixer, beat the egg whites until frothy. Then gradually add the sugar while continuing to beat until you get a meringue with soft peaks.
Using the rubber spatula, fold in ⅓ of the meringue to lighten up the batter. Then gently fold in the rest of the meringue just until combined and you no longer see any streaks of meringue.
Cook the pancakes in a non-stick skillet over medium-low to medium heat, using about about ⅓ cup of batter per pancake. I butter the pan lightly once in the beginning but don't butter in between batches.
After a few minutes, once the edges start to look drier, take a peek at the bottom; if it has that nice deep golden brown colour, it's ready to be flipped. Flip carefully as the top part of the pancake will still be quite liquid. (Note: If you normally flip your pancakes after lots of bubbles form on the surface of the pancake, this batter is so thick and fluffy that you won't get those bubbles.)
Once flipped, quickly use your spatula to push in any batter that splashes around the pancake. Cook for another 3-4 minutes or until fully cooked. Because these are super thick and airy, they will take longer than most pancakes to cook through. So to check doneness, you can use a pointy knife and pry open the centre to see if it is cooked.
 Enjoy with whatever toppings you like!!
---