---
Green curry is a classic Thai dish that's famous all over the world. You may have tried making the curry using store bought paste, but perhaps it's time to try making it from scratch? 🙂 It's really a fascinating experience to see the transformation of the ingredients little by little, and you will feel so proud of the finished curry at the end!
If you want to make a whole bunch, you certainly can, and it will freeze really well, but I suggest not using a mortar and pestle because it'll take you a long time. So for big batches, I'd opt for one of the electric grinding devices discussed below :).
Watch The Full Video Tutorial!
All my recipes come with step-by-step video tutorials with extra tips not mentioned in the blog post, so make sure you watch the video below to ensure success - and if you enjoy the show, please consider subscribing to my YouTube channel. Thank you!
Print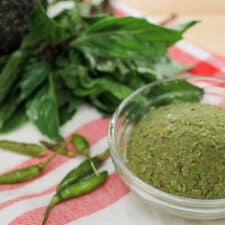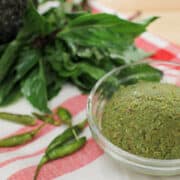 Green Curry Paste พริกแกงเขียวหวาน
---
2 tsp

coriander seeds

1 tsp

cumin seeds

½ tsp

white pepper corns

15

green Thai chilies (see note)

1 tsp

salt

15

Thai basil leaves, julienned

3 Tbsp

lemongrass, thinly sliced, bottom part only

1 Tbsp

Galangal, finely chopped

2 tsp

kaffir lime zest

2 tsp

cilantro roots, finely chopped

3 Tbsp

shallots, finely chopepd

2 Tbsp

garlic, finely chopped

1 tsp

fermented shrimp paste
Note: To reduce spiciness, you can remove the seeds and pith from some of the chilies.
---
Instructions
If using a mortar and pestle:
Grind the dry spiced into a powder. Remove and set aside.
Add chilies and salt to the mortar and pound until fine. Add the Thai basil leaves and pound until fine. If at any point the mixture feels too wet and slippery, add the dry spices to absorb excess moisture.
Add lemongrass, galangal, kaffir lime zest, and cilantro roots; pound until fine.
Add shallots, garlic, and any remaining dry spices and pound into a fine paste.
Add shrimp paste and pound to mix.
If you want to use an electric device: This is slightly tricky because most machines do not blend such a thick paste well but there are ways around it. I have found that the best device to use is a good, powerful immersion blender which does a good job even for smaller amounts. If using a jug blender, you will need to add a little liquid to get it to blend, so if you're making a green curry, I would add some of the coconut milk from the recipe, but I only suggest doing this is you're using it right away. If you are making a big batch to freeze, a good, powerful food processor will work well. Regardless of machine you use for the paste, I would grind the dry spices separately in a coffee grinder or a mortar and pestle to make sure they are fine.
---