---
Here's an appy recipe to WOW everyone at your next party! These rice balls are a new trend in Thailand where we turn a classic lunch of rice and curry (or rice and anything else) into a fun finger food that's crispy on the outside and soft and chewy on the inside. Try turning your other favourite dishes into rice balls using this recipe as a template.
Watch The Full Video Tutorial!
All my recipes come with step-by-step video tutorials with extra tips not mentioned in the blog post, so make sure you watch the video below to ensure success - and if you enjoy the show, please consider subscribing to my YouTube channel. Thank you!
Print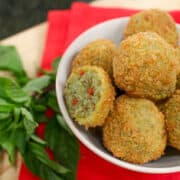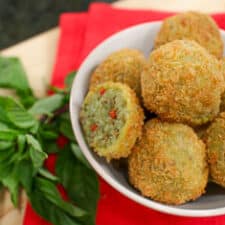 Green Curry Rice Balls ข้าวแกงทอด
---
For rice balls
¼ cup

Thai sticky rice, uncooked

¾ cup

jasmine rice, uncooked

¾ cup

coconut milk

3 Tbsp

Green curry paste (50g)

2 tsp

Fish sauce

2 tsp

Sugar

160g

Ground chicken, turkey or pork

2 Tbsp

green bell peppers, very small diced

2 Tbsp

red bell peppers, very small diced

4

Kaffir lime leaves, very finely chopped

½ cup

Thai basil
For Breading:
1

egg

⅓ cup

all-purpose flour
About

⅓ cup

water (may need a to add a little more)

½ tsp

fish sauce

2 cups

panko
---
Instructions
Cook rice and sticky rice together using the ratio of 1 part rice to 1 part of water, so 1 cup of water for the amount given in this recipe.   
Meanwhile, make the curry: in a blender, blend ½ cup coconut milk with Thai basil until smooth.
In a small pot, add ¼ cup of coconut milk and bring to a boil. Add curry paste and saute until the paste is thick. Add fish sauce, sugar and ground chicken, and stir to break up the chicken as well as you can—big chunks of chicken will make it hard to form balls. Once the chicken is cooked, add the blended coconut milk and kaffir lime leaves and bring to a boil. Remove from heat.
When the rice is done and while it is still hot, add the hot curry and bell peppers over the rice and stir until well combined. Taste and adjust seasoning as needed. Pack the rice as tightly as you can and let cool to room temperature.
Once cooled, use a disher or a spoon to portion out rice and form it tightly into a ball. Tip: The smaller you make the balls, the harder it becomes to shape them unless you have tiny hands! On the flip side, the larger they are, the more oil you'll need and the lower the ratio of crunchy crust to rice. I like them to be about 1½ - 2 tablespoon per ball.
Make the batter by placing flour into a small bowl and make a well in the center. Add water, beaten egg and fish sauce and stir until there are no more lumps. If it's thick and gloopy, add a little more water until the batter pours smoothly. Add panko to another bowl. Dip the rice balls into the batter, shake off excess a couple of times, then toss in the panko, pressing the panko gently onto the rice balls, until completely coated. Place on a plate. You can make the balls up to this point and refrigerate until ready to fry. You can also freeze them and thaw before frying.
Fry in 350°F (175°C) oil for about 2 minutes or until golden brown. Serve, you don't need any dipping sauce these are already so flavourful!
To reheat: preheat the oven to 375°F and bake for 7 mins or until hot inside (timing depends on how big the rice balls are).
---