These green muffins are moist, tender, healthy and super yummy! Packed full of spinach and nutritious wheat germ, but you'd never know it with the yummy pecans, bananas and dried cherries going on! A great way to get kids to eat more greens by turning them into cool looking muffins!
Storage/Advanced cooking tip: These are perfect for a packed lunch, grab-and-go breakfast, or an afternoon snack, but you gotta store them right so they'll last you a long time. If you keep them in the fridge they will stale and dry out quickly, but they will not dry out in the freezer (or at least not for a long time!). So, I recommend freezing these in a freezer bag, not sandwich bags, and reheat in the microwave for just 20-30 seconds when ready to eat. If you want to freeze them for a LONG time, say a few months, wrap them first in foil before putting them in the freezer bag and they will not get freezer burned as quickly.
Print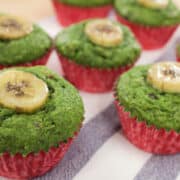 Healthy Yummy Green Muffins!
---
220 g

all-purpose flour, (about

1½ cups

)

½ cup

wheat germ, (toasted )

2 tsp

baking powder

½ tsp

baking soda

¼ tsp

+

⅛ tsp

salt

2 tsp

ground cinnamon

¾ cup

plain yogurt, (whole or 2% fat)

½ cup

sugar

150 g

fresh baby spinach leaves, (If using non-baby spinach, trim off the stems to keep the colour intense green)

½ cup

butter, (unsalted, melted, plus extra for brushing over bananas)

2

eggs, (large)

1 tsp

vanilla extract

120 g

ripe banana, (roughly mashed (about

1

large)  plus

1

more banana for garnish)

⅔ cups

toasted pecans, (chopped, or sub walnuts)

⅔

  cup dried tart cherries, (or sub dried apricots or dried cranberries
---
Instructions
Preheat oven to 375°F (190°C). Line a muffin pan with paper liners, if using. If not using muffin liners, and your muffin pan is not non-stick, grease the pan well with butter or non-stick cooking spray, make sure you get the corners!
In a large mixing bowl add flour, wheat germ, salt and cinnamon. Sift the baking powder and baking soda into the bowl and whisk everything together until combined.
In a blender, add yogurt, eggs, melted butter, vanilla, spinach and sugar; blend until completely pureed. If you can't fit all the spinach in at once, add as much as you can, blend to make room, then add some more.
Pour some of the puree into the mashed banana to thin it out a bit (so it mixes more easily), then pour both the banana mixture and all of the spinach puree into the dry ingredient bowl. Mix everything together with a rubber spatula, using a folding motion and scraping the bottom of the bowl, until about 80% combined. Add in the dried fruit and nuts and fold just until everything is well combined, do not over mix!
Spoon the batter into the muffin tins so that they are about ¾ full. Place one banana slice on top and brush with melted butter. Bake for 20-25 minutes, or until a toothpick inserted comes out clean.
Let cool for a few minutes and then remove them from the pan and let them cool on a rack. Serve warm if possible, they're super yummy warm!
---
Notes
If using muffin liners I recommend foil ones so the muffin doesn't stick to the liners.