---
Watch The Full Video Tutorial!
All my recipes come with step-by-step video tutorials with extra tips not mentioned in the blog post, so make sure you watch the video below to ensure success - and if you enjoy the show, please consider subscribing to my YouTube channel. Thank you!
Print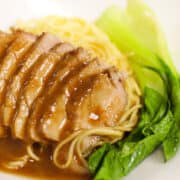 Honey Roasted Pork Tenderloin หมูอบนำ้ผึ้ง (moo ob nampeung)
---
1

whole pork tenderloin (about

1

lb)

2 Tbsp

soy sauce

1 Tbsp

Golden Mountain sauce

1 Tbsp

tamarind juice

3 Tbsp

honey

¼ cup

coconut milk

2

-

3

teaspoon sriracha (you can use more if you want it spicier)

¼ tsp

ground white pepper

2

cloves garlic, grated or finely minced

1 tsp

black soy sauce (for sauce, optional)
To make "Bamee Moo Ob" or Honey Roasted Pork with Egg Noodles
4

-

5

cloves chopped garlic
Vegetable oil
Baby bok choy, halved horizontally
Egg noodles
---
Instructions
Stir honey and soy sauce together with a fork loosen the honey. Add Golden mountain sauce, tamarind, coconut milk, white pepper, sriracha and garlic; stir until the honey is completely dissolved.
Remove the silverskin from the pork tenderloin and cut the tenderloin in half lengthwise. Poke the pork with a fork to make lots of holes to help the marinade penetrate. Place the pork and the marinade into a zip-top bag and let marinate in the fridge for at least 2 hour or overnight.
Place a rack on top of a foil-lined baking sheet. Remove pork from marinade and place on the rack. Pour the marinade into a small pot.
Preheat the broiler on high and place the pork under the broiler so that it is about 5-6 inches away from the element. Broil for 5 minutes or until the tops are browned. Flip the pork and broil the other side for another 5 minutes or until the internal temperature reaches 145°F. Note: At 145°F, the pork will still be slightly pink inside; this is safe to eat and the pork will be more juicy this way!
Let the pork rest for 5 minutes, tented with foil, before cutting.
Meanwhile, make the sauce by bringing the marinade to a full boil. Taste and adjust the flavour by adding more honey, tamarind, soy sauce, or sriracha, depending if you want the sauce to be more sweet, sour, salty, or spicy. If you want to darken the colour, add black soy sauce. If the sauce is too strong, you can add a splash of coconut milk or water to mellow it out..
Slice the pork thinly against the grain, and pour the sauce over. 
To Make Bamee Moo Ob:
Fry chopped garlic in some vegetable oil over low heat until golden brown. Drain garlic from oil and reserve both. Click here for a fried garlic video tutorial.
Bring a large pot of water to a boil, add salt (about 1 teaspoon per liter of water), and blanch bok choy for about 1 minute or until done to your liking. Remove with tongs and set aside. If not serving right away, shock the boy choy in ice water bath to maintain its bright green colour; when ready to serve, re-blanch to reheat.
Cook egg noodles in the same pot of water until done (following package instruction). Drain well and add to a mixing bowl. Drizzle garlic oil over noodles, toss and then divide into serving bowls. Arrange bok choy and slices of pork over the noodles. Spoon sauce over the pork, top with fried garlic.
Note: Do not boil the noodles before the bok choy as the excess starch from the noodles may make the water gummy.

---