---
It's hot pot time! Most Asian countries have their own style of hot pot, and just in Thailand alone there are a few different types! "Jim jum" (also called jeaw hon in Isaan dialect) is the style of hot pot from the Northeast of Thailand that uses simple, staple ingredients in the Thai pantry. It's easy to make and SO incredibly yummy!!!
Hot pot is such a great way to share a meal with family and friends. It's interactive, fun, delicious, healthy, AND as a bonus, you get to let the guests do the cooking!
If you're on a gluten-free diet, simply use gluten free soy sauce instead of oyster sauce and soy sauce in the meat marinade!
Watch The Full Video Tutorial!
All my recipes come with step-by-step video tutorials with extra tips not mentioned in the blog post, so make sure you watch the video below to ensure success - and if you enjoy the show, please consider subscribing to my YouTube channel. Thank you!
Print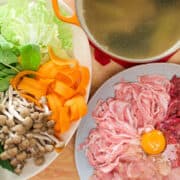 Thai Hot Pot "Jim Jum" จิ้มจุ่ม แจ่วฮ้อน
---
The Meat Platter
You can have as many types of meat as you wish, but I recommend about 150g of protein per person. If using beef, pork, or chicken, use the marinade recipe below. If using seafood, liver or tofu, no need to marinade.
150 g

beef, pork, or chicken, thinly sliced (choose tender cuts)

1 tsp

oyster sauce

1 tsp

soy sauce

1 tsp

oil

1 Tbsp

egg white (keep the remaining egg for the meat platter)

½ tsp

tapioca starch or cornstarch
The Veg & Noodle Platter
Pick and choose your favourites from these options:
Napa cabbage, w

ater spinach, bok choy, spinach or other soup-friendly greens with a mild flavour

Carrot ribbons

Asian mushrooms such as shimeji, enoki, shiitake, oyster, or king oyster mushrooms

Thai basil (must have!)

Sawtooth coriander or cilantro stems

Chinese celery 

Glass noodles or other quick-cooking noodles you like
Dipping Sauce
2 Tbsp

Fish sauce

1 ½ Tbsp

lime juice

1 Tbsp

Tamarind juice

1 tsp

roasted chili flakes, or to taste

½

 

tsp sugar

1

green onion, chopped

2

leaves sawtooth coriander, thinly slices (or use cilantro)
1 tablespoon toasted rice powder ("how to make it" video here)

Broth
4 cups

plain, unsalted pork stock (simply simmer pork bones in water for

2

hours)

2

stalks lemongrass, smashed and cut into

2

-inch chunks

5

kaffir lime leaves, torn and bruised

5

thin rounds galangal

1 Tbsp

fish sauce

1

heaping tablespoon toasted rice powder
---
Instructions
The meat platter: Thoroughly mix the meat, oyster sauce, soy sauce, oil, tapioca starch and egg white. Marinate for at least 20 minutes. Arrange all types of meat on a platter and place the remaining egg in the middle of the platter right on top of the meat (you can make a little crater so the egg doesn't run). When you eat, you can dip the meat in the egg yolk before you put the meat in the broth.
To make the dipping sauce: Combine all ingredients excepted toasted rice powder and stir until the sugar is dissolved. Stir the toasted rice powder in just before eating.
To make the vegetable platter: Cut everything into bite-sized pieces and arrange nicely on a serving plate. If using glass noodles, soak them in water for 7-10 minutes until pliable, and cut a couple of times with scissors to shorten the noodles. 
To make the broth: Bring the pork broth to a simmer and add the lemongrass, galangal and kaffir lime leaves; simmer rapidly for 3-5 minutes. Add the fish sauce and right before you're ready to start eating, add the toasted rice powder into the broth.
And off you go! Diners can add the vegetables and herbs to the broth and pull them out whenever they're done to your liking; have them with a little dipping sauce. For the meat, dip the meat in raw egg (this part is optional) and then dunk it in the broth and swish it around until done to your liking (you can either do this with chopsticks if you want to eat just one piece at a time, or use one of those little hot pot strainers if you wanna do more at a time). Dip the meat in the dipping sauce and enjoy!
---