---
Here's a curry so good I can drink it....literally! Cuz what's special about this is that it's so light a brothy. Think comforting chicken soup, but with the flavours of a red curry. Winter melon absorbs the flavours like a sponge, which is why it's such a popular vegetable used in curries in Thailand. And for hardcore eaters out there, there's blood! Cubes of pork or chicken blood is not uncommonly added to curries in Thailand—a great way to add iron to your meal!
Watch The Full Video Tutorial!
All my recipes come with step-by-step video tutorials with extra tips not mentioned in the blog post, so make sure you watch the video below to ensure success - and if you enjoy the show, please consider subscribing to my YouTube channel. Thank you!
Print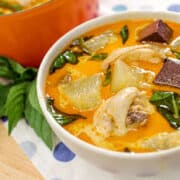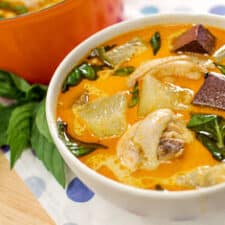 Light Chicken Curry w/ Winter Melon แกงไก่ใส่ฟักเขียว
---
1 cup

coconut milk

3

-

4

tablespoon red curry paste, or more to taste

2

chicken hind quarters (that's 2 legs and 2 thighs), bone-in, cut into chunks through the bones (see note)

2 cups

water

1

-

3

tablespoon fish sauce (this depends on the saltiness of the curry paste)

1 Tbsp

palm sugar, chopped

8

Kaffir lime leaves, torn into chunks

300g

winter melon, peeled and cut into

1

-inch cubes
Optional: 1 ½ cup pork or chicken blood blocks, cut into bite-sized pieces

1 cup

Thai basil leaves

Jasmine rice or rice noodles, for serving, optional
---
Instructions
In a heavy-bottomed pot, pour roughly ⅓ - ½ of the coconut milk to a pot and bring to a boil. Let the coconut milk reduced until quite thick (see video), then add curry paste and cook over medium heat, stirring constantly, until you start to see coconut oil separating and sizzling along the edges of the curry paste (see video again). 
Add the chicken and toss to coat in curry paste. Add remaining coconut milk, water, 1 tablespoon of fish sauce, sugar and winter melon. Simmer for 30 minutes or until chicken is fork tender.
Five minutes before the curry is done, add the kaffir lime leaves. Taste and adjust seasoning. Add the blood blocks, if using, and bring the curry to a boil and let boil for about 1 minute to cook the blood through. Turn the heat off and if serving right away, stir in Thai basil.
Serve on its own, with rice, or add some cooked rice noodles to it. Enjoy!
---
Notes
I am using bone-in chicken so that I can simply add water and still have flavourful broth—as the bones simmer they turn water into stock. If you are opting for bone-less chicken you MUST use unsalted chicken stock otherwise your curry will not be half as good as it should be. I like to go to an Asian butcher which often sells chicken legs/thighs cut  into chunks right through the bones. You can also use chicken drummettes which are also full of delicious bones, but you will end up with less meat so you could add more chunks of chicken meat to it to bulk it up. 
This is one of those dishes that are better the longer it has had time to sit, so if possible let the curry sit for a few hours or overnight before serving. Save the basil until ready to serve so it stays nice and green.