---
We're once again cooking with ingredients from mom's backyard! During my trip to Thailand, I had this dish at a small restaurant in Bangkok and just fell in love with its rustic simplicity. Ingredients used are no more than the very basic staples of any Thai home kitchen, and the flavours are light, fresh, and delicious.
Simple garlic fried rice topped with the fish that is the epitome of simple Thai cooking: Short Mackerel. Served alongside a variety of fresh veggies and herbs, and you've got yourself a slice of Thailand on a plate!
Watch The Full Video Tutorial!
All my recipes come with step-by-step video tutorials with extra tips not mentioned in the blog post, so make sure you watch the video below to ensure success - and if you enjoy the show, please consider subscribing to my YouTube channel. Thank you!
Print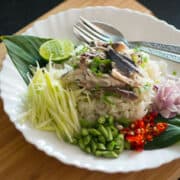 Mackerel Fried Rice "Salad" ข้าวคลุกปลาทู
---
"Salad" Ingredients (amounts are estimated, you can put as much or as little of each ingredient as you wish)
2

Short mackerels or use 2 regular mackerel filets

Half a sour green mango, shredded

Thai chilies, finely chopped, to taste

⅓ cup

thinly sliced shallots, or to taste

½ cup

long beans, ¼ inch pieces

1

lime

Chopped cilantro, optional, to taste

Chopped green onion, optional, to taste
Simple Garlic Fried Rice
4

cloves garlic (or more as you wish!)

500 g

cooked rice

1 ½

 

Tbsp fish sauce (you can also use soy sauce)

1 tsp

sugar
---
Instructions
Sear the fish: In a wok, add a generous amount of oil and heat until hot over medium high heat. Place the mackerel down (if using filets, skin side down) and let it sear until the skin is browned and crispy. Flip and repeat on the other side. Remove the fish from pan and let cool until you can handle them (keep the oil!).
Once the fish is cool enough, debone and tear the meat into chunks. If using Thai short mackerel, be very careful with bones as there are many little ones (watch the video for how to systematically debone it so you don't miss any!).
To make the fried rice: Using the same oil that you used to fry the fish, pour out any excess until you've got just about 1 - 1.5 tablespoon in the pan. Add chopped garlic and saute over medium heat until it starts to turn golden. Add the rice and toss with the garlic. Add the fish sauce, sugar, and continue to toss until there are no more lumps, and the rice is well coated in the oil and seasoning. **Note I forgot to mention in the video: Different mackerels have different levels of saltiness, especially ones in Thailand, so taste your mackerel first and if it's not very salty, you may need to add more fish sauce (and a little extra sugar to balance) to your rice. 
Assemble: Place the rice down in the middle of a plate, and arrange all salad ingredients around the rice (you can put as much or as little of each ingredient as you wish). To eat, squeeze a little lime on top and toss everything together! To add a little extra seasoning, you may sprinkle a little extra soy sauce of fish sauce. Enjoy!
---