No one would ever expect that KFC could make the best...well...anything, right? But somehow, KFC Thailand has managed to crack the code for the best wings, which they call "Wingz Zabb". IYKYK. It is a cult favourite. They're spicy, zingy, and they taste uniquely Thai. Trust me when I say you've NEVER had wings like these. They're pretty intense.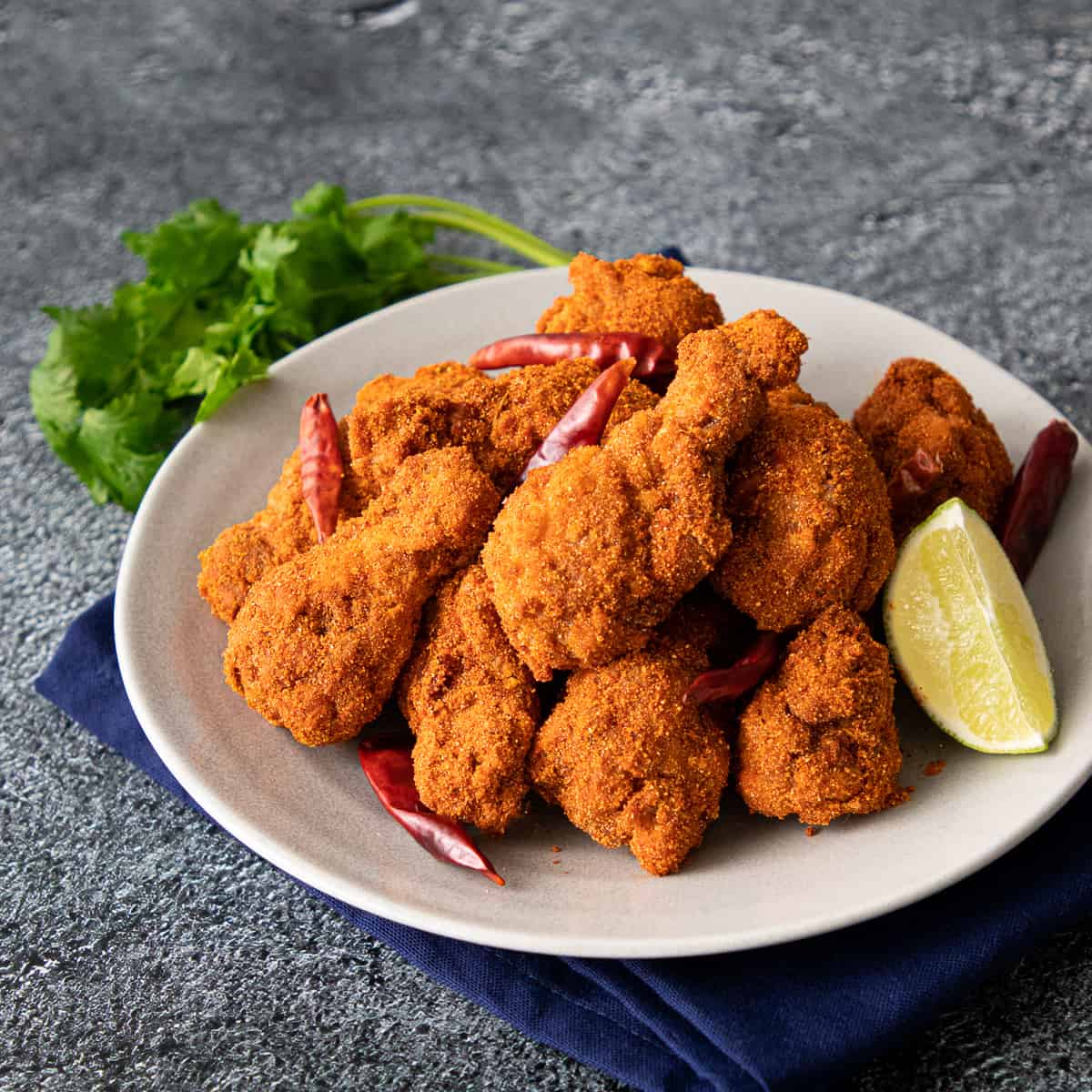 What Exactly Are KFC Wingz Zabb?
Fast food chains in Thailand regularly come up with menu items that are locally unique, using ingredients and flavours that Thai people love. Most of these are one-offs and don't last, (RIP McDonald's green papaya salad), but once in a while an item really strikes a chord with the people, and it becomes part of the permanent menu.
That's the story of Wingz Zabb. They were first introduced in 2004, and 20 years later...here they still are. Because they're SO GOOD. KFC Thailand has introduced other chicken wing menu items, including their version of fish sauce wings, but they did not stick.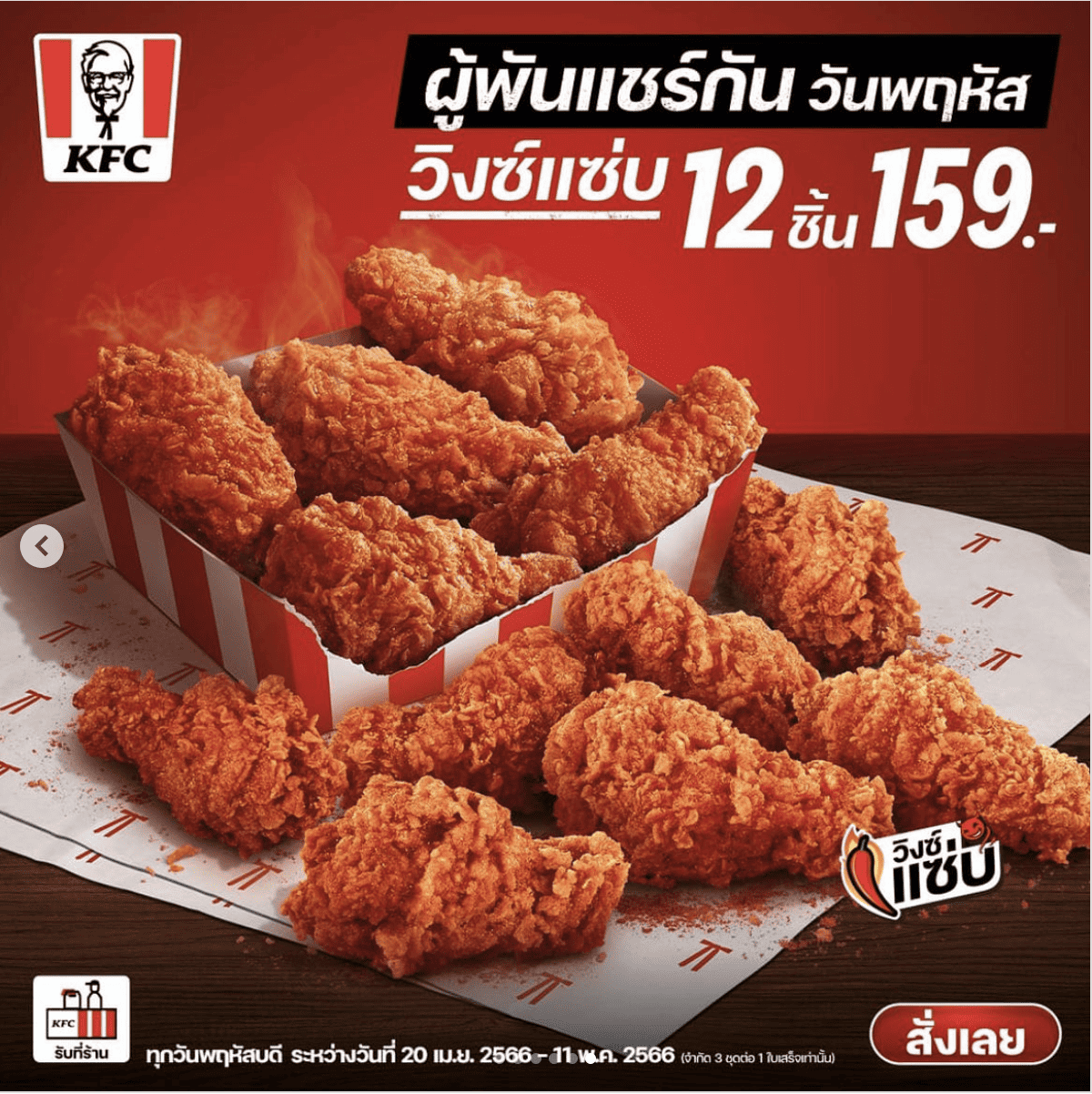 The magic is in the spicy, zingy seasoning powder that coats the wings. They're SO loved, in fact, that many people have tried to decode the recipe, and now you can buy bags of copycat "Wingz Zabb powder" in grocery stores in Thailand! Even Lays Thailand has made Wingz Zabb flavour chips that I am very sad I missed.
I've been wanting to make these myself for a long time, but I was waiting for one more trip to Thailand so I could refresh my memory of the original flavour before I attempted my version. That trip just happened, I ate them again, and here's the recipe. I'm confident in saying that it is even better than the original. But YOU try it and let me know what you think!
Ingredients
Here are all the ingredients you'll need, with a few important notes on some of them. For amounts, see the full recipe card below!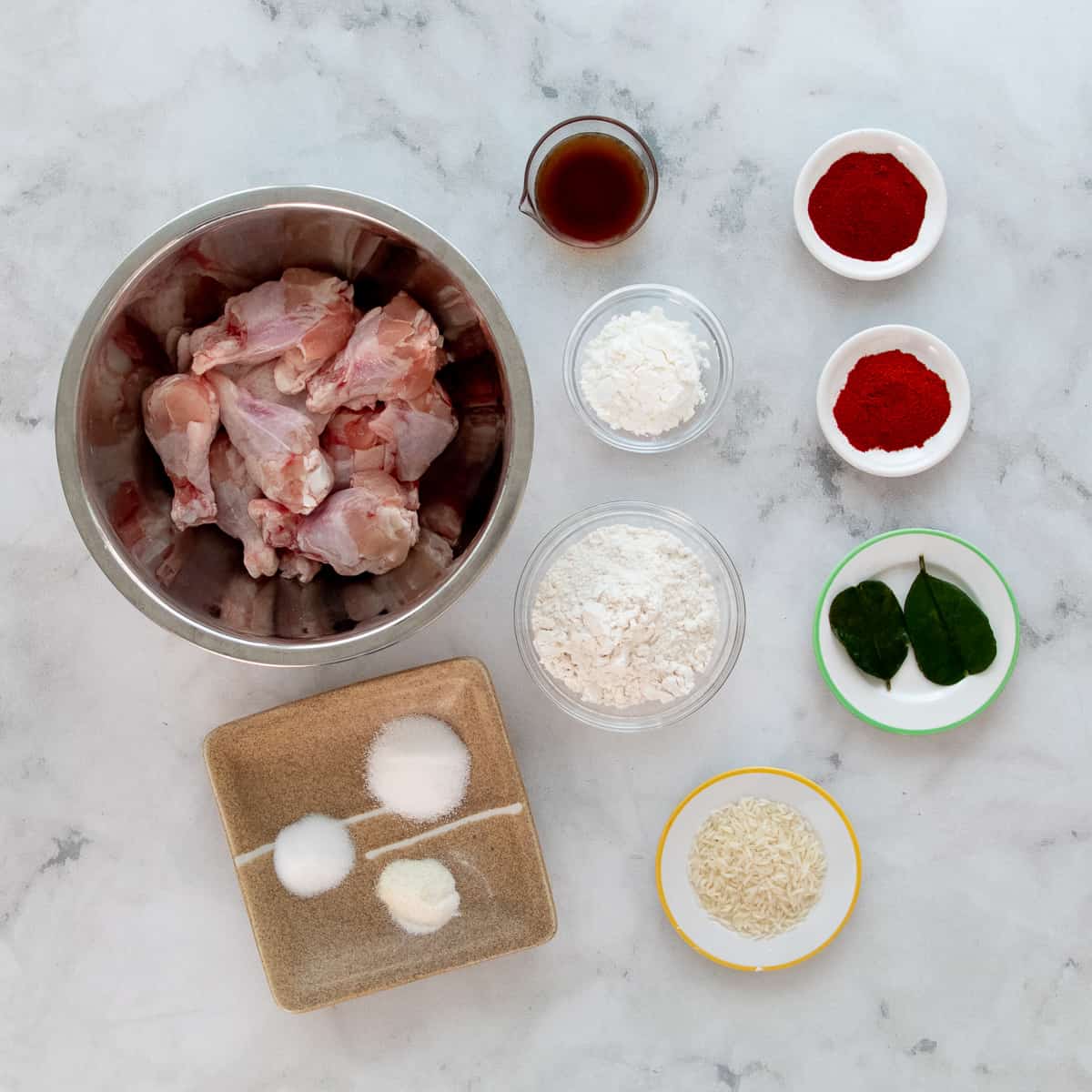 Magical Wingz Zabb Seasoning Powder
Uncooked jasmine rice. This is for making toasted rice powder, an MVP ingredient in many Thai dishes. Other kinds of white rice will also work, but jasmine is the most aromatic.
Makrut lime leaves, aka kaffir lime leaves. These are technically optional and I don't think KFC uses them, but it is highly recommended as I think it's one of the reasons why I think mine are better!
Sugar
Cayenne pepper, or another spicy chili powder. I use cayenne because it's already powdery fine, which is what we need so the seasoning powder adheres well. Always taste your cayenne pepper first to see how spicy it is though, because heat level varies significantly between brands. This will help you judge how much you should be adding.
Paprika. You could do all cayenne for super hot wings, but because my cayenne is very hot I cut it with some paprika to make it milder, while keeping the colour and flavour. The ratio between cayenne and paprika is up to you, but keep the total volume of the combination of chili powders the same. (Do not use smoked paprika.)
Lime juice powder (crystalized lime juice) If you've never used lime juice powder before, it is life changing. I have it on hand as a backup, or when I am just too lazy to deal with a fresh lime. It is especially useful for when you want the lime flavour and acidity, but not the liquid - such as in a seasoning powder! I wouldn't use it in drinks, but in dishes with enough competing flavours, the difference is hardly noticeable. In Canada I have only seen one brand, True Lime, but other brands will probably work. You can buy lime juice powder on Amazon or on iHerb.
If you can't find lime juice powder, you can substitute the lemon version "True Lemon" instead, or you can try using citric acid, which is also sour but won't have any lime flavour. Note that I have not personally tried citric acid myself so you may need to taste and adjust the amounts.
Table salt, or another equally fine salt so that it will measure the same.
For the Wings
Chicken wing drumettes. I'm usually a flats person, but for this, because the seasoning powder is so intense, it's better to use drumettes which are meatier. For your leftover flats, use them in this amazing Fish Sauce Wings recipe!
All-purpose flour
Cornstarch. Cutting the flour with a bit of cornstarch reduces gluten and creates a lighter, crunchier crust.
Water. A drizzle of water gets added to the wings after dredging, and this causes some for the flour to clump up and creates that craggy crust which helps the seasoning adhere and adds crunch!
How to Make Wingz Zabb
Here's a bird's eye view of the process, but if it's your first time, I highly recommend you watch the video tutorial to ensure success!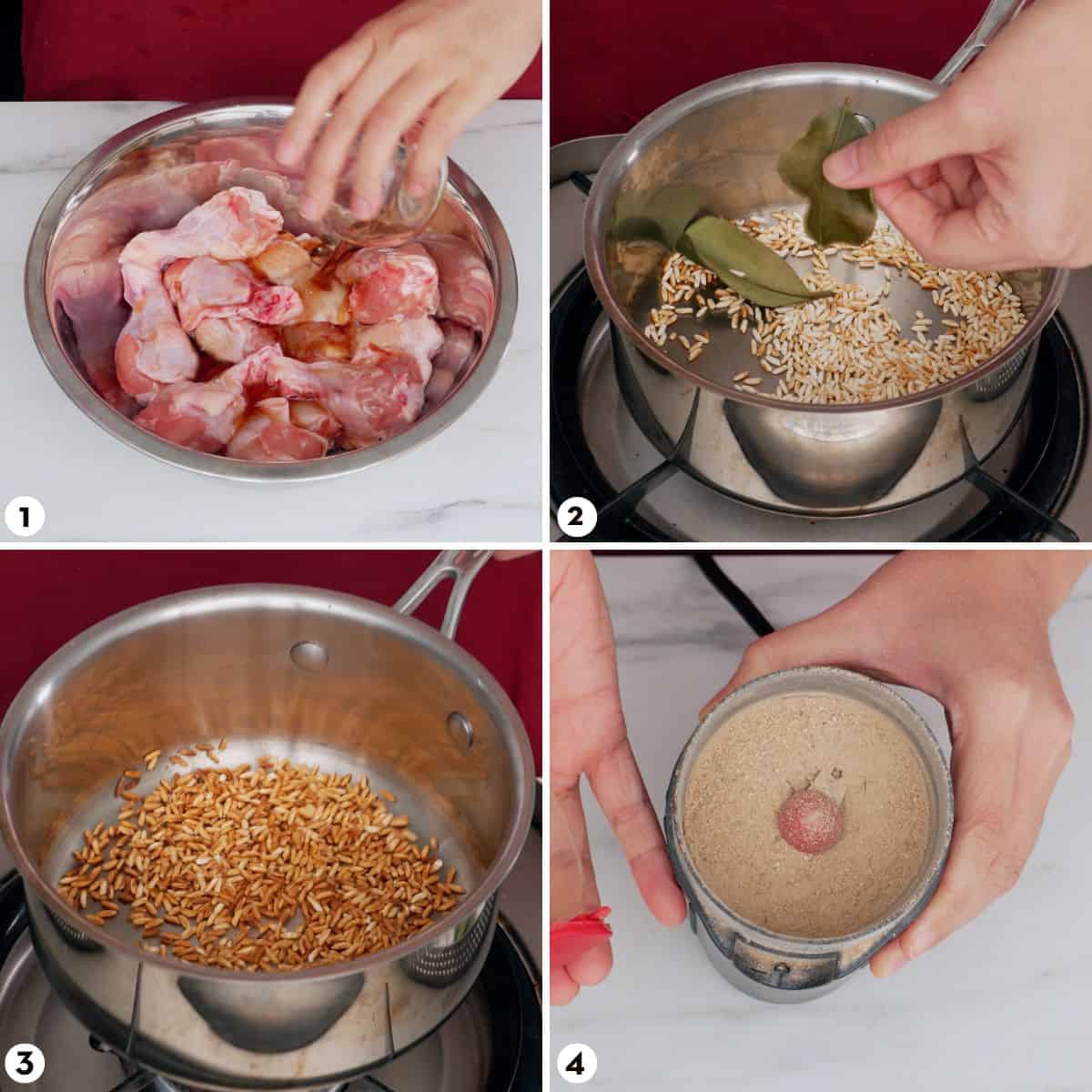 Marinade the wings in fish sauce and let them sit while you make the seasoning powder.
Toast the jasmine rice and the makrut lime leaves over medium high heat; and once the lime leaves are dry and curled up, remove them from the pan.
Continue toasting the rice until the grains are dark brown.
Grind the rice and the lime leaves in a coffee grinder or mortar and pestle until fine.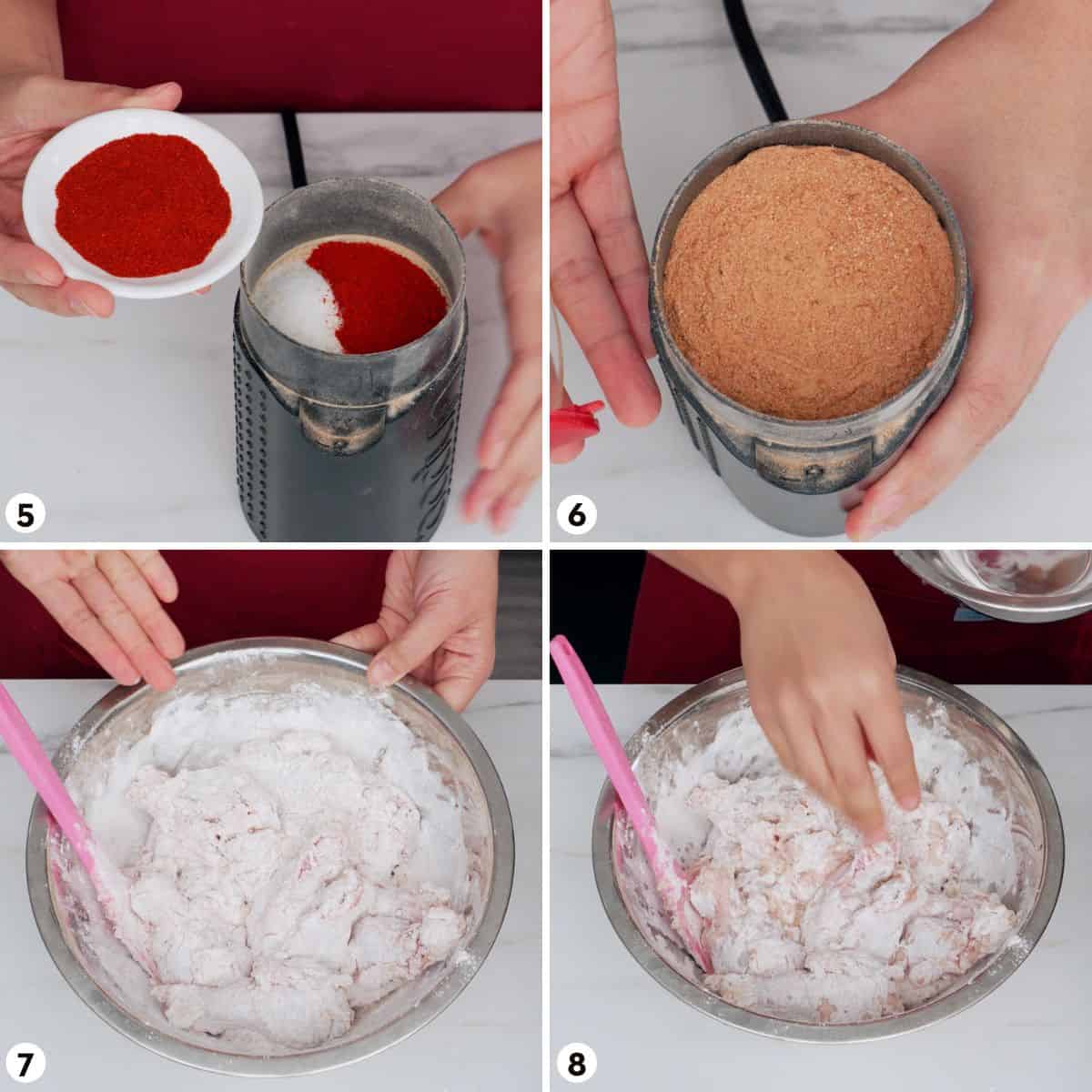 Add the salt, sugar, lime juice powder, paprika and cayenne pepper into the tosted rice powder.
Blitz for a few more seconds until very fine. There's your zabb powder, ready to be used on wings or anything else you want!
Whisk together the flour and cornstarch and add to the wings; toss to coat.
Drizzle about 2 tablespoon of water over the dredged wings and toss again. The water will cause some of the flour to clump, creating a craggy crust.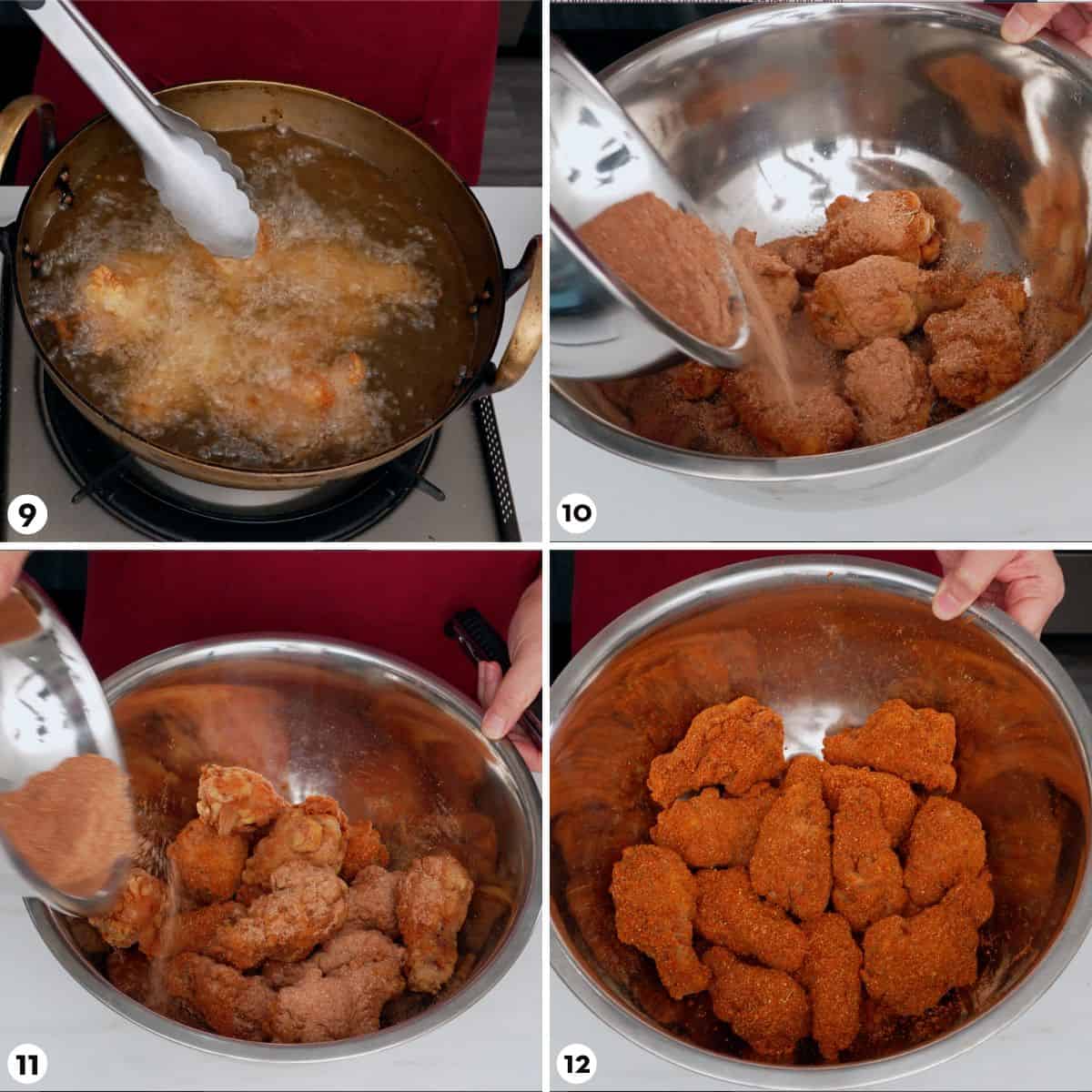 Heat the oil to 375°F (190°C) and add half of the wings, then reduce the heat to medium and keep frying for 6-8 minutes until done. Maintain oil temp between 325°F-350°F during frying.
Place the wings in a mixing bowl and immediately sprinkle about half of the zabb powder over them. Toss to get them mostly coated, but they don't need to be perfect right now.
Fry the second batch of wings and put them int othe same mixing bowl. Sprinkle MOST of the zabb powder over the new set of wings, reserving about 1 tablespoon, then toss everything together well.
The wings should be completely coated - if there are any blank spots, spoon the reserved powder directly over them. The colour of the wings will darken as the seasoning sinks into the wings. Allow to cool for a few minutes and dig in with a nice cold drink!
Leftover Wingz Zabb are milder...but how?
I was first very surprised to learn that my day-old reheated wings tasted much milder than fresh ones. Still very good, but the initial hit of flavour is wayyyyy less aggressive.
This is because with fresh wings, all the seasoning powder is sitting on the surface, so when you take that bite, your tongue is hit with all the flavours at once.
But as the wings sit, the seasoning will slowly sink into the wings, and the flavour will be distributed across the meat. (The wings are basically marinating.)
So, I recommend eating these fresh if possible. Leftovers are still good, but aside from the loss of crunch, they will also taste a bit milder.
How to Reheat Leftovers
Now that you have the right expectations, here's how to reheat the wings. Bake them in a 325°F (160°C) oven for 8-10 minutes. I keep the temp low because there is sugar in the seasoning, and temp that's too high will burn the sugar. You can also reheat them in the airfryer, and I would keep the heat even lower at 300°F (150°C).
Advance Prep Tips
If you want to serve these at a party, it is wise to do as much advance prep as possible. Here are the things you can do:
Make the zabb powder a day in advance and keep it in a tightly sealed jar. The powder will technically last a long time since they're just dry ingredients, but the flavours of toasted rice and makrut lime leaves will fade over time so you don't want to do it too far ahead.
Fry the wings up to 4 hours before serving. Leave them to sit at room temp and do not toss them in the seasoning yet. Leave the oil in the pot on the stove. When ready to eat, heat the oil to 350°F and re-fry the wings for 4-5 minutes per batch, and then toss them in the seasoning as per the recipe.
Note: In terms of safety, the wings do not need to reach an internal temp of 165°F again for the second fry, but they should reach at least 135°F so they're hot enough for serving.
The double frying will have an added benefit of making the wings extra crunchy, so you can also do this anyway if you have time. When double frying though be sure to let the wings cool completely before the second fry so that you don't overcook them.
What Else Can You Use the Zabb Powder For?
Once you've made the zabb powder and experience how good it is, you'll surely wonder...what else can I put this on?
Anything deep fried is the obvious answer. Potato wedges, fries, calamari, popcorn, and roasted nuts come to mind. Whatever it is needs to be a little bit oily on the surface, otherwise the powder will not stick; so oil your nuts before roasting them and butter your popcorn before tossing them in the seasoning.
I would also try tossing roasted vegetables in these. Brussel sprouts I'm sure would benefit, as will the humble roasted carrots.
Can these wings be done in an air fryer?
Air fryers are essentially a convection oven, so they will not give you that thick, KFC-craggy crust that we want for these. So the short answer is no. But if you want to air fry the wings and toss them in the seasoning powder anyway, you can do that of course, just know that it won't be the same!
BUT if you're going to air fry the wings, do not dredge them in the flour because the flour will not "fry" and will remain floury. You'll have to air fry the wings naked, and this is why they'll end up being very different.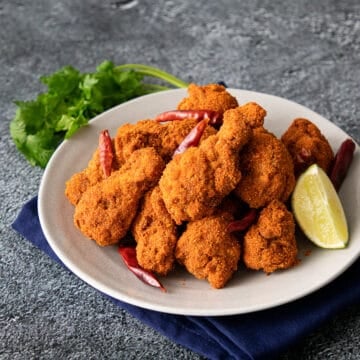 Spicy & Zingy Thai Wings (KFC Wingz Zabb)
Thai KFC has the best wings tossed in a magical, spicy, zingy seasoning powder. Many have tried to decode the recipe and now you can buy bags of copycat "Wingz Zabb seasoning powder" in stores! Here's my homemade version that I think is even better, and feel free to sprinkle it on anything else you can think of!
Ingredients
Magical Zabb Seasoning Powder
1 ½

tablespoon

uncooked jasmine rice

2

makrut lime leaves,

optional but highly recommended

1

tablespoon

sugar

2 ½

teaspoon

paprika

,

(see note 1)

2 ½

teaspoon

cayenne pepper

,

or another spicy chili powder (see note 1)

1

teaspoon

lime juice powder,

I use True Lime brand (see note 2)

1 ½

teaspoon

table salt

,

or another equally fine grain salt
Fried Wings
1 ½

lb

chicken drumettes

2

tablespoon

fish sauce

¾

cup

all-purpose flour

¼

cup

cornstarch

2

tablespoon

water

Frying oil
Check Out Ingredients and Kitchen Tools I Use
Notes
I use a 50/50 ratio of cayenne (spicy) to paprika (mild), but you can change this ratio depending on how spicy your cayenne is and how hot you want the wings to be. BUT keep the total amount for both to 5 teaspoons so you don't affect the concentration of other seasonings. You can also change the cayenne to other kinds of spicy chili powder.
True Lime is the only brand of lime powder I've seen, and it's available online and also in supermarkets. If you have other brands it'll probably work, but for reference, ½ teaspoon of True Lime is equivalent to 1 tablespoon of lime juice.
All my recipes come with step-by-step video tutorials with extra tips not mentioned in the blog post, so make sure you watch the video to ensure success. If you enjoy them, consider subscribing to the YouTube Channel to not miss an episode. Thank you!
Subscribe to my YouTube Channel
Instructions
Trim any flappy bits of skin off the drumettes then place them in a mixing bowl. Add fish sauce and mix well. Let sit while you make the Zabb Powder, or about 20 minutes, stirring them halfway through.

1 ½ lb chicken drumettes,

2 tablespoon fish sauce
For the Zabb Powder
In a small skillet, add the jasmine rice and the makrut lime leaves (if using) and toast them over medium high heat, stirring constantly. After a few minutes, the lime leaves will looks dry and curled up; at this point remove only the leaves from the pan so they don't burn. Keep toasting the rice until the grains are dark brown and remove from the pan immediately. The whole process should take about 5 minutes, and it will get a bit smokey, so make sure you have good ventilation.

1 ½ tablespoon uncooked jasmine rice,

2 makrut lime leaves

Grind the toasted rice and lime leaves in a coffee grinder or a mortar and pestle into a fine powder - you want this very fine because any chunky pieces will not stick to the wings.

Add the cayenne, paprika, lime powder, sugar, and salt into the toasted rice and grind for 5 more seconds or so, until everything is a fine powder. Remember to let the dust settle before opening the lid, and don't put your nose right on top of it!

2 ½ teaspoon paprika,

2 ½ teaspoon cayenne pepper,

1 teaspoon lime juice powder,

1 ½ teaspoon table salt,

1 tablespoon sugar
Fry the wings
Whisk together the AP flour and cornstarch until well combined, then add to the marinated wings. Toss to coat, making sure the wings are not sticking together.

¾ cup all-purpose flour,

¼ cup cornstarch

Drizzle the 2 tablespoon of water over the wings and toss again; the added water will allow some of the flour to clump up, creating a craggy texture on the wings which will add crunch and help the seasoning adhere.

In a wok or a medium sized pot, heat about 2 inches of frying oil to 375°F (190 °C). Add the wings to the hot oil without crowding the pot (this amount should take 2 batches) and lower the heat to about medium. As you fry, you should aim to maintain the temp so it's sitting between 325°F-350°F. Fry for about 6-8 minutes depending on the size of the wings. Note: Internal temperature should register at least 165°F, but for wings I like to go for at least 175°F to make sure any blood left in the veins (common in wings) are cooked off. Note that wings are SAFE to eat at 165°F, but the blood can still appear red at this temp and freak some people out.

Remove the first batch of wings from the oil and place into a large mixing bowl. Turn the heat down to the lowest for now, and sprinkle about half of the Zabb powder evenly over the wings then use a spoon to toss to coat. If there are big blank spots, spoon some powder directly over them, but you don't need to be perfect at this point as we still have a second batch coming.

Bring the oil temp comes back to 375°F, fry the second batch, then add them to the first batch of wings. Sprinkle MOST the remaining zabb powder on them, keeping about a tablespoon behind. Toss well, trying to get all areas covered, and if you see any blank spots spoon the powder that you held back directly over them.

Allow to cool for a few minutes before eating so you don't burn yourself! And make sure you have a nice cold drink to go with them cuz the flavours are INTENSE!

*If you find the flavour of the wings too strong, you can try increasing the amount of toasted rice powder to 2 tablespoon which will mellow out the flavours. Alternatively try reducing the amount of lime powder slightly and make them a little less acidic.
Watch my videos AD-FREE and get bonus content on Patreon!
Tried this recipe? Share a pic!
Tag @hotthaikitchen on Instagram and Twitter!