---
This dish is called "lime pork", but really it's more like tender pork sliced drenched in a spicy garlic lime dressing...served with fresh crunchy vegetables and topped with mint leaves. This recipe is healthy, easy and oh, so delicious! It has all the iconic flavours of Thai food: spicy, sour, sweet, and salty, but with a kick of freshness from the herbs and vegetables. The pork is simply blanched, but a technique of "velveting" keeps the pork super moist and tender.
Yes, you can sub chicken, beef, or seafood for the pork, but in Thailand this dish is always served with pork. It's apparently a popular drinking food...and I must say it goes so well with beer, but I think it would be great any time, with rice, on its own, or even in a taco!
Watch The Full Video Tutorial!
All my recipes come with step-by-step video tutorials with extra tips not mentioned in the blog post, so make sure you watch the video below to ensure success - and if you enjoy the show, please consider subscribing to my YouTube channel. Thank you!
---
Print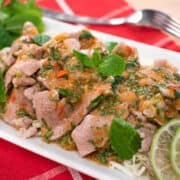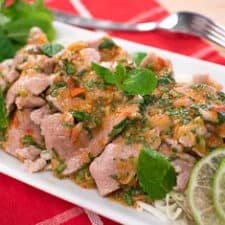 Spicy Garlic Lime Pork "Moo Manao"
---
200g

pork, loin or butt, very thinly sliced against the grain (see note)

2 tsp

soy sauce

3 Tbsp

water

2 tsp

oil

1 Tbsp

cornstarch

3

cloves garlic

1

-

2

Thai chilies, to taste

1 ½ Tbsp

palm sugar

3 Tbsp

lime juice

2 Tbsp

fish sauce

4

-

5

springs cilantro
~ 2 cups shredded cabbage
Some crunchy fresh veg of your choice (see note)
A few sprigs of mint
---
Instructions
Marinate the pork: Combine pork with soy sauce, water and oil and mix well. Add cornstarch and mix well, and let marinade for at least 20 minutes.
Make the dressing: In a mortar and pestle, pound garlic and chilies into a paste. Add palm sugar and pound until mostly dissolved. Add fish sauce and lime juice and stir to mix. Stir in chopped cilantro.
Prepare the plate & veg: Line the serving plate with shredded cabbage. For your side veggies, if using Chinese broccoli, s

eparate the stems and leaves, then peel the outer skin of the stems. Soak the veg in ice cold water to keep them crisp and cold until ready to serve. If using broccoli stem, peel the skin off first. 

Cook the pork: Bring plenty of water to a full boil. Prepare a big bowl of warm water on the side. Place the pork in a wire mesh skimmer or a spider (see video) then blanch pork in the boiling water for 15-30 seconds, stirring the pork a bit to spread them apart. Remove the pork immediately as soon as it's done—the pork overcooks very quickly in boiling water! If using lean pork such as loin, remove it as soon as the outside looks done; you want the inside to still be medium to prevent it from being dry. Dunk the pork into the bowl of warm water to rinse off any bits of velveting and drain well.
Plate: Place the pork on top of the cabbage in one layer, then spoon the dressing evenly over the pork. Top with mint leaves and serve with a side of veggies.
Enjoy!
---
Notes
I like to use pork butt (collar butt) because it has more flavour and fat, but it's kind of a hard piece to work with because it's such an irregular shape. You can also use pork loin, which is leaner and easier to work with, but I would suggest buying a loin roast, not chops, so you can easily slice the pork against the grain. And if using loin, be EXTRA careful not to overcook the pork because it is very lean and will be bone dry if overcooked. Aim to cook it to medium doneness if using loin. 
We typically serve moo manao with some raw Chinese broccoli, and you can use the leaves as a wrap and munch on the stems. But really, this could be any fresh veggies you like. I use peeled broccoli stems, but you can do cucumber, carrots, kohlrabi, celery, or even serve this with some lettuce leaves if you want to wrap it.
Keywords: pork, lime, salad, moo manao, gluten free, healthy, low carb