Fish sauce is arguably the most important seasoning in Southeast Asian cuisine, and this is definitely true of Thai cuisine. You've probably had it without even knowing it; in your pad thai, or in that orange dipping sauce nuoc cham from your Vietnamese takeout.
In this article I'll walk you through everything you need to know about fish sauce including what it is, how it's made, how to choose a good quality fish sauce, how to store, and how to substitute it.
MORE OF A VIDEO PERSON? Watch this video below where I go through the basics and the live tasting of 5 different brands of fish sauce. But this article does go into more detail.
To learn about other ingredients for Thai cooking, checkout my Thai Ingredient 101 Playlist on YouTube.
What is Fish Sauce?
Some call it a condiment, but fish sauce is more of a seasoning in a sense that we use it primarily to season our food. Its main purpose is to add saltiness; and the secondary purpose, but still very important, is to add umami or savory flavor.
You can think of it as soy sauce, but with fish! It's the main salting agent in traditional Thai cuisine, and is widely used in many Southeast Asian countries such as Laos, Vietnam, and the Philippines.
We also use it as a condiment. Often in Thailand you'll find prik nam pla on the table, which is a simple combination of fish sauce and chilies (and sometimes lime juice and garlic) used to add an extra boost of seasoning to anything that might need it, much in the same way salt and pepper are used in the West.
How is Fish Sauce Made?
Basically, fish sauce is the liquid that results from the fermentation of small fish (most commonly anchovies) and salt. The process is rather simple: put a bunch of anchovies and salt together in a big tank and let it do its natural thing.
From there, the salt draws liquid from the fish, and naturally existing enzymes allow the fermentation process to begin. It ferments for 12 to 24 months, and the resulting liquid is your "first-press", purest, extra-virgin fish sauce.
However, most of what's on the market is not extra virgin, because what most manufacturers do after that is to add more water and salt back into the same batch to get a "second press" out of it. They can then repeat this as many times as they like, and the flavor becomes more diluted each time.
Then to make the final bottle, the first press is combined with subsequent presses at a ratio specific to that brand. So the fish sauce quality is determined by how much of that first press is in the final product.
Most brands will also add a little bit of sugar to help round off the sharpness of the salt for a more balanced flavour. The presence of sugar, in my opinion, is not a bad thing as it's such a small amount and will only help its flavour. In lower quality fish sauces, other additives such as MSG, flavor, and color might also be added.
How to Choose a Good Fish Sauce
Good news: there aren't a whole bunch of different types of fish sauce to choose from, unlike soy sauce where dark soy, light soy, sweet soy sauces and more can trip you up. There is mainly just one type (yes, "mainly." See which to avoid below).
You can also use fish sauce from different countries interchangeably, i.e. you can use Vietnamese fish sauce in Thai cooking and vice versa. BUT there is a huge range of quality, so your main concern is making sure you choose a good one. Here's how:
1. Choose one with a simple ingredient list.
First you'll want to go with the one with the least number of ingredients; because the more diluted the fish sauce, the more additives they have to add to it in order to make up for the lack of any real fish flavor.
The ingredient list should contain no more than: 1) anchovies, 2) water (may not be listed even when it contains it), 3) salt, and 4) sugar. If it contains anything else, it is not a good sign.
Note: Sometimes the label will list anchovy extract rather than anchovies. This does not mean they're using artificial anchovy extracts or any such thing, but some brands use the word "extract" because there aren't any actual fish in the bottle, only the liquid that had been extracted from the fish. In the same way that oyster sauce contains "oyster extracts" because the oyster bodies aren't in the bottle.
2. Choose a higher protein content.
Another indicator of quality is protein content. As I explained in How is Fish Sauce Made above, lower quality fish sauce has more water added, and this naturally dilutes the concentration of fish protein.
For example, Red Boat, a premium brand with no added water, contains 4 grams of protein per tablespoon. Squid and Megachef, both great everyday-use options, contain 2 grams. Lucky, a cheap brand I do not recommend you touch, contains zero grams of protein.
Some brands use a "degree N" number to indicate the amount of protein in the fish sauce, for example Red Boat indicates 40°N while Megachef indicates 30°N. The higher the number, the more protein.
You might notice that some brands contain added protein. For example, Three Crabs fish sauce contains 2 grams of protein but also has "hydrolyzed wheat protein" on its ingredient list. (Hydrolyzed wheat protein is a flavor enhancer, similar to MSG.) I do not know whether the amount added makes any difference to the total amount of protein per serving (my guess is that it doesn't) but it is something to mention.
Important takeaway: Choose fish sauce with at least 2 grams of protein per tablespoon.
3. Choose one that's not too cheap.
Finally, the price tag can tell you something. You can use price as a general indication of quality because the most flavourful fish sauce actually takes more fish to make, and should cost you more.
Price is just a general rule of thumb though, and should not be used as the only indicator (I've seen some ridiculous pricing on fancy-looking fish sauce with a bunch of additives!). But once you've already considered the two points above, price can be used as a tiebreaker.
Note: If you're going to compare prices, it should always be compared within the same store/seller, because different sellers can set prices differently and this difference can be huge especially if buying online.
The Best Fish Sauce for Everyday Cooking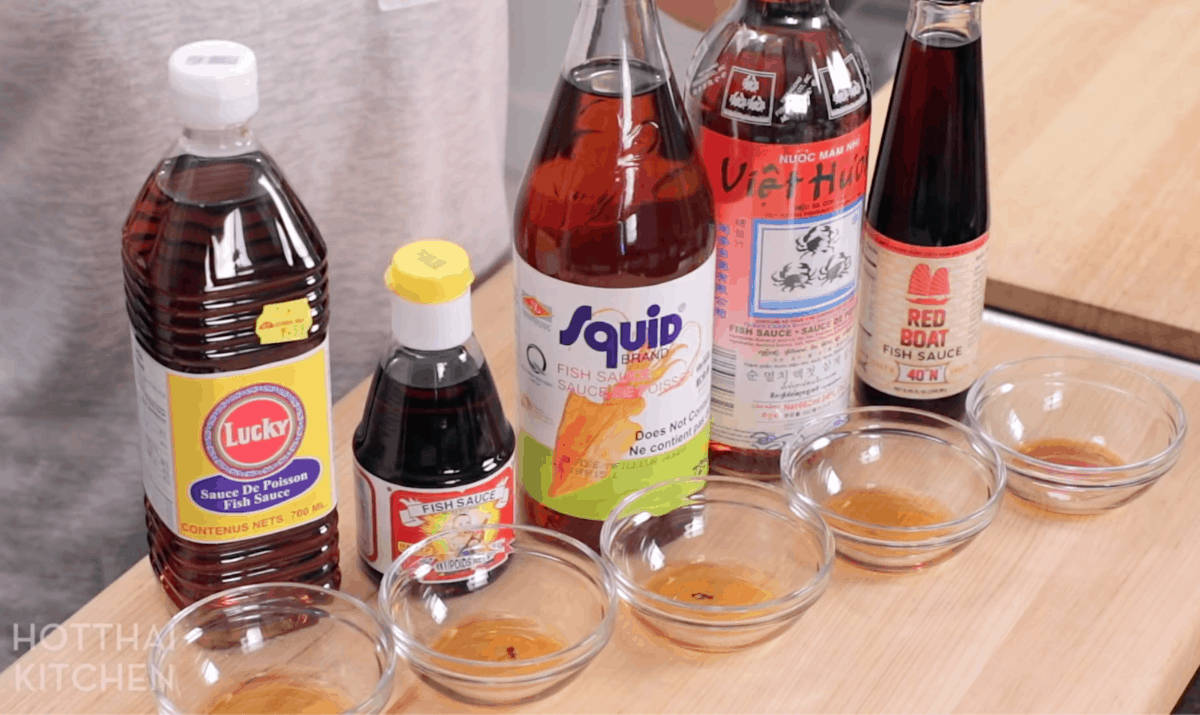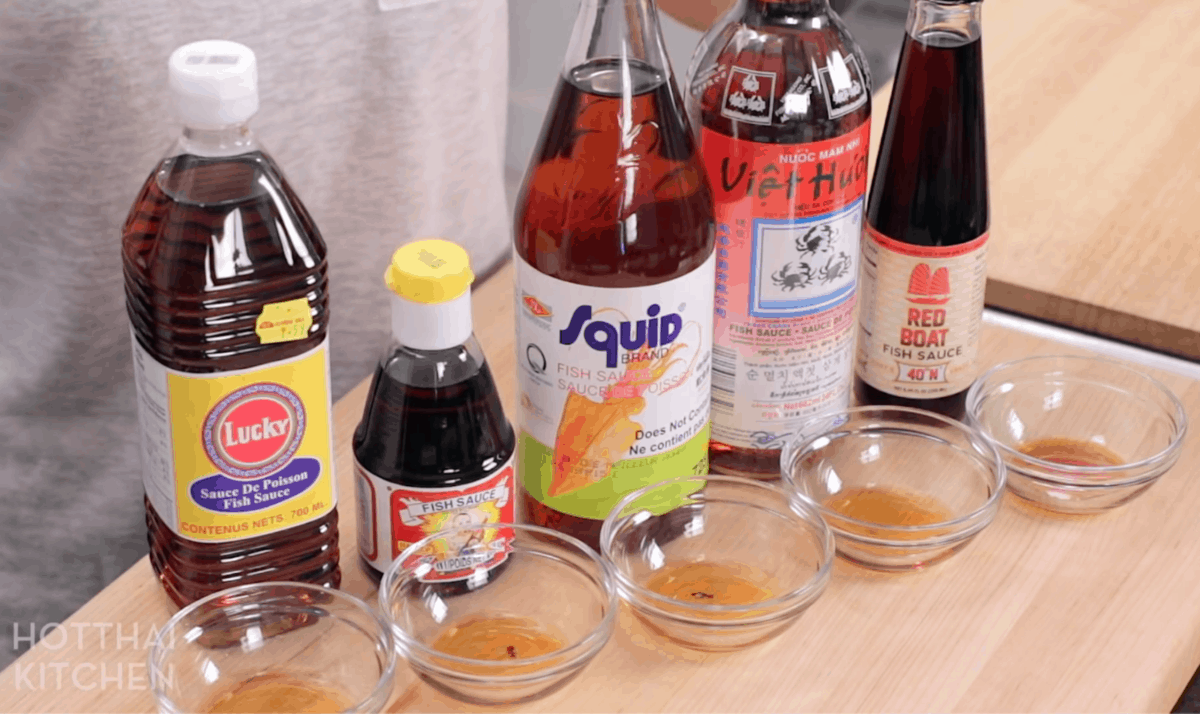 Here are some brands I recommend (not in any specific order), some of which wasn't included in the video's taste test. Note: I live in Canada and unfortunately don't have as many options, so if you don't see the brand you're interested in on my list, use the guide above to determine the quality of your fish sauce.
SQUID. Squid is a household name of fish sauce in Thailand, and indeed it is the one my family uses. It isn't "premium," but it's perfect for everyday use and is affordable and widely available.

It is a little saltier than most, with 1670 mg of sodium per tablespoon, so if you're watching your salt intake, you may want to go with another brand. But because of this, it is the brand that I now use for my recipe testing to ensure that if you follow my recipe using a different brand of fish sauce, you're not going to end up with something that's is too salty; which is something you cannot fix.

MEGACHEF. Megachef fish sauce has recently surged in popularity in Thailand, branding itself as more premium, but still affordable enough for everyday use. It has a great flavour and tastes more rich and flavourful than Squid.

You may come across Megachef fish sauce in two different looks: brown and blue. The brown one is a formula that is sold in Thailand, while the blue one is for export only. From my tasting, the blue one is less salty with 1500 mg sodium vs 1580 of the brown one.

Megachef is fermented for 2 years, which I believe is longer than many others. The saltiness feels a little less jarring than Squid, so this is a good choice if you want to use it as a tableside condiment.

THAI KITCHEN. Thai Kitchen brand fish sauce is what you will likely find at non-Asian stores. Despite not having the "authentic Asian look" that others have, it is a good quality fish sauce with a lower sodium content at 1360 mg per tablespoon. I've only seen it in small bottles, so the price-per-volume is higher than others in the same tier.

THREE CRABS. I mostly use Thai fish sauce (for obvious reasons) but Vietnamese fish sauce or nuoc mam can be used in Thai cooking. I find Three Crabs to have a milder flavour than most others, which could be attributed to a higher sugar content (2g vs 1g) and perhaps less concentration of fish.

It does contain hydrolyzed vegetable protein which is a flavour enhancer, not unlike MSG, so it breaks my "simple ingredient list" rule. But it still tastes good so I make an exception for it.

Note: I've seen conflicting nutrition facts labels on Three Crabs, some with 1800 mg of sodium, and others with 1540 mg. My guess is 1540 is the correct amount, as it doesn't taste any saltier than other fish sauce.
Upgrade Pick
If you want to splurge a bit, RED BOAT a premium brand that is the most well known for producing "extra virgin fish sauce." It is made on the island of Phu Quoc in Vietnam, known for making good fish sauce.

With only two ingredients, fish and salt, it doesn't have any sugar or water added, and its protein content is double of others at 4g per serving. Because of the lack of sugar, it can taste a little saltier when you taste it straight up, even though it isn't any saltier with 1490 mg of sodium per tablespoon.
Other Brands to Try
Here are a few brands that are not available to me, but are worth considering:
SON. Similar to Red Boat, Son is a premium Vietnamese fish sauce that contains only the first press without added water or sugar.
TIPAROS. Another classic Thai household name that is on par with Squid and is widely available in the US (though not in Canada). I have used this in Thailand years ago, but have not tried it against other brands in a taste test.
Which Fish Sauce to Avoid
Golden Boy (or as I call it, the creepy baby brand). If this is the only one you have, fine, but it isn't the best quality despite a relatively simple ingredient list.
Lucky Brand. Avoid this one at all cost. It's full of additives and is basically salty flavored water with colour added.
Anything that is not a clear brown liquid! If you see "fish sauce" that is a murky, brownish-grey liquid, that is a different thing altogether and is NOT what you want unless you are making specific dishes that call for it. It's an unfiltered fish sauce with a much more pungent flavour.
I mostly see this product from Vietnam and it's labeled mam nem, though there is also a Thai version called pla ra. If you're looking at a Vietnamese fish sauce, make sure it says nuoc mam or nuoc mam nhi.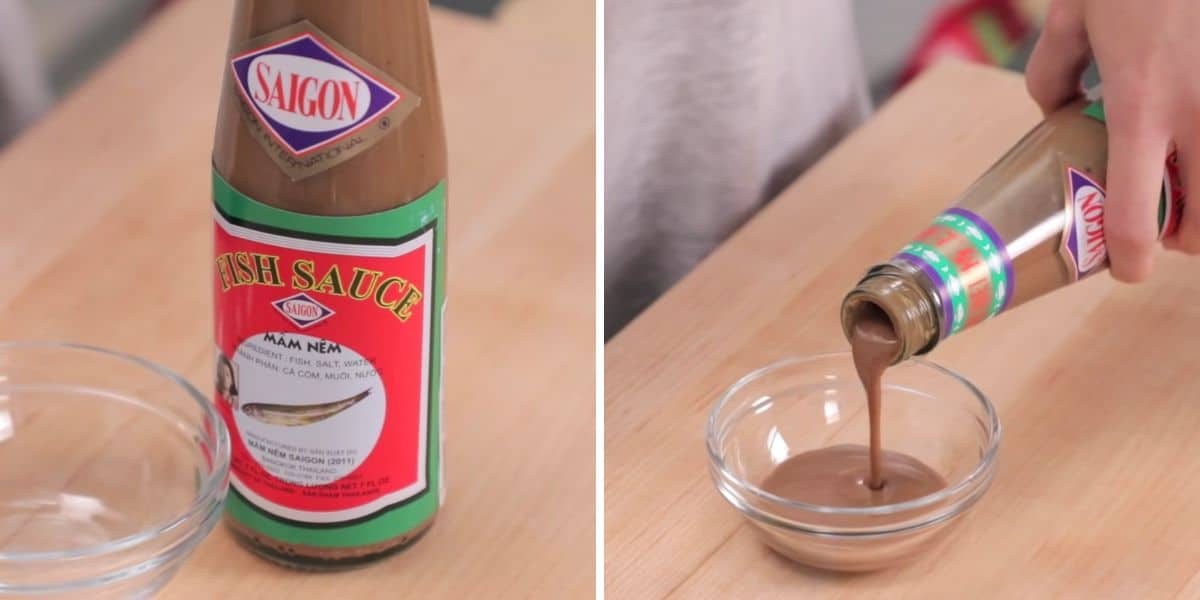 Storage Tips
Most Thai people keep fish sauce out at room temperature right by the stove because we use it for everything and it needs to be at arm's reach. But we also go through it fast.
If you're an occasional user, keep opened fish sauce in the fridge. If the fridge is not an option for some reason, at the very least store it in a cool, dark place. This is because over time, the flavour does deteriorate and becomes more pungent, and the color will be visibly darken. Keeping it cold, in the dark, and tightly sealed will slow this process down significantly.
Fish sauce won't "spoil" however, because there's so much salt in there, no bacteria can grow; it just won't taste good if it's "old".
PRO TIP: If you're not a regular user, look for a small bottle of fish sauce so it won't have time to get old. At the Asian market, look on the top shelf as smaller bottles are often hidden there. Even my parents living in Thailand only buy small bottles after all of us left home and their usage rate slowed down.
How to Use Fish Sauce
If you're new to fish sauce, I recommend starting out with recipes from Southeast Asian cuisine that naturally contains it, because those are tried and true. Thai curries, soups, or salads on this website are all great places to start.
Then, you can start experimenting with non-traditional uses. Try using it in place of soy sauce in Asian cooking, but keep in mind that the flavours are very different, so try substituting just half of the soy sauce in stir fries or marinades see how it goes!
And yes, you CAN use fish sauce outside of Asian cuisine! Remember it's just a source of salty and savory taste. Richer foods are great for experimenting as the fish flavour won't be too obvious: try it in stews, chili, bolognese sauce, braised meats, pasta sauces, or meatloaf!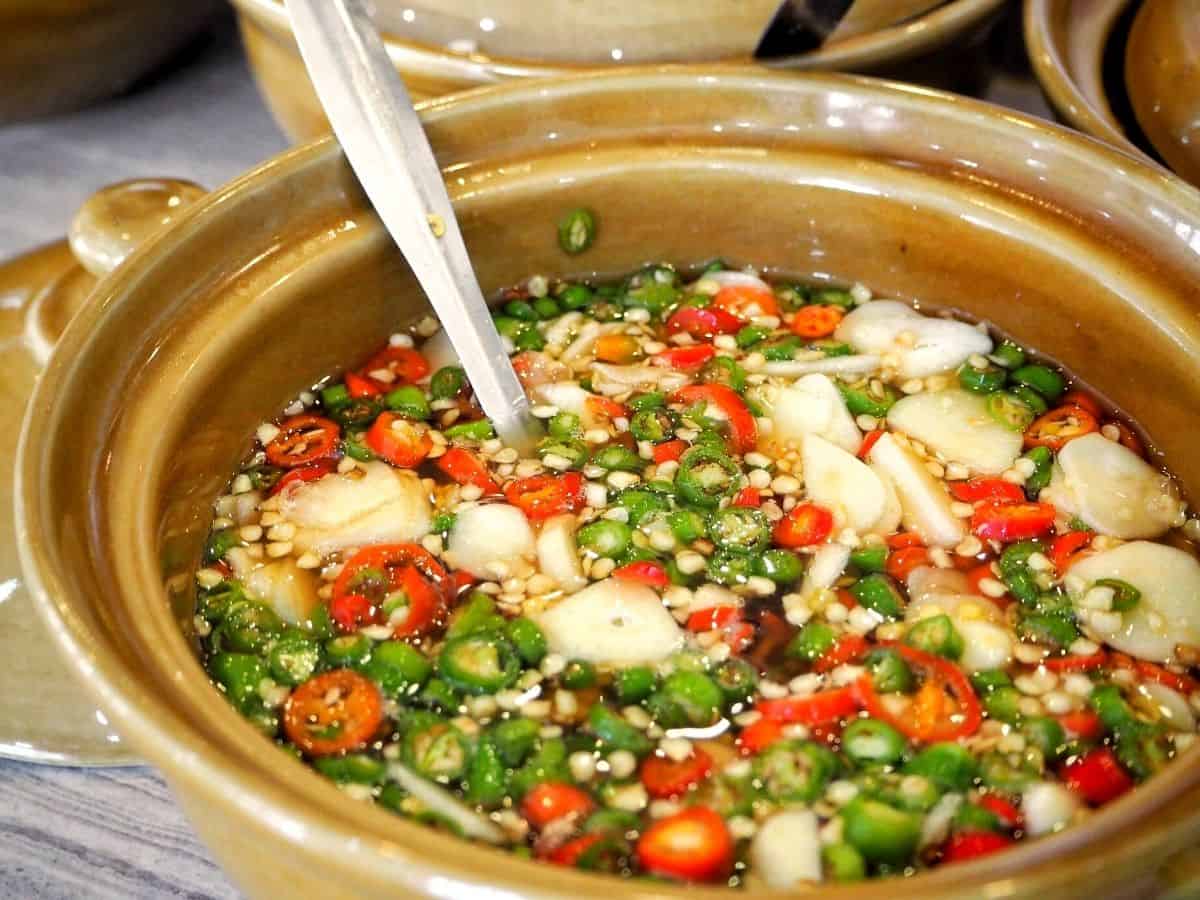 You can also use it as a tableside condiment, adding it to anything that feels a little bland. For this, I recommend making the most popular Thai condiment, prik nam pla, simply by combining fish sauce with chopped fresh chilies and a squeeze of lime juice. (Ratios do not need to be exact, but you can start with 3 parts fish sauce to 1 part lime juice.) Add some chopped garlic or shallots if you'd like, then treat it like you would tabasco, worcestershire sauce, or salt and pepper!
But will it make my food taste fishy?
No. If that were true, most Thai dishes would taste fishy. I have received many messages from first timers who smell it, then immediately cannot imagine how this could be added to food. I've even had someone asking me if it had gone bad!
Yes, it smells fishy, but the magic of fish sauce is that once it's added to food, the fishiness disappears and you're left with that salty savory punch that can elevate any dish.
Substitutes
If you don't consume animal products or you're allergic to fish, there are a few options. You can substitute soy sauce using a 1:1 ratio. However, if the fish sauce is the only seasoning and it's the main flavor, I do a combination of soy sauce and Golden Mountain Seasoning or Maggi Seasoning, just to give it a little more of a sharper flavour that seems to mimic fish sauce better.
You can buy vegan fish sauce, but you have to be quite selective because there are some reeeealy bad ones out there. In the video I showed a bottle that is awful, and the ingredient list contains water, salt, sugar, MSG, caramel, "flavor" (whatever that is), and sodium benzoate which is the preservative. It's just a salty solution with artificial flavor added.
However, there are some good ones, such as Premium Pineapple Made Vegetarian Fish Sauce which you can find at some Asian markets, and a whole slew of other options online these days. Andrea Nguyen also has a great post about vegan fish sauce including a DIY recipe that I recommend checking out.
If you are need a soy-free and gluten-free option, coconut aminos might be a good substitute though I have not personally tried it.
Want to Keep Learning About Thai Ingredients?
Now that you know everything there is to know about this essential Thai sauce, time to get into the kitchen and cook with it. This list of easy Thai dishes is a great place to start.
If you want to keep learning more about other Thai ingredients, take a look at these other posts and videos, or check the complete library of my posts about Thai ingredients!