---
This video is sponsored by Campbell's.
Campbell's reached out to me with a challenge to develop a recipe that uses their new vegetarian mushroom broth. I tasted the broth and was pleased to find that it has a wonderfully rich flavour, and uses shiitake mushrooms which I love!
So, I came up with this delicious mushroom wonton soup, and I knew it was a success when my very carnivorous cousin loved the soup and didn't even realize it was vegetarian! Ha! (Yes, he definitely felt tricked.)
If you're not in Canada and can't find this broth, don't worry, there is a way around it. Check out the details in the written recipe below!
Watch The Full Video Tutorial!
All my recipes come with step-by-step video tutorials with extra tips not mentioned in the blog post, so make sure you watch the video below to ensure success - and if you enjoy the show, please consider subscribing to my YouTube channel. Thank you!
Print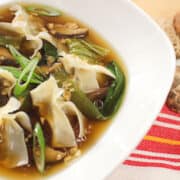 Vegetarian Mushroom Wonton Soup Recipe
---
Mushroom Wontons:
3

cloves garlic, chopped

1 Tbsp

ginger, minced

3

large pc (65g) dried shiitake mushrooms, rehydrated and finely chopped (no stems)

90g

green cabbage, finely chopped

50g

carrot, grated

1 Tbsp

soy sauce

¾ tsp

sugar

¼ tsp

ground white pepper

½ tsp

sesame oil

1

green onion, chopped

1 Tbsp

cornstarch

3 Tbsp

water
About

20

wonton wrappers
Broth
3 cups

Campbell's mushroom broth (see note)

1 Tbsp

soy sauce

6

fresh shiitake mushrooms, sliced

4

-

6

leaves napa cabbage

2

-

3

heads baby bok choy

a dash ground white pepper

Fried garlic & garlic oil (see this video @ for how to make fried garlic)

Green onions, chopped for garnish
If you cannot find Campbell's mushroom broth: Gently simmer the following ingredients in a pot for 30 minutes or until the mushrooms are fully hydrated.
1 quart

(

946

ml) of low-sodium or unsalted vegetable broth

1 cup

water

65g

dried shiitake mushrooms (choose smaller or pre-sliced ones if possible)

2

 bay leaves

1

sprig rosemary (

½ tsp

dried rosemary)

2

sprigs thyme (or

½ tsp

dried thyme)

2 Tbsp

soy sauce
---
Instructions
For the wonton filling: In a wok, add a little vegetable oil and saute garlic & ginger for a few minutes until smallest bits start to turn golden. 
Add cabbage, carrots and half the soy sauce and cook until the cabbage is soft, adding a splash of water as needed, about 3-4. Once the cabbage is softened, add the mushrooms, remaining soy sauce, sugar, white pepper and sesame oil and keep tossing for another 2 minutes, adding water as needed. Add green onions and white pepper and toss to mix. Turn off the heat and taste and adjust seasoning.
Dissolve cornstarch in water, then drizzle the slurry on top of the vegetables. Turn the heat back on and toss for another minute until the mixture starts to hold together, and there is no more starchy taste. If it feels dry, keep adding a splash of water.
Let filling cool until it's warm to the touch before wrapping.
To wrap the wontons: Keep your wrappers under a damp towel until you're using them as they dry and become brittle quickly. You can wrap these however you like, and check out this video for 5 ways to wrap wontons. Because this filling is quite light, I like to put a good 2 teaspoons of filling in each wonton, and use the "chubby pyramid" method to wrap them (see method in the video). Keep the wrapped wontons under a damp towel until ready to use. Important notes:  Make sure to seal the wontons well and that there is absolutely NO hole in the wontons or water will get inside and ruin your filling! Also squeeze out as much air as you can before sealing it to prevent the wontons from rupturing when they're boiled.
To make the broth: Bring the broth to a boil, then add soy sauce, white pepper, fresh shiitake mushrooms, napa cabbage, and bok choy. Bring the broth back to a boil, and then it's done! Taste and adjust seasoning as needed. 
To assemble: Blanch the wontons for 2 minutes in rapidly simmering water (not boiling) then place in serving bowl. If the wontons have been refrigerated they might take a little longer to heat through. Reheat the broth if needed, then ladle the broth over the wontons. Top with fried garlic and garlic oil, garnish with green onions. Serve immediately!
---