---
This isn't actually my veganized pad thai recipe, but a "sister dish" of pad thai called "Pad Mee Korat." It's a local specialty of a northeastern Thai town called "Korat" which happens to be my mom's hometown! My grandmother always makes this dish every time I visit home, although she usually adds pork to her version, the noodles themselves are vegan, and omitting meat is no issue because the real heart of this recipe is in the delicious sauce!
Watch The Full Video Tutorial!
All my recipes come with step-by-step video tutorials with extra tips not mentioned in the blog post, so make sure you watch the video below to ensure success - and if you enjoy the show, please consider subscribing to my YouTube channel. Thank you!
Print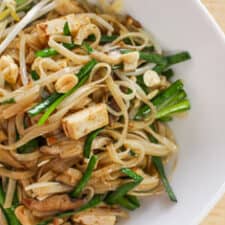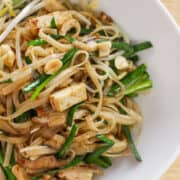 Vegan Pad Thai (Pad Mee Korat)
---
4 oz

dry rice noodles, medium size (2 mm wide)

3

 Tbsp vegetable oil

¾ cup

pressed tofu, cut into small pieces

1 cup

fresh shiitake mushrooms, stems removed, thinly sliced

3 Tbsp

palm sugar, chopped, packed

1

small head shallot, chopped

4

cloves garlic, chopped

¾ cup

garlic chives, cut into

2

-inch pieces

1 cup

bean sprouts

¼ cup

roasted peanuts, chopped (optional)
Note: If you eat eggs, you can add 2 eggs to this recipe.
Sauce
1 Tbsp

soy sauce

1 ½ Tbsp

fermented soybean paste or "tao jiew"  or substitute 1 Tbsp Korean doenjang or Japanese miso (what is tao jiew) 

2 ½

-

3

Tbsp tamarind concentrate (what is tamarind concentrate?)

½

-

1

tsp chili flakes, or to taste

3 Tbsp

water
---
Instructions
Soak rice noodles in room temperature water for 1 hour or until they turn white. Drain and set aside. You can soak the noodles in advance, drain, and keep in a sealed container in the fridge until ready to use, up to 2-3 days.
Make the sauce: Add tao jiew to a small bowl and mash roughly with a fork to break up the soybeans (if using miso or doenjang, place in a small bowl it with 1 Tbsp of water and stir to loosen the paste.) Add all remaining sauce ingredients and stir to mix. 
Add just enough vegetable oil to coat the bottom of a wok or a large sauté pan, heat over medium high heat until hot, then add mushrooms and tofu. Spread them out and let sear until golden. Toss and continue to cook for 1 more minute or until the mushrooms are cooked through. Remove from pan and set aside. 
To the same pan, heat about 2 ½ Tbsp of vegetable oil over medium high heat. Add garlic, shallots and palm sugar and cook, stirring frequently until the sugar caramelizes into a deep brown colour.
Deglaze with the sauce then add the rice noodles, mushrooms and tofu. Keep tossing until all the sauce has been absorbed. Taste the noodles, and if they are still undercooked, add a splash of water and let cook until dry again.

If you want to add eggs: 

Once the noodles have absorbed most of the sauce, push the noodles to one side. Add eggs into the empty space, break the yolks and let the eggs set about half way. Then put the noodles over the eggs and let the eggs cook for 30 more seconds until the egg is set. Then toss to break up the eggs.

Turn off the heat, add bean sprouts and garlic chives and toss to mix. Taste and adjust seasoning. Plate and sprinkle with roasted peanuts, if using. 
---