---
Sour fruits are no longer a bummer, but an opportunity to dip them in this sweet, salt, umami dipping sauce! In Thailand, we make this simple dipping sauce specifically for tart green mangoes, but it also works well with any tart, firm fruit you might have. Green apples, underripe strawberries, dry tart pineapple...you name it!
If you're weirded out by the combination of fish sauce and fruit, I get it, Adam my camera man was very suspicious of it in the beginning too. But watch the video to the end and you'll see his reaction—he was pleasantly surprised, and I think you will be too! In fact, many other countries in South East Asia have some version of this funky sweet dip for fruits, that's how good it is!
It's very easy and it will last in your fridge for months, so you can keep it for any time you need 🙂
P.S. When in Thailand you can buy nam pla waan already made in a jar in the supermarket, or find them sold with fresh green mangoes in outdoor markets
Watch The Full Video Tutorial!
All my recipes come with step-by-step video tutorials with extra tips not mentioned in the blog post, so make sure you watch the video below to ensure success - and if you enjoy the show, please consider subscribing to my YouTube channel. Thank you!
Print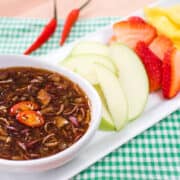 Thai Fruit Dip (Nam Pla Waan)
Prep Time:

15 mins

Cook Time:

10 mins

Total Time:

25 minutes

Yield:

Makes about ¾ cup
---
150g

palm sugar

2

-

3

tablespoon fish sauce (depends on the saltiness of your shrimp paste)

1 Tbsp

fermented shrimp paste (gapi)

2 Tbsp

water

2

-

3

tablespoon shallots, or to taste
Thai chilies, thinly sliced or minced, to taste

3 Tbsp

dried shrimp
Tart, firm fruit for dipping: green mango, green apple, underripe pineapple, firm tart strawberries, cape gooseberries...or try it with something else!
---
Instructions
Combine palm sugar, 2 tablespoon of fish sauce, shrimp paste and water in a small pot. Cook on medium-low heat until the sugar is dissolved, mashing the lumps of sugar along the way to help it go faster.
Meanwhile, grind 2 tablespoon of dried shrimp in a coffee grinder or blender until fine. Chop the other 1 tablespoon into small chunks.
Once all the sugar is dissolved and the mixture comes to a full boil, turn off the heat. Stir in the dried shrimp (both sets) and chilies. You can choose to stir the shallots in now while it's hot so the shallots cook and wilt a little, or stir them in once cooled to keep them fresh and pungent.Taste and adjust the sweet/salty balance as needed (you can try it with a piece of fruit so you have a better idea of how well it works and whether it needs to be sweeter or saltier).
Let cool to room temp and serve! You can keep this in the fridge in a jar and it will last you at least a month.
---