---
"Mama" is Thailand's favourite brand of instant noodles, and we love it so much we use it in all sorts of recipes. In this video I show you how to elevate the humble pack of instant noodles into something more sophisticated, and definitely healthier and yummier than just boiling it in hot water!
These Mama noodles have a very unique texture and flavour which work well in so many applications including a noodle salad, which if you haven't tried it, make sure you check out the recipe linked below!
You can change up the vegetables, but I highly recommend keeping the cabbage and the tomatoes. I'm not adding any meat to this but you certainly can. The eggs, however, are so important! The flavour of the eggs once they've been browned in the wok is so much of what makes this dish so yummy.
If you love this recipe also check out how to make pancit canton, a Filipino egg noodle stir fry, or try Mama Instant Noodle Salad!
Watch The Full Video Tutorial!
All my recipes come with step-by-step video tutorials with extra tips not mentioned in the blog post, so make sure you watch the video below to ensure success - and if you enjoy the show, please consider subscribing to my YouTube channel. Thank you!
---
Print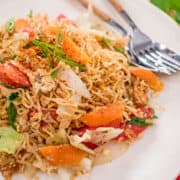 Instant Ramen Noodle Stir-Fry - Pad Mama
---
2

packs (55g each) Mama instant noodles, see note (Buy Mama noodles online)

1 tsp

sugar

4

cloves garlic

2

eggs

½ cup

carrots, chopped

2 cups

cabbage, chopped

¼

onion, julienned

1 tsp

soy sauce

1 tsp

fish sauce

1

green onion, chopped

1

roma tomato, cut into bite-sized wedges

5

-

6

sprigs cilantro chopped
---
Instructions
In a mixing bowl, combine both garlic oil packets that come with the noodles, 1 ½ - 2 seasoning powder packets, sugar, and as much of the chili powder as you like. Note: If you don't like salty foods, use only 1 ½ packet of the seasoning powder to start, and you can add more later if it's not salty enough.

Break the noodle block into quarters.

Bring a pot of water to a full boil and blanch noodles for exactly 1 minute, just until the noodles loosen up and separate from the block shape. Drain immediately into a sieve and run cold water through them for 5 seconds just to cool it down slightly. Shake off as much of the water as possible and add to the mixing bowl with the seasoning in it; toss until the noodles are well coated.

In a wok, add a little oil and saute garlic over medium heat until garlic starts to turn golden.

Add onion, carrots and cabbage and toss to mix. Add the soy sauce and fish sauce and keep tossing for 1 more minute until the veggies start to look wilted.

Push the veggies to the side of the wok, then add a little oil in the empty space and let the oil heat up a bit. Add the eggs to the oil, break the yolks and let the eggs set halfway.

Add the noodles on top of the eggs, let it cook another 15 seconds, then toss everything together. Keep cooking until the eggs are fully cooked and browned slightly. Do not stir all the time, let the noodles sit and sear a couple of times so you get some browned bits which add flavour. 

Once done, turn off the heat and toss in the tomatoes, green onions and cilantro.

Taste and adjust seasoning. If it needs extra seasoning you can add a bit of fish sauce or soy sauce to bump up the seasoning, or the extra seasoning powder if you held some back.

Serve immediately.

Enjoy!
---
Notes
I'm using pork flavoured Mama which is the classic, but you can use any other flavours that use wheat fried noodles.
Keywords: noodles, stir fry, mama, ramen, instant noodles