---
Mama is Thailand's most famous brand of instant noodles, and IMO the BEST instant noodles in the world! Seasoning packets aside, the noodles themselves are so unique and tasty that people love using them in various recipes, and this salad is a super classic Mama recipe! Being "instant" noodles, they're super quick to cook, and the texture holds up well whether it's served, warm, room temp or even cold.
Mama noodles have become an integral part of Thai cuisine to the point that some noodle soup vendors offer them as a noodle option! You can also eat them dry as a snack, as most Thai kids do, because they are fully cooked, crispy, and totally addictive!
My Salad Recipes Playlist: https://buff.ly/2wK7csa
Watch The Full Video Tutorial!
All my recipes come with step-by-step video tutorials with extra tips not mentioned in the blog post, so make sure you watch the video below to ensure success - and if you enjoy the show, please consider subscribing to my YouTube channel. Thank you!
---
Print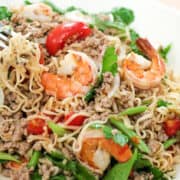 Instant Noodle Salad (Yum Mama) ยำมาม่า
---
1

-

3

Thai chilies, to taste

6

sprigs cilantro stems, chopped

1 Tbsp

palm sugar, chopped, packed

3 Tbsp

lime juice

1 Tbsp

fish sauce

½ Tbsp

soy sauce

Mama chili powder, to taste (comes inside Mama packet)

3 Tbsp

thinly sliced lemongrass (bottom half of lemongrass only)

1 cup

cherry tomatoes, halved

¼

sweet onion, julienned

2

packs Mama instant noodles

12

medium shrimp (optional)

2

packet Mama garlic oil (comes inside mama packet)

200g

ground pork or chicken

2

stalks Chinese celery or inside celery stalks and leaves, chopped

Cilantro leaves
---
Instructions
Make the dressing: Pound chilies and cilantro stems into a paste. Add palm sugar and pound to dissolve. Add fish sauce, soy sauce, lime juice, lemongrass, and Mama chili powder, stir to mix.
Bring a medium pot of water to a full boil. Meanwhile, put onions and tomatoes into a large mixing bowl.
Break Mama block into quarters. Reserve the broken bits at the bottom the bag for sprinkling, or you can just eat them as a snack! Cook mama in boiling water 2 minutes. Scoop the noodles out with a skimmer and place them into a sieve to drain. Add the shrimp to the same pot of water and cook them just until done, 30 seconds or so. Fish them out and add them to the noodles.
Pour out all the water and place the pot back on the stove. Add the Mama garlic oil packets (this is optional), turn on the heat to medium and add the ground pork or chicken. Cook the meat, breaking up the lumps, until fully cooked. Remove from heat.
Pour the cooked pork, with all of its liquid, into the bowl of onions and tomatoes. Add noodles and shrimp. Pour dressing over the noodles and toss to combine. Add Chinese celery and cilantro leaves, toss and serve immediately. Enjoy! 
Note: If you have leftovers, it'll keep in the fridge and you can eat it the next day as a cold noodle salad, or warm it briefly in the microwave just to bring it to room temp.
---