---
Pancit Canton or literally translated as "cantonese noodles" is the Filipino interpretation of Chinese stir-fried noodles. This comfort food is wildly popular and is really easy and quick to make at home. The secret is in getting good noodles and Chinese sausage (lap cheong), and if you can find a calamansi, squeeze some juice on top at the end for a bright citrus finish!
If you're here because you love noodle dishes, try a similar Indonesian stir fried egg noodles (mie goreng) or for something richer try my garlic noodles recipe which is a satisfying, buttery, garlicky side dish!
WATCH THE VIDEO TUTORIAL FOR THIS RECIPE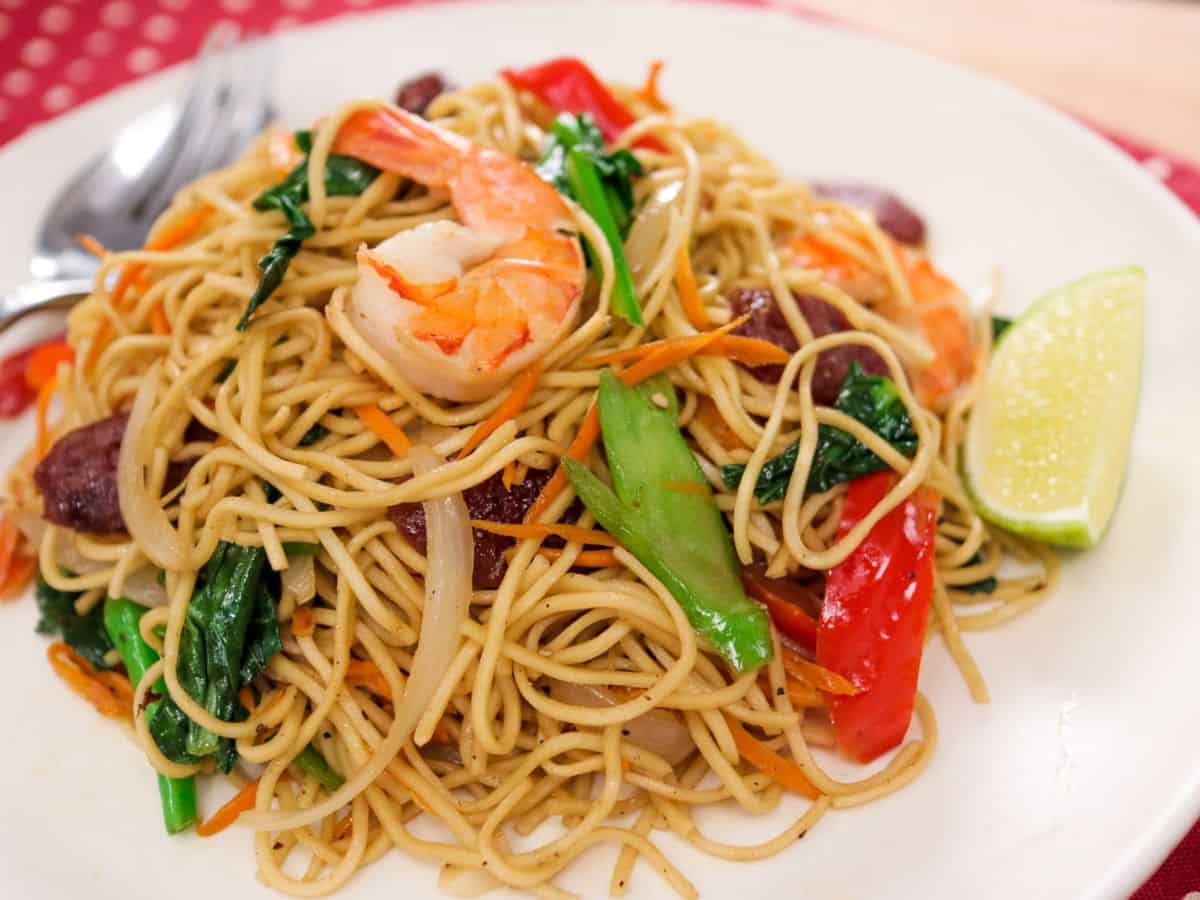 How to Make Pancit Canton
Here's a bird's eye view of the process, but I highly recommend watching the video tutorials before you start to ensure success. I often mention extra tips in the video that's not mentioned in the blog post!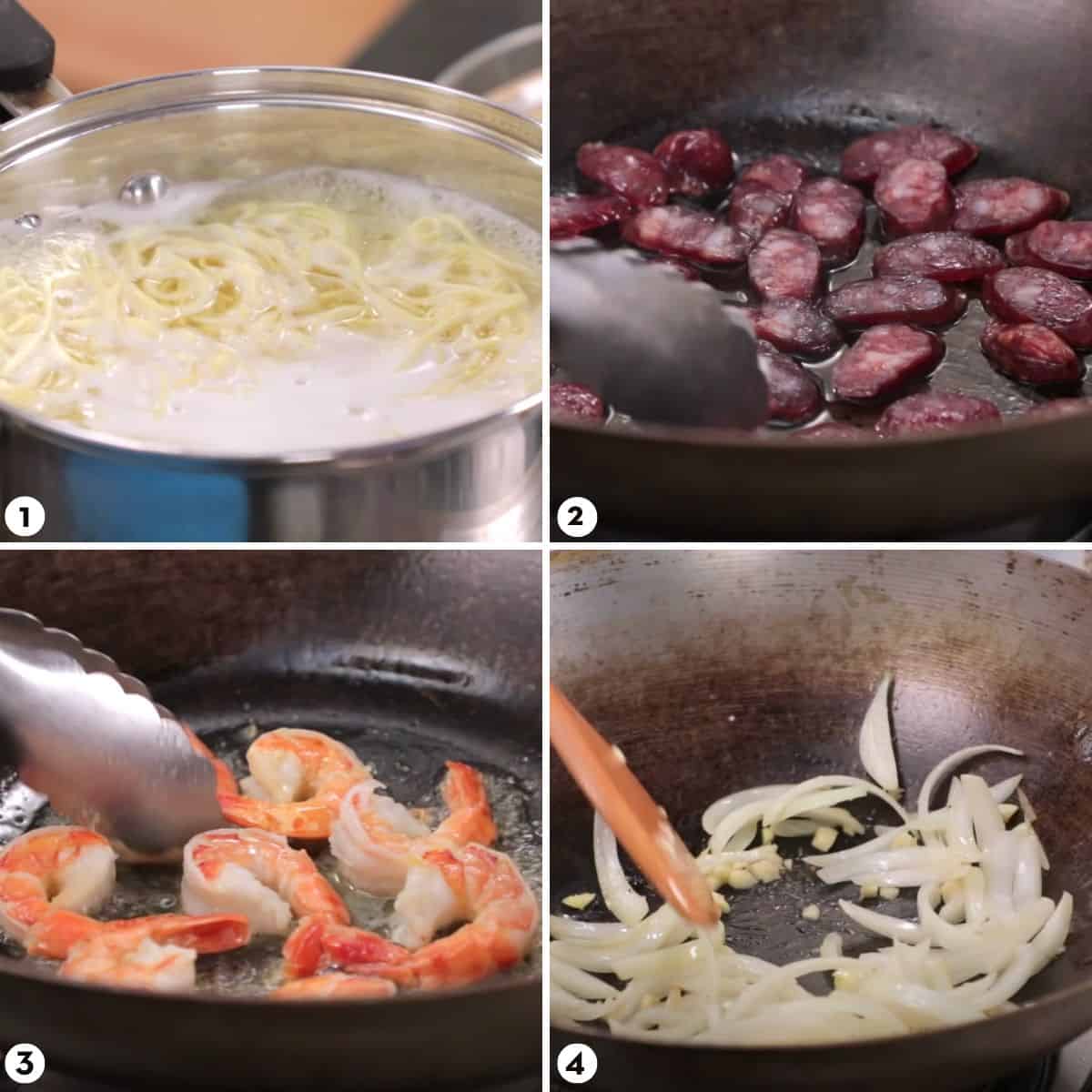 Cook the noodles until done, then shock them in cold water and drain.
Sear the Chinese sausages until blistered; remove from the pan.
Sear the shrimp until fully cooked; remove from the pan.
Add garlic and onions and cook until garlic starts to turn golden.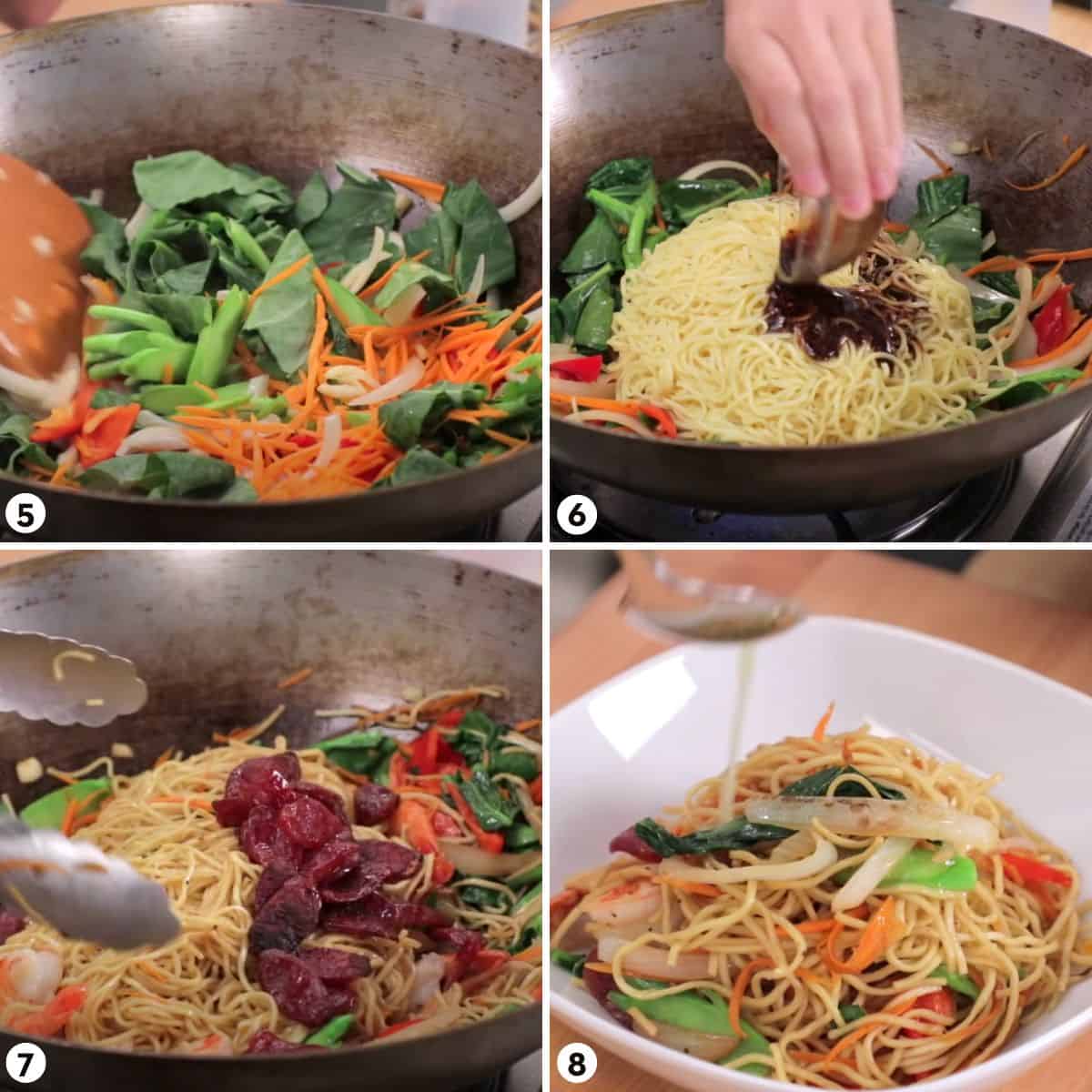 Add the vegetables and about a tablespoon of the sauce and cook until wilted.
Add the noodles and the sauce and toss until the sauce is absorbed.
Add the shrimp and the Chinese sausages back in and toss to combine.
Plate and serve with calamansi or lime juice.
Ingredients and Important Notes
Egg noodles. The kind I use are "semi-dry" - they're still pliable but not yet cooked and you can find them in the refrigerated section of Asian grocery stores. If you use dried egg noodles, you will need to use less weight than called for in the recipe, but I'm not sure how much you'll need, so I suggest just eyeballing the amount and be prepared to adjust the seasoning. And by contrast, if you buy fully cooked fresh egg noodles you will need more weight.
Protein. I'm using a popular combination of shrimp and Chinese sausage, but you can add whatever protein you prefer. If using chicken, pork or beef, I recommend marinating them in a bit of soy sauce first, and sear them off first as with the shrimp.
Sauce. I'm using the trusty trifecta of umami sauces: oyster sauce, soy sauce and fish sauce. Plus a little black pepper of course!
Vegetables. I'm using Chinese broccoli (gailan), carrots, and red pepper, but the choice of veggies are up to you. My general rule is to have at least 1 crunchy veggie and 1 leafy green. Other good options include cabbage, snow peas, green beans or snap peas.
Aromatics. Garlic, onion, and green onions. The usual.
Finishing touch. A squeeze of calamansi juice would be the ultimate Filipino thing to do, and it would brighten up the whole dish. But if you don't have it, a squeeze of lime would work also.
Watch The Full Video Tutorial!
All my recipes come with step-by-step video tutorials with extra tips not mentioned in the blog post, so make sure you watch the video below to ensure success - and if you enjoy the show, please consider subscribing to my YouTube channel. Thank you!
Print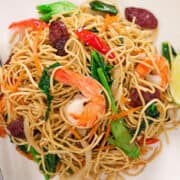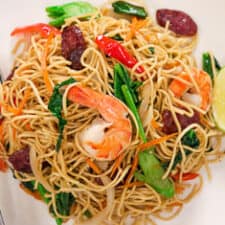 Pancit Canton - Filipino Egg Noodle Stir-Fry
---
1 ½ Tbsp

oyster sauce

1 Tbsp

fish sauce

½ Tbsp

soy sauce

1 Tbsp

water

Ground black pepper, to taste

½

lb fresh egg noodles, see note

80 g

Chinese sausages, sliced 

10

-

12

Shrimp, or as many as you like

½

onion, julienned

5

cloves garlic, chopped

1 cup

julienned carrot

2 cups

Chinese broccoli, stems thinly sliced on a bias, leaves roughly chopped

½ cup

red pepper, chopped

2

green onions, optional, chopped

3

Calamansi or

1

lime (see note)
Note: The kind of fresh noodles I use are the type that is semi-dry...they're still pliable but not yet cooked and you can find them in the refrigerated section of Asian grocery stores. If you use dried egg noodles, you will need to use less weight, but I'm not sure how much you'll need, so I suggest estimating the amount by eye and be prepared to adjust the seasoning. And along the same lines, if you buy fully cooked fresh egg noodles you will need a bit more weight.
If you cannot find calamansi, you can simply use lime, or try looking for frozen juice. If you have some orange juice in the fridge already you can make a mix of orange and lime juice (about equal parts) as I did!
Ingredients and Kitchen Tools I Use
---
Instructions
Make the sauce by combining fish sauce, oyster sauce, soy sauce, black pepper and water in a small bowl.
Cook the noodles: In a large pot of boiling UNSALTED water, add the noodles and cook until they are done. The time will vary depending on the type and thickness of the noodles, so just follow package instructions. Have a large bowl of ice-cold water ready and when noodles are done, immediately shock them in the cold water to stop the cooking and cool them down. Swish them around for just a few seconds and drain immediately. Do not let the noodles sit in the water or they will swell up and get mushy.
This part is optional, but once drained, use scissors to cut the noodles down a few times just so they're easier to toss and eat. Fun fact: for some Chinese people, long noodles symbolizes long life so they do not cut the noodles!
In a wok or a large skillet over medium heat, add just a little bit of oil and add the sliced Chinese sausages. Let the sausages sear and let some of the fat render until they look blistered on one side, quickly flip them and let the other side sear briefly (if there are too many to flip individually you can just give them a quick toss). Be careful with these as the high sugar content in the sausages means they burn quick! Remove from pan, leaving the fat behind.
Sear the shrimp in the rendered fat on both sides just until done, remove from pan.
To the same pan, over medium heat, add onion and garlic and saute until the garlic starts to brown. Add all the vegetables and crank the heat to high and toss to wilt. Drizzle about ~ 2 teaspoon of the sauce over the veggies and toss to mix.
Add the noodles, all of the remaining sauce and toss until all the liquid has been absorbed into the noodles and everything is thoroughly mixed. Throw in the sausage and shrimp (along with any juices in the bowl) and toss until combined. Turn off the heat and toss in green onions if using.
Serve with calamansi or lime, and make sure you drizzle some juice on the noodles for added brightness!
---