You might know pad thai only as the rice noodle stir fry dish, but in Thailand, we make many variations of pad thai. This pad thai recipe is a version that I made 3 changes to: using glass noodles instead of rice noodles, adding sriracha to the sauce for a little heat and acidity, and adding prepared shrimp paste for extra shrimpy umami.
You can make 1 or all of these changes to your existing pad thai recipe, this recipe is meant to serve as an example of some things you can do to change it up! If you're looking for a pad thai recipe that's simpler to pull of on a weeknight, see this easier and healthier pad thai recipe with glass noodles!
Watch The Full Video Tutorial!
All my recipes come with step-by-step video tutorials with extra tips not mentioned in the blog post, so make sure you watch the video below to ensure success - and if you enjoy the show, please consider subscribing to my YouTube channel. Thank you!
Print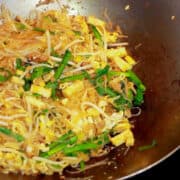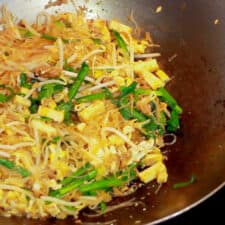 Pad Thai V.2 with Sriracha
---
The Sauce

35 grams

palm sugar, finely chopped (about

3

tightly packed tablespoons)

3 Tbsp

water

3 Tbsp

tamarind concentrate

1 Tbsp

sriracha, I prefer the Thai version "Sriraja Panich" but any other brand will work

2 Tbsp

fish sauce

1 Tbsp

shrimp tomalley (of

ten

labeled as "shrimp paste")
Pad Thai
8

-

10

Shrimp, or as many as you'd like, peeled and deveined

1

small head shallot, thinly sliced, about

3 Tbsp

2

cloves garlic, chopped

1 Tbsp

dried shrimp, chopped

1

pc pressed tofu, cut into small pieces

½ tsp

of chili flakes, or to taste
A scant

¼ cup

of chopped sweet preserved daikon radish

80 grams

glass noodles (a.k.a. bean threads, bean vermicelli), soaked in water for 10-15 minutes

¼

-

½

cup water

2

eggs

2.5 cups

bean sprouts

1 cup

garlic chives, cut into

2

" pieces

¼ cup

chopped roasted peanuts

1

lime
---
Instructions
Soak the glass noodles in cold water for 7-10 minutes until soft and pliable.
Combine the sugar and water and heat in the microwave for about 30 seconds or until the sugar is mostly dissolved. Add all other sauce ingredients and stir to combine. 
Heat 2 tablespoon of oil over high heat in a wok or a large saute pan. When the pan is very hot, add the shrimp and let cook without moving until they are halfway done. Flip and finish cooking the shrimp on the other side. Remove and set aside.
In the same pan, add another 1-2 tablespoons of oil. Add the shallots, garlic, preserved radish, pressed tofu, and chili flakes. Cook until the garlic starts to brown.
Add the noodles, ¼ cup water, the sauce, and keep stirring and tossing until the noodles have absorbed all the sauce. Check the noodles consistency once all liquid has been absorbed. If they are still too chewy, add more water, a little at a time.
When all the sauce has been absorbed, push the noodles to one side of the pan and add the eggs. Scramble the eggs gently and let the eggs set about half way. Put the noodles on top of the eggs and let the eggs set completely for another 15 seconds or so. Flip the eggs over using a spatula and break up the eggs.
Add the beansprouts, garlic chives, and half of the peanuts. Turn off the heat and toss just to mix.
Plate the noodles, top with the shrimp and sprinkle over the remaining peanuts. Serve with a piece of lime, extra bean sprouts, garlic chives, and chili flakes. Make sure you squeeze that lime over the noodles before you enjoy!
---