Traditional pad thai is not an easy dish - definitely not something that I would recommend beginners start with. First timers often end up with mushy, clumpy, broken, or undercooked noodles. But here's a variation of pad thai that uses a noodle that is easier to work with and healthier: glass noodles. It's a different texture, but I promise the taste is just like the classic pad thai!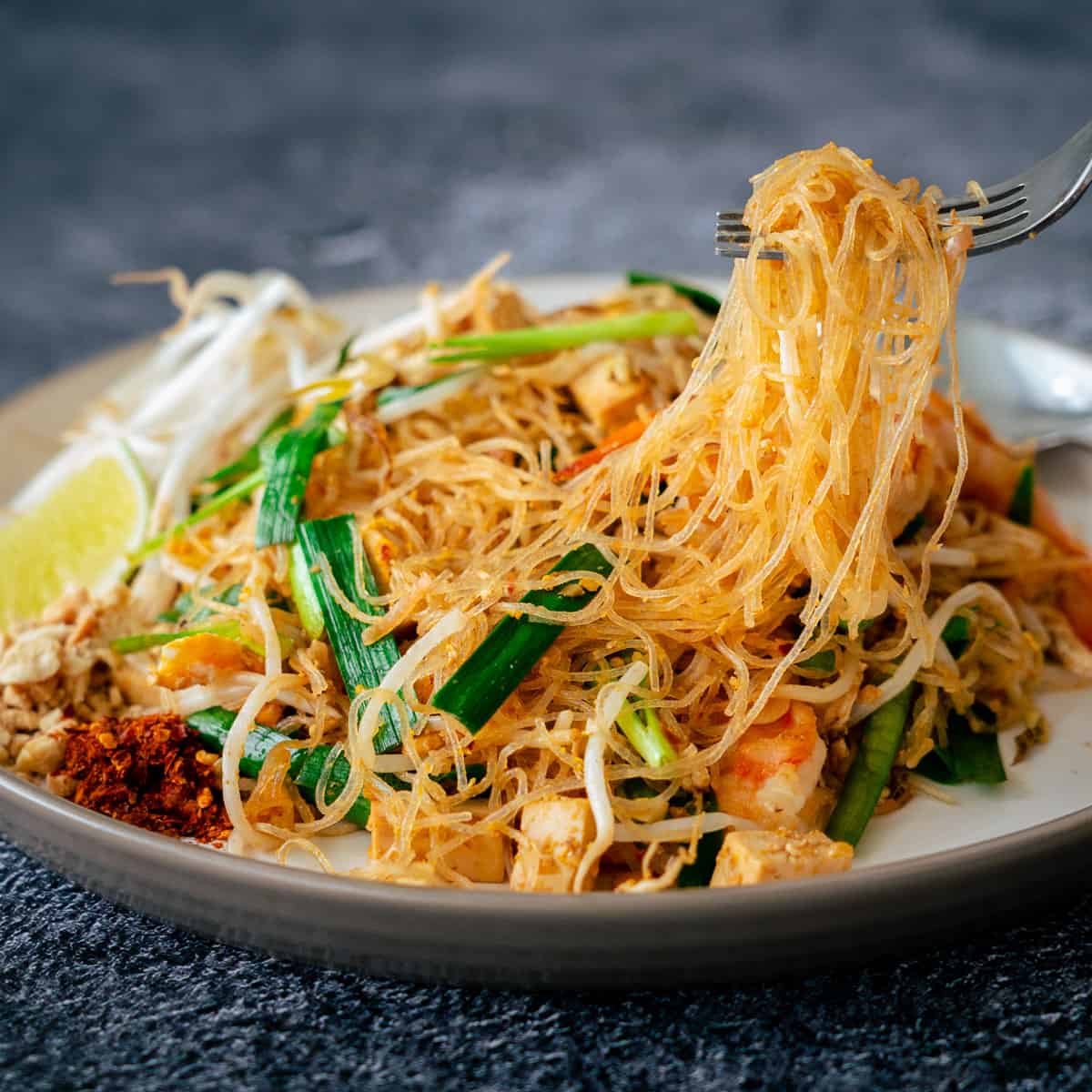 What are glass noodles?
Glass noodles are thin, clear noodles made from mung bean starch. They have a neutral flavour, and are the most versatile noodles as they can be used in soups, salads, stir fries, and even in spring roll fillings and meatballs! They are a staple in my family in Thailand.
High quality glass noodles are made from 100% mung bean starch; and indeed that's what you should look for. Cheaper brands will mix in other starches like cornstarch or pea starch, which negatively affect the texture, making them less chewy and elastic, and giving them a texture that's a little plasticky.
How do glass noodles make for easier and healthier pad thai?
Glass noodle pad thai isn't something I made up, it's a variation that exists in Thailand called pad thai woon sen ผัดไทวุ้นเส้น. I personally love the texture of them, but there are other reasons you might want to use these instead of rice noodles:
Glass noodles are much harder to overcook. Overcooked rice noodles that break into small pieces are a very common pad thai problem, but glass noodles have what I call a "wide range of acceptable doneness." So if you added a little too much water by accident, they will absorb it and still maintain a great texture.
Glass noodles take much less prep time. Glass noodles take only 7 minutes to soak in room temp water, so no advance prep required. And they can linger in the water for a quite a bit longer with no harm done. Rice noodles take up to an hour to soak, and even though you can speed this up by using warm or hot water, that method risks over-soaking them.
Glass noodles are lower in calories and GI. Glass noodles are known in Thailand as the diet-friendly noodles because they are lower in calories per portion. This is because they can absorb a lot more water than rice and wheat noodles; so a plate of cooked glass noodles actually contains less carbs because there's more water in it. They are also lower in glycemic index than rice or wheat noodles.
Glass noodles reheat much better than rice noodles. I never recommend refrigerating and reheating rice noodle dishes, but glass noodles can be reheated and restored to their original texture. Be sure to heat the noodles until steaming hot for them to fully regain their softness.
Ingredients You'll Need
Here are all the ingredients you'll need. In the spirit of "easier" pad thai I've also simplified the list, leaving only what I consider important.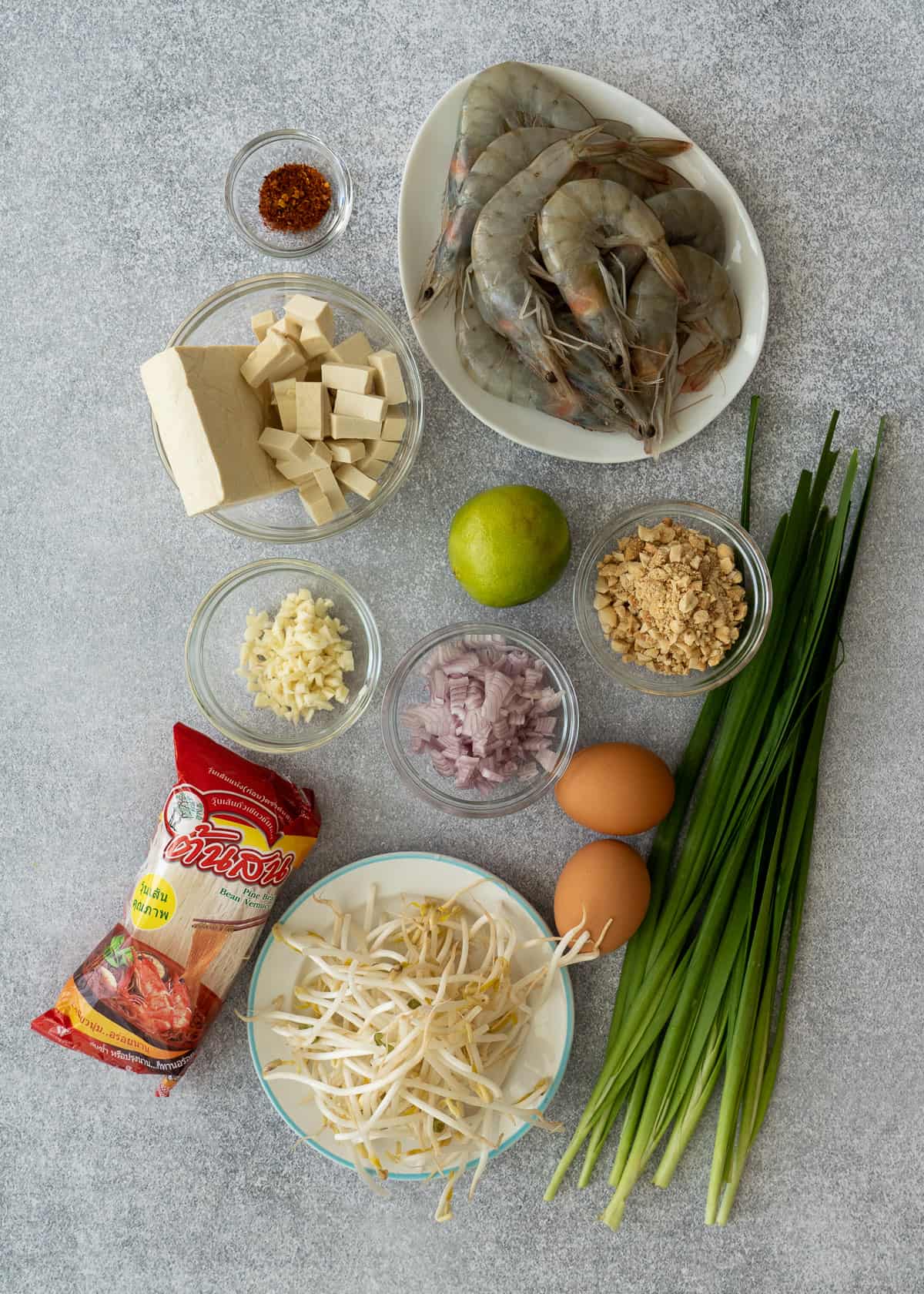 Glass noodles, I am using Pine Brand, which is a premium Thai brand that uses 100% mung bean starch. (sponsored)
Shrimp, head-on if possible so you can make tasty shrimp oil.
Pressed tofu, you can also use extra firm tofu. If the tofu you're using feels like it's quite soft and you're afraid it might crumble in the wok, fry it a bit to firm up the exterior.
Garlic
Shallots
Roasted chili flakes, or hot pepper flakes (optional, but recommended)
Eggs
Bean sprouts
Garlic chives
Roasted peanuts
Lime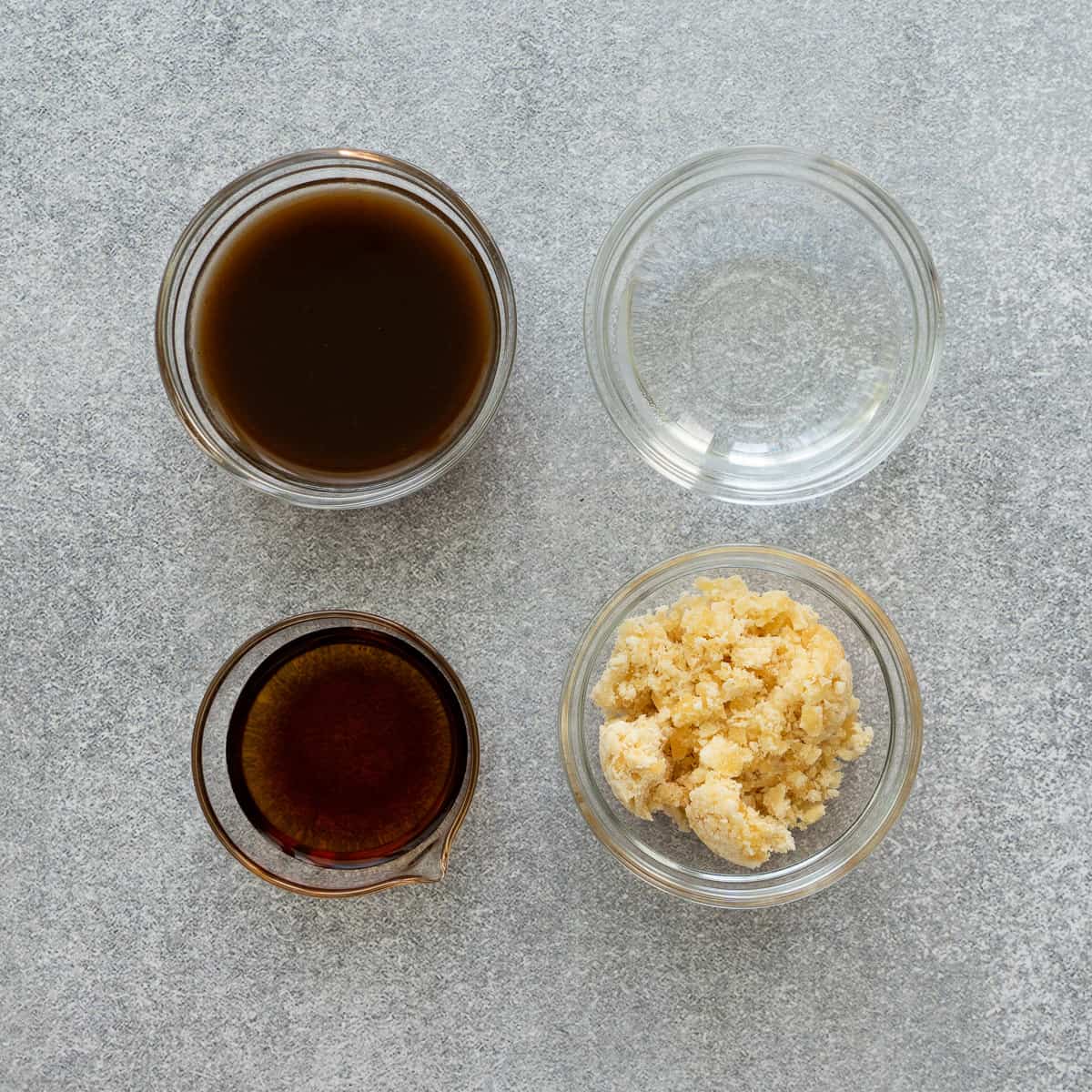 For the sauce (See also: how to make pad thai sauce in advance, so you have a jar of it ready anytime)
Step-By-Step:
Here's a bird's eye view of the process, but be sure to check out the full video tutorial in the recipe card below to ensure success!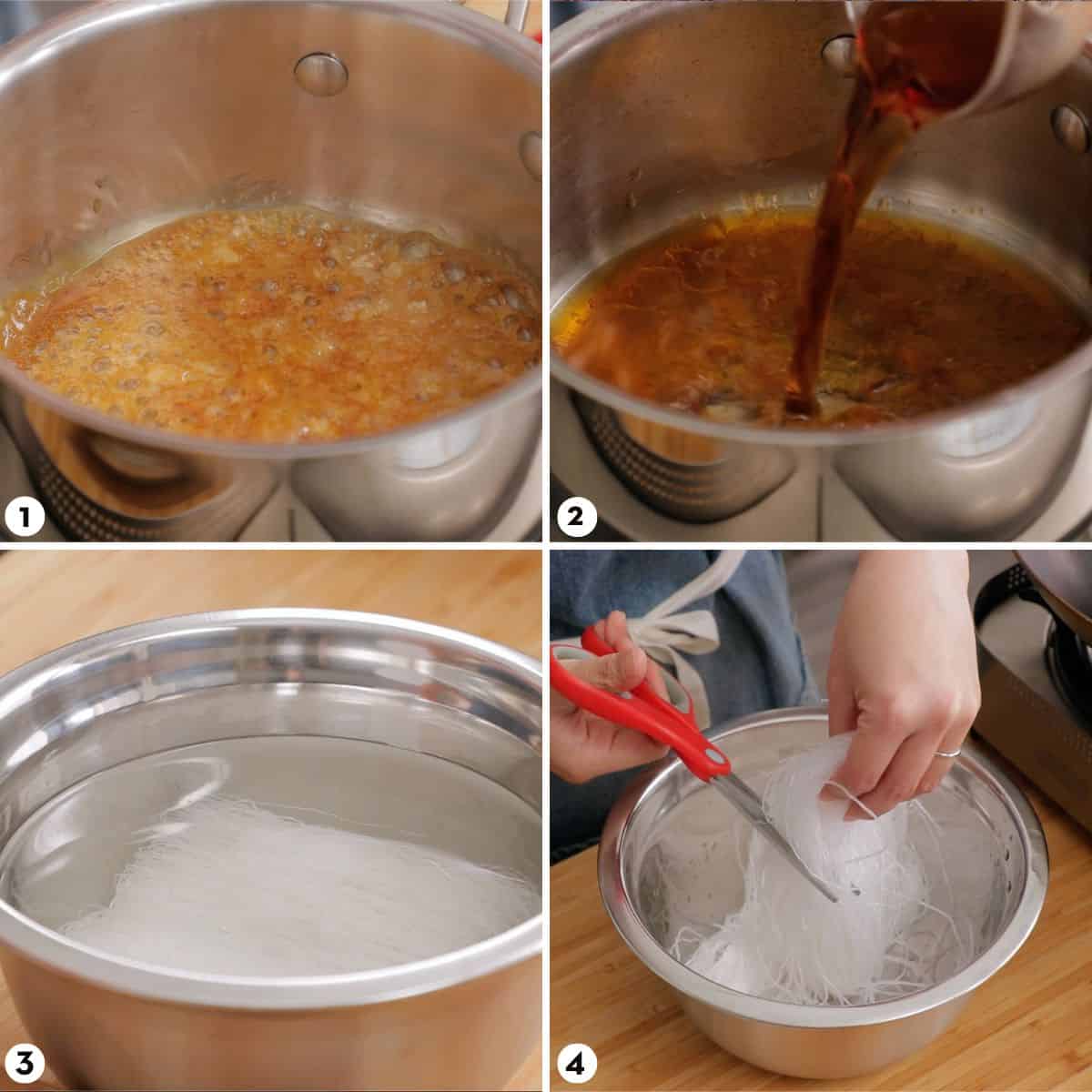 Make the sauce by melting the palm sugar, and letting it caramelize a bit until the colour darkens slightly.
Turn off the heat then add water, and once the sizzling subsides, add fish sauce and tamarind paste. Let it sit until ready to use, and any undissolved palm sugar will be dissolved by then.
Soak the glass noodles in room temp water for 7-10 minutes.
Drain the noodles and cut in half for easier tossing.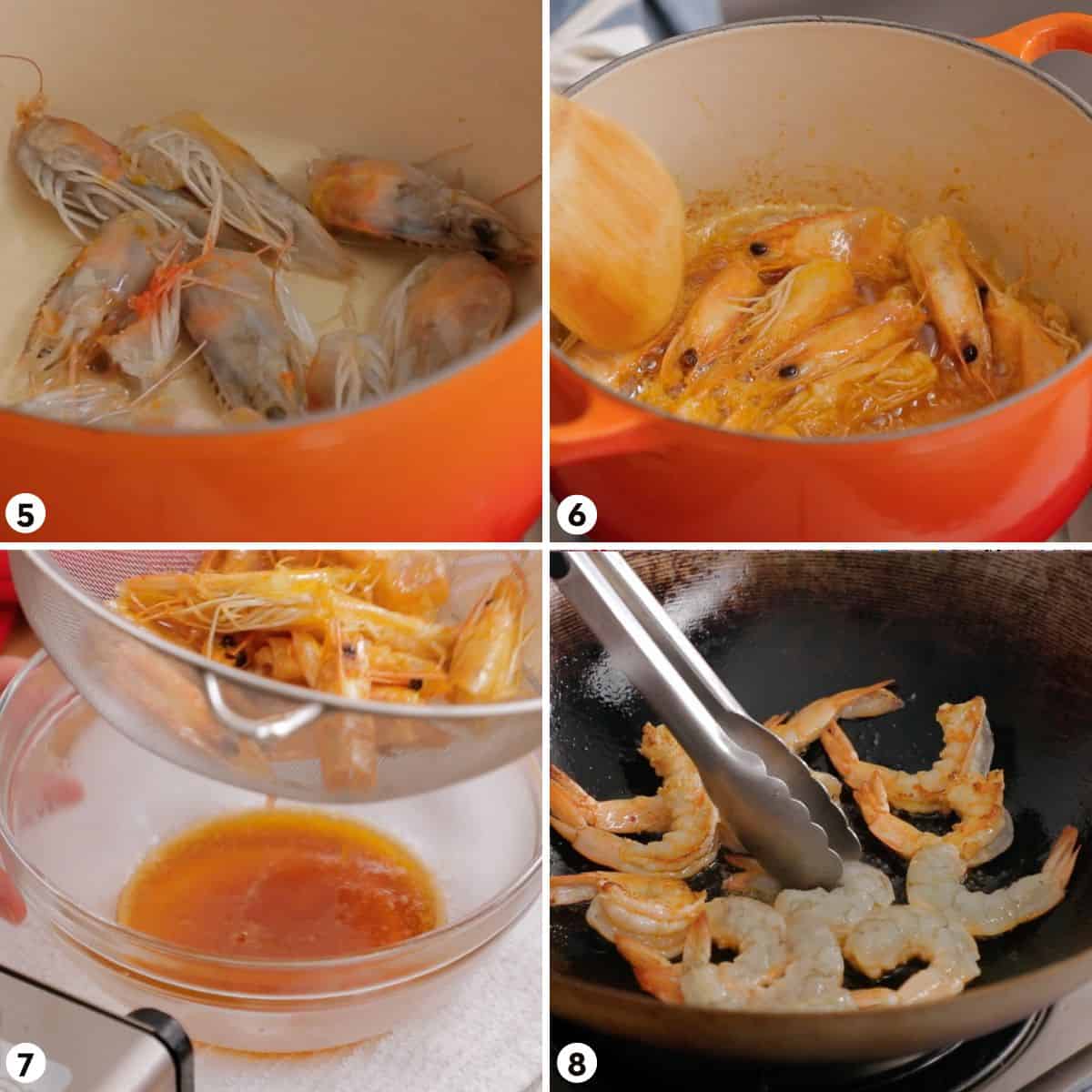 To make shrimp oil (you can do this right in the wok you're using to make pad thai), add the oil and shrimp heads and cook over medium heat, pressing the heads to release the orange tamalley into the oil.
Cook until the shrimp heads brown slightly, and they start to smell like grilled shrimp.
Drain the oil and discard the heads.
Add some of the oil into a wok, then sear the shrimp in the oil on both sides until fully cooked. Remove them from the pan.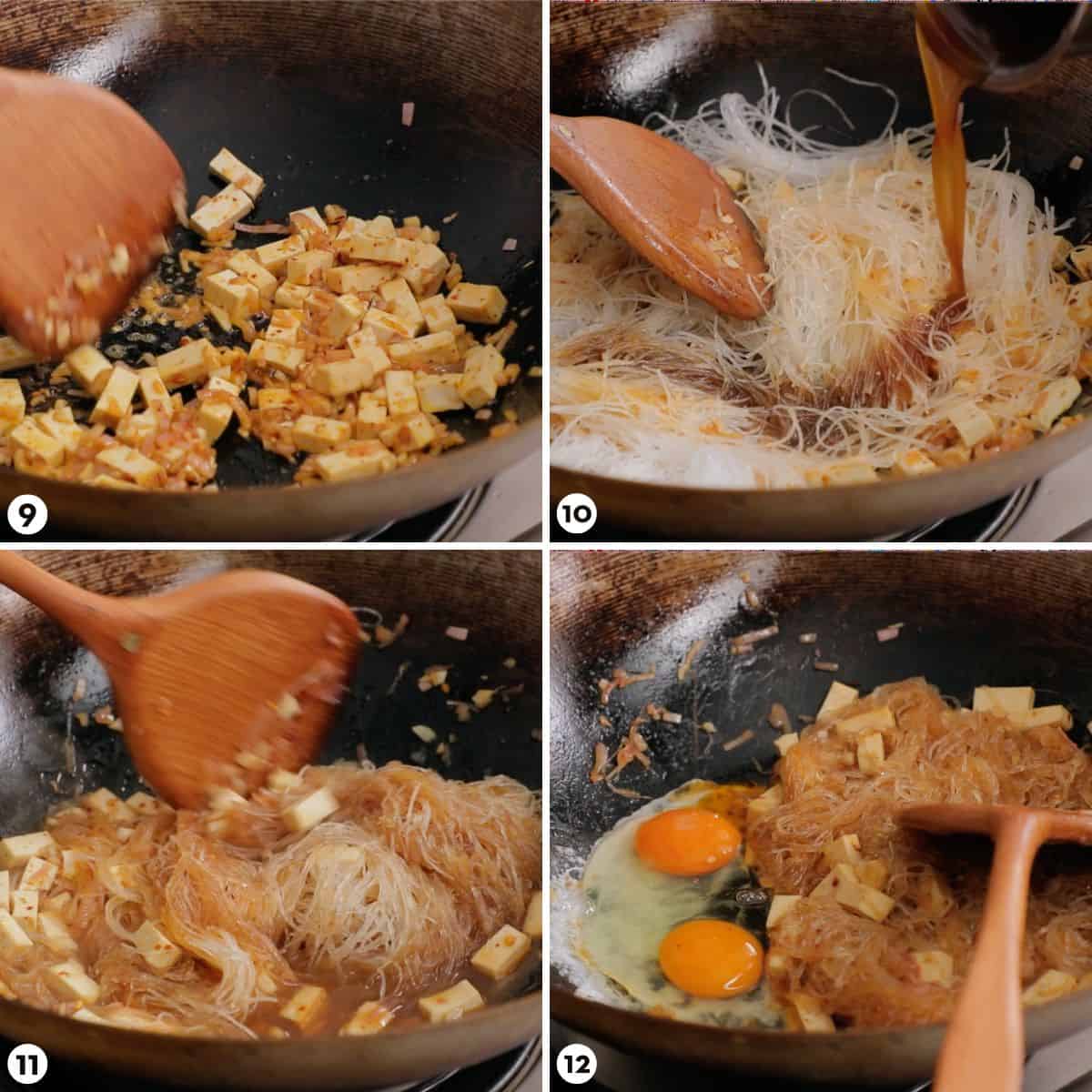 Add a little more oil if desired, then add the shallots, garlic, chili flakes, and tofu. Cook for a few minutes until the garlic starts to turn golden.
Add the glass noodles, the sauce and about ¼ cup of water.
Cook, stirring constantly, until all the sauce has been absorbed.
Push the noodles to one side, then add a little more oil and the eggs into the empty space and scramble the eggs slightly.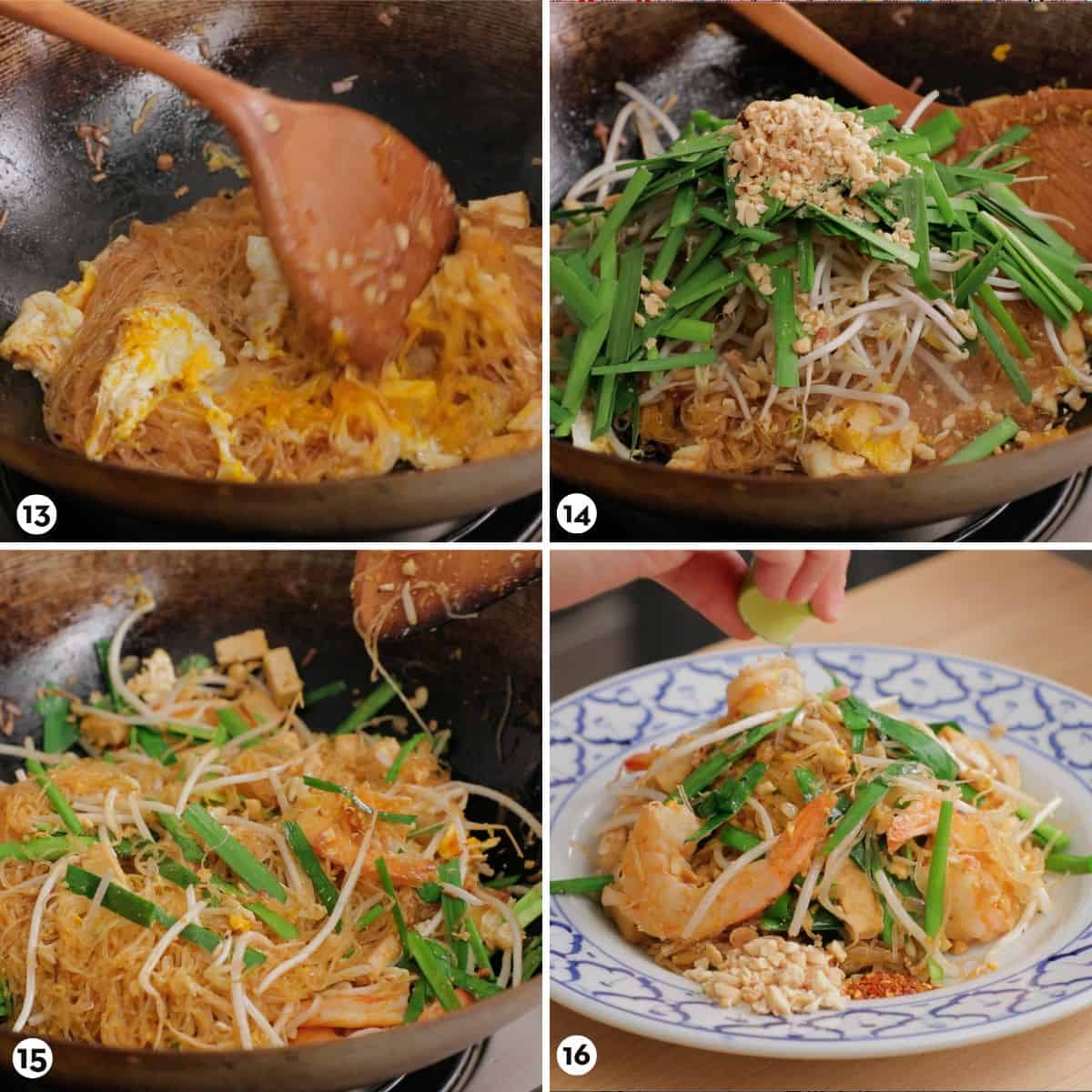 Put the noodles on top of the eggs and let the eggs cook for about 30 seconds, then toss to mix the eggs into the noodles.
Turn off the heat then add the bean sprouts, garlic chives, roasted peanuts and the shrimp back in.
Toss everything, making sure all the vegetables are thoroughly mixed in.
Serve with extra peanuts, bean sprouts, chili flakes, and a wedge of lime!
Pro Tip: Make the Sauce in Advance
Even though this is the "easier" pad thai, there are still quite a few ingredients to prep. So to make this a weeknight-friendly dish, make the sauce in advance! You can make just enough for this batch, or use this recipe to make a large batch of pad thai sauce if you plan on making pad thai again. Pad thai sauce will last you indefinitely in the fridge.
Frequently Asked Questions
Is the sauce different from the sauce for the classic pad thai?
No, this sauce is the standard pad thai sauce that can be used with rice noodles. But because I simplified this recipe by omitting the sweet preserved radish and dried shrimp, I increased the amount of fish sauce and sugar slightly to make up for the missing ingredients.
Can I use another protein aside from shrimp?
Yes. Feel free to substitute any protein of your choice and cook it in the same way as the shrimp. If using chicken, pork or beef, I recommend marinating it in a bit of soy sauce or fish sauce.
How do I store leftovers?
Unlike rice noodles, glass noodles can be refrigerated and reheated with not much harm done. Heat your leftovers until steaming hot so the noodles fully regain their original texture. Of course, the veggies are going to be wilted and that's not ideal, so add some fresh bean sprouts if you have any to give your leftovers some crisp freshness.
Before you start, be sure to watch the video tutorial to ensure success! I always include little tips and tricks not mentioned in the blog post. The video is in the recipe card below, but you can also watch it on YouTube!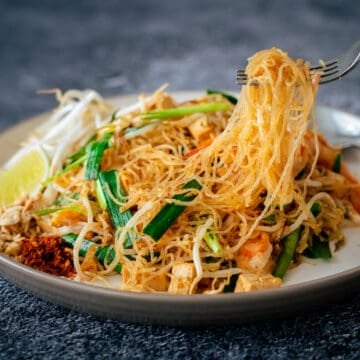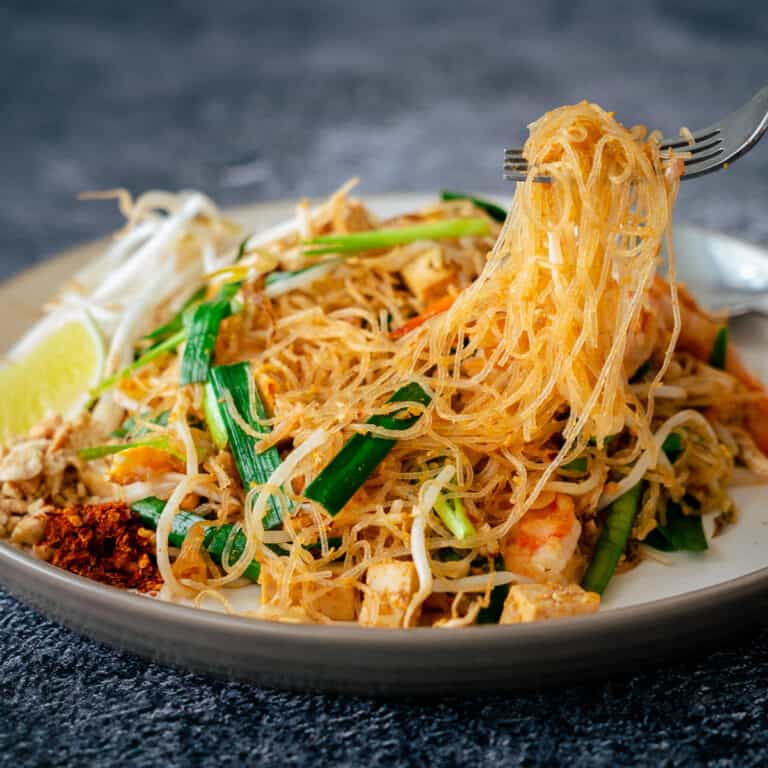 Easier and Healthier Pad Thai
Working with rice noodles for the classic pad thai can be tricky, but this glass noodle variation makes it beginner-friendly, while keeping that true flavour of traditional pad thai!
Ingredients
Pad Thai Woon Sen
12

shrimp

,

medium sized, head-on if possible

⅓

cup

neutral oil

,

you won't need as much if not making shrimp oil

3

tablespoon

chopped shallots

3

cloves

garlic

,

chopped

85

g

pressed tofu

,

cut into small pieces

½

teaspoon

chili flakes

,

or to taste

2.8

oz

glass noodles

,

soaked in water for 7-10 minutes, drained and cut in half (see note 2)

¼

cup

water

2

large eggs

4

oz

bean sprouts

,

about 2.5 cups

2.5

oz

garlic chives

,

7-10 stalks, cut into 2" pieces

¼

cup

roasted peanuts

,

chopped

1

lime
Check Out Ingredients and Kitchen Tools I Use
Notes
Do not use tamarind paste that is a product of India, which is the black, sticky paste that is much too sour. You want one from Thailand or Vietnam that has a runny, pourable consistency and is brown (sometimes labeled tamarind concentrate). You can also make it from pulp using this recipe here.
If possible, look for glass noodles that are made from 100% mung bean starch.
All my recipes come with step-by-step video tutorials with extra tips not mentioned in the blog post, so make sure you watch the video to ensure success. If you enjoy them, consider subscribing to the YouTube Channel to not miss an episode. Thank you!
Subscribe to my YouTube Channel
Instructions
For the sauce
Add the palm sugar into a small pot and cook over medium heat until the sugar is melted, then keep going until it caramelizes into a darker brown colour. If the edges are browning faster, stir it to even out the browning.

3 ½ tablespoon palm sugar

Once the sugar is caramelized, turn off the heat and add the water - it will bubble aggressively. Once the bubbling subsides, add the fish sauce and the tamarind paste and swirl it around to mix. The sugar will not be completely dissolved yet, but it will be by the time you need it.

3 tablespoon water,

4 tablespoon tamarind paste,

2 ½ tablespoon fish sauce
For the shrimp oil (optional)
Peel and devein the shrimp, reserving the heads. The shells are not used for this recipe but you can save it for shrimp stock and use it in tom yum goong.

In a wok (the same one you're using to make the pad thai), add the oil and the shrimp heads, and turn the heat on to medium. Slowly cook the shrimp heads, pressing them so the orange tomalley comes out, and keep stirring until the heads start to brown and crisp, and start to smell like grilled shrimp.

Drain through a metal sieve into a heatproof bowl, discarding the shrimp heads (or keep them for garnish). If you're making pad thai right away, no need to clean the wok.
For the pad thai
Place the wok over high heat and add just enough of the shrimp oil (or neutral oil, if using) to coat the bottom of the wok. Once the oil is very hot, add the shrimp in one layer and sear without moving them until at least halfway cooked. Flip and cook the other side just until done; remove them from the pan, leaving the oil behind, and turn off the heat.

With the heat still off, add more oil as needed so there's enough to coat the bottom, then add the shallots, garlic, tofu and chili flakes. Turn the heat back on to medium high and cook for about 2 minutes until the shallots are translucent.

3 tablespoon chopped shallots,

3 cloves garlic,

85 g pressed tofu,

½ teaspoon chili flakes

Turn the heat up to high then add the noodles, sauce, and water and keep stirring until all the liquid has been absorbed.

2.8 oz glass noodles,

¼ cup water

Push the noodles to one side of the pan, add another tablespoon of shrimp oil/oil to the empty space, then add the eggs and scramble them slightly. Put the noodles on top of the eggs and let it all cook undisturbed for about 30 seconds or until the eggs are mostly done. Toss to break up the eggs and mix everything into the noodles (using tongs from this step onward is very helpful). You can taste the noodles at this point to see if they're done to your liking. If you want them more tender, add a splash of water and keep cooking until the water has been absorbed.

Turn off the heat then add the shrimp (and any associated liquid), beansprouts, garlic chives and half of the peanuts and toss until well mixed. Plate and add more chopped peanuts on top. Serve immediately with a wedge of lime and some extra beansprouts, if desired.

4 oz bean sprouts,

2.5 oz garlic chives,

¼ cup roasted peanuts,

1 lime
Watch my videos AD-FREE and get bonus content on Patreon!
Tried this recipe? Share a pic!
Tag @hotthaikitchen on Instagram and Twitter!
Like this recipe? You'd also love these!