---
Saint Patrick's day is coming up, so I thought I would share with you a green recipe in case you want to add a Thai flare to an Irish celebration! This is a dessert you can often find on the streets of Thailand. It's a warm, creamy, custardy dip for bread made from coconut milk and pandan leaves. We call it sangkaya, but some countries in Southeast Asia call a similar thing "kaya." You can make it thicker and use it as a spread, or make it dippable like I did and have it as a sweet fondue! It can be made in advance and refrigerated, just make sure you heat it up before serving!
Watch The Full Video Tutorial!
All my recipes come with step-by-step video tutorials with extra tips not mentioned in the blog post, so make sure you watch the video below to ensure success - and if you enjoy the show, please consider subscribing to my YouTube channel. Thank you!
Print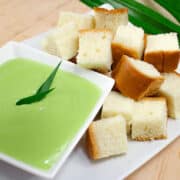 Pandan Coconut Custard "Fondue" สังขยาใบเตย
---
2

pandan leaves (see note)

1 ¼ cup

(300 mL) coconut milk (see note) 

3 Tbsp

sweetened condensed milk

¼ cup

granulated sugar (add less sugar if you want to make it into a thick "spread" rather than a dip like I showed in the video)

⅛ tsp

salt

1 Tbsp

cornstarch

3

egg yolks

2

-

4

tablespoon evaporated milk

For serving: Soft, fluffy white bread such as brioche or dinner rolls, cut into cubes.
Note: Pandan leaves are available fresh and frozen at some Asian grocery stores.
Because coconut is a main flavour, I recommend using really good quality coconut milk for this. I like to use UHT carton, 100% coconut milk. To see what that looks like, check out this page and click on "Ingredient" tab on the left, it'll be on the second page.
---
Instructions
Blend pandan leaves with coconut milk in a blender until fine. Set a sieve over a heavy bottomed pot and line the sieve with a muslin or a few layers of cheesecloth. Stir the liquid and let the coconut milk run through. Once it starts to slow down, gather the corners of the fabric, hold it up and squeeze the coconut milk out as much as you can. Discard the fibers. Stir in condensed milk then heat the pot over medium heat just until the coconut milk is steaming (no need to let it boil, we're just warming up the coconut milk so you don't have to cook the custard as long. Keep an eye on it cuz it can boil over!)
While the coconut milk is heating, whisk together granulated sugar, cornstarch and salt in a mixing bowl. Add egg yolks and whisk to combine.
Once the coconut milk is hot, pour just a splash into the egg mixture while whisking (put the bowl on some tea towel to prevent it from moving around while you stir). Add more coconut milk while whisking, a little at a time, and once the mixture becomes runny, you can pour faster.
Pour everything back into the pot and cook over low heat, stirring constantly and quickly with a rubber spatula until the custard is thickened. Keeping the heat low and constantly stirring will help prevent lumps, but if your custard isn't thickening after several minutes, your heat is probably too low, so bump it up a bit. If you get a few lumps in the beginning, it's okay, I find that they tend to go away as the whole custard thickens. The custard will continue to get thicker and thicker, and once it no longer gets any thicker, it is done. Remove from heat and stir in evaporated milk. Note: if you want to make it into a thick "spread", as opposed to a dip, you may only add a little bit or no evaporated milk at all. 
Strain the custard through a sieve just in case there are any lumps. Tip: if you have a plastic sieve, let the custard cool a bit before straining as very hot liquid can warp the plastic.
When ready to serve, heat the bread by steaming on low steam, or by microwaving it briefly (15-20 seconds), covered in wet paper towel. Transfer the custard into a bowl and drizzle a little evaporated milk on top, if desired.  Serve the custard warm with warmed bread cubes.
Note: The custard thickens significantly when cold, so make sure you reheat it before serving if refrigerated.
---