---
This is Part 2 of the campbell's broth challenge! This time, I've got a delicious pho broth to work with, and as a pho lover, I was very excited! So I decided to give it a Canadian treatment and came up with Pho Poutine. How is it? Let's just say that Adam's first words after tasting these were, "OMG. You need to sell that," and then he proceeded to eat pretty much the entire plate by himself (I maybe got 2 more bites after the on camera tasting!).
Poutine is a quintessential French-Canadian comfort food. French fries topped with melty cheese, and gravy...what could be better?! If you can't find pho broth where you live, I have provided substitution information in the recipe!
If you want to find out what other recipes you can use the pho broth for, check out cookwithcampbells.ca!
Watch The Full Video Tutorial!
All my recipes come with step-by-step video tutorials with extra tips not mentioned in the blog post, so make sure you watch the video below to ensure success - and if you enjoy the show, please consider subscribing to my YouTube channel. Thank you!
Print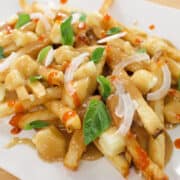 Pho Poutine (Fries, Cheese and Gravy!)
---
2 Tbsp

onion, small diced

3

cloves garlic, minced

3 cups

Campbell's pho broth

5

slices ginger

3

-

4

pc cloves

3

inches cinnamon stick

1 Tbsp

fish sauce or soy sauce

1 ½ Tbsp

hoisin sauce

¼ tsp

ground white pepper

3 Tbsp

butter

¼ cup

+

2 Tbsp

all-purpose flour

A quick squeeze of lime (1-2 tsp)
French Fries
Note:  You can make fries however you wish; you can even use frozen fries! But I've provided instructions for making deliciously crispy fries from scratch here! IF you are using my technique, it's a 3-step cooking method, so I suggest cooking the first 2 steps before you start on the gravy, or even far in advance and freeze the fries, then leave the final cooking just before you're ready to eat.
3

Russet potatoes, peeled, washed and cut into batons

½ tsp

salt
Peanut oil or canola oil for frying
Toppings
150g

cheese curds (or sub small chunks of mild cheddar)

Thinly shaved onion

Sriracha or jalapeno slices

Tiny Thai basil leaves
---
Instructions
For the gravy: Saute onion and garlic in a little oil until softened. Add the stock, ginger, cloves, cinnamon stick. Let the stock simmer and reduce by about ⅓, about 20-25 minutes.
Meanwhile, make the roux by melting the butter in a small pot. Once melted, add the flour and stir until well combined. Keep cooking and stirring until the flour becomes a brown colour and has a nutty aroma. Note: The roux should have a wet sand consistency, if it's too thick/stiff you can add a little more butter. Remove from heat and transfer into a bowl to cool.
**When stock is done reducing, turn off the heat, then discard the cinnamon stick, ginger and cloves. Stir in the fish sauce or soy sauce, hoisin sauce, and white pepper. Add about ¾ of the roux to stock and whisk to combine. Turn the heat back on and bring to a boil while whisking. Once the gravy has boiled, look to see if you want it to be a bit thicker; if so add the remaining roux.
Let the gravy simmer for 5-10 more minutes on low heat until it no longer has a raw flour taste. Adjust seasoning as needed, then add a quick squeeze of lime to brighten up the flavour of the gravy.
For the fries:  In a large pot, add the potato and cover with cold water and sprinkle the salt over. Bring the water to a boil over high heat, then let the potato boil for about 8-10 minutes or until it is fully cooked through (fork inserted should go in easily). Remove them (gently!!) and let them drain and cool completely on a paper-towel-lined tray.
Heat at least 2 inches of oil in a pot to 325°F, add the fries, then maintain frying temperature at 275°F and fry them for 5 minutes. Remove the fries and let them cool completely on a tray. At this stage you can freeze or refrigerate the fries until ready to use (if freezing, make sure you freeze them in a single layer first before putting them into a bag so they don't stick together!).
When you're ready to eat, heat the oil (you can use the same oil as before) back up to 350°F and fry the fries again for 3-4 minutes or until they are golden and crispy. Let the fries drain on a rack. 
Assembly:  Plate the fries, then sprinkle with lots of cheese curds. Pour gravy over especially over the cheese pieces to make sure they melt. Sprinkle onion slices on top, drizzle a little sriracha over and finish it off with tiny basil leaves (you know, the cute ones from the top of the sprigs). Prepare to be amazed!! 
**If you cannot find Campbell's pho broth: Start by sauteing onions and garlic as per the recipe above, then add the ingredients below and simmer for 1 hour or until reduced by about half. Then proceed with the recipe starting with where the double asterisks (**) are. Make sure you taste the gravy for saltiness before you add the fish sauce or soy sauce because different brands of broth may have different levels of salt, and you may need to add more or less seasoning.
3 cups of low-sodium vegetable broth (if you're not worried about it being vegetarian, you can use a mix of chicken and beef broth. I find beef broth alone a bit too dark and chicken alone too light.)
1 cup water
6 inches cinnamon stick
1 pc star anise
10 pc cloves
10 slices ginger
Note: These spices replace the amounts called for in the original recipe, not in addition to them. 
---