---
Watch The Full Video Tutorial!
All my recipes come with step-by-step video tutorials with extra tips not mentioned in the blog post, so make sure you watch the video below to ensure success - and if you enjoy the show, please consider subscribing to my YouTube channel. Thank you!
Print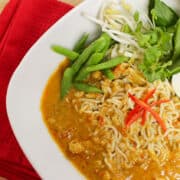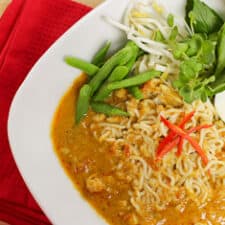 Shirataki Noodles with Curry Sauce
---
1 cup

coconut milk

1 Tbsp

red curry paste

1 Tbsp

yellow curry paste

⅓ cup

chicken stock or water

2 oz

(60 g) any white fish of choice, cut into small pieces (or substitute other kinds of protein)

Half a tomato, chopped

1

-

2

teaspoon fish sauce, to taste

1 tsp

sugar

3

kaffir lime leaves, torn into chunks*

1

package tofu shirataki noodles, drained and rinsed

Julienned red pepper for garnish
*When kaffir lime leaves are torn into chunks, they will just infuse into the curry but they're not supposed to be eaten (they're quite chewy!), so please remember to tell your guests. If you want to be able to eat them comfortably, remove the center rib and finely julienne the leaves.
Topping suggestions:
(Choose as many as you like; these are just some common options, please feel free to be creative)
Beansprouts

Long beans (blanched)

Thai basil or dill

Pickled mustard greens, or any kind of pickled vegetables

Medium boiled eggs

Fried shallots (I didn't use this in the video but it goes very well!)
---
Instructions
In a small pot, bring ¼ cup of the coconut milk to a boil. Add curry pastes and cook, stirring constantly, until very thick. Add the remaining coconut milk, stock or water, and chopped tomato. Simmer for about 10 minutes or until the sauce has thickened.
Meanwhile, bring a pot of water to a boil for blanching the noodles.
Once the sauce has reduced and the tomatoes have disintegrated into the sauce, season with sugar and fish sauce. Add fish and kaffir lime leaves and stir until the fish is completely done, breaking the fish with your spatula as you stir. Taste and adjust seasoning (the sauce should be quite strong because it will be diluted by the noodles and vegetables.
Drain and rinse the shirataki noodles well under cold water. (If you wish, you can cut them with scissors to shorten the noodles and make it a little easier to eat.) Blanch the noodles in boiling water for 30 seconds; if you want to reduce the natural aroma of the noodles, boil for 2-3 minutes. Drain well and transfer into a serving bowl. Pour the sauce over the noodles and top with toppings of choice. Enjoy!
---