---
These sesame cookies are cute yummy treats that make the perfect food gifts, whether for Valentine's Day, Christmas, or birthdays! When I was a kid I used to eat these ALL. THE. TIME. Buttery shortbread style cookies boosted with a ton of toasted sesame seeds and topped with cashews. They also last a long time and can be packaged and sent to your loved ones far away 🙂
Watch The Full Video Tutorial!
All my recipes come with step-by-step video tutorials with extra tips not mentioned in the blog post, so make sure you watch the video below to ensure success - and if you enjoy the show, please consider subscribing to my YouTube channel. Thank you!
Print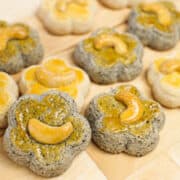 "Singapore Cookies" - Sesame Cookies with Cashews
---
200 g

(1½ cup) all-purpose flour

30 g

(¼ cup) tapioca starch (see note)

½ tsp

salt

45 g

(¼ cup +

1 Tbsp

) toasted black sesame seeds (for white cookies, use toasted white sesame seeds or roasted cashews)

125 g

(½ cup) butter, unsalted, softened

2 Tbsp

vegetable oil or any other neutral-flavoured oil

100 g

(¾ cup) icing sugar

25

cashews, raw or roasted, split

1

Egg yolk for glazing
P.S. I make this recipe using weight measurements for dry ingredients, and I recommend investing in a kitchen scale for baking if you don't have one. They're very useful and will give you more accurate and consistent results! However, I have included ESTIMATED volume equivalents for the ingredients. To measure dry ingredients in volume, I use a scoop-and-level method without shaking the measuring cup. If the flour is compacted from storage, fluff it a little with a fork before scooping. 
---
Instructions
Preheat the oven to 350°F (175°C) and set the rack to the middle position. (I recommend using an oven thermometer to make sure your oven is accurate.)

Toast the sesame seeds in a dry saute pan over medium heat, stirring constantly. Listen for the popping. Once the popping is fast and quite aggressive, let them continue to pop for another 15 seconds and remove from heat. To check that they're sufficiently toasted, look at the seeds whose black skins have split open, if the white seed inside has browned, they are done. Grind the sesame seeds using a coffee grinder by pulsing and shaking the grinder frequently until they are finely ground. Be careful not to over grind them as they will start releasing the oil and become wet and clumpy (and eventually it will turn into tahini!).

Whisk together flour, tapioca starch, salt and ground sesame seeds until combined.

In a stand mixer with the paddle attachment or a hand mixer, beat the butter on lowest speed for a few seconds just to break it up.

Add icing sugar and oil and beat on lowest speed just until combined, scraping the bottom once.

Add half the dry ingredients and beat until mostly mixed, then add the other half and beat until the mixture looks homogenous, scraping the bottom once halfway through. The dough will be crumbly, this is fine.

Transfer to a clean work surface and squeeze it together to form a smooth dough. If the dough seems too dry and won't form a smooth dough, you can put it back into the mixer and beat in a little more oil, 1 teaspoon at a time, to moisten it.

Use a rolling pin to smash it out into a 1-cm thick sheet. Knead the edges to smooth out and seal the cracks. Gently roll the dough with a rolling pin to smooth out the surface. Cut out cookies with small cookie cutters and place on a parchment-lined baking sheet, about 1-inch apart. Knead the remaining dough together then roll out and cut out more cookies. Repeat until you have no more dough left.

Brush tops of cookies with a beaten egg yolk. Place one half of a cashew on top, then brush the cashew with more egg yolk.

Bake the cookies for 20-25 mins until the bottoms are light golden brown. If you have more than one cookie sheets, I find the cookies cook most evenly if you bake one sheet at a time. If you're going to bake 2 sheets at once, switch their positions halfway through the baking process.

Let cool before serving and store in an airtight container to keep them fresh.
---
Notes
Note: Rice flour can also be used with great results, but it will yield a slightly different mouthfeel.