Thailand has one famous (non-alcoholic) drink, and this is it: Thai iced tea. The orange coloured sweet concoction is so good it feels like it should be dessert. A lot of times I find restaurants make it too sweet, so I actually prefer making my own so I can make it exactly how I want it. If you love Thai tea and you're a coffee drinker, you're also going to love this easy Thai iced coffee!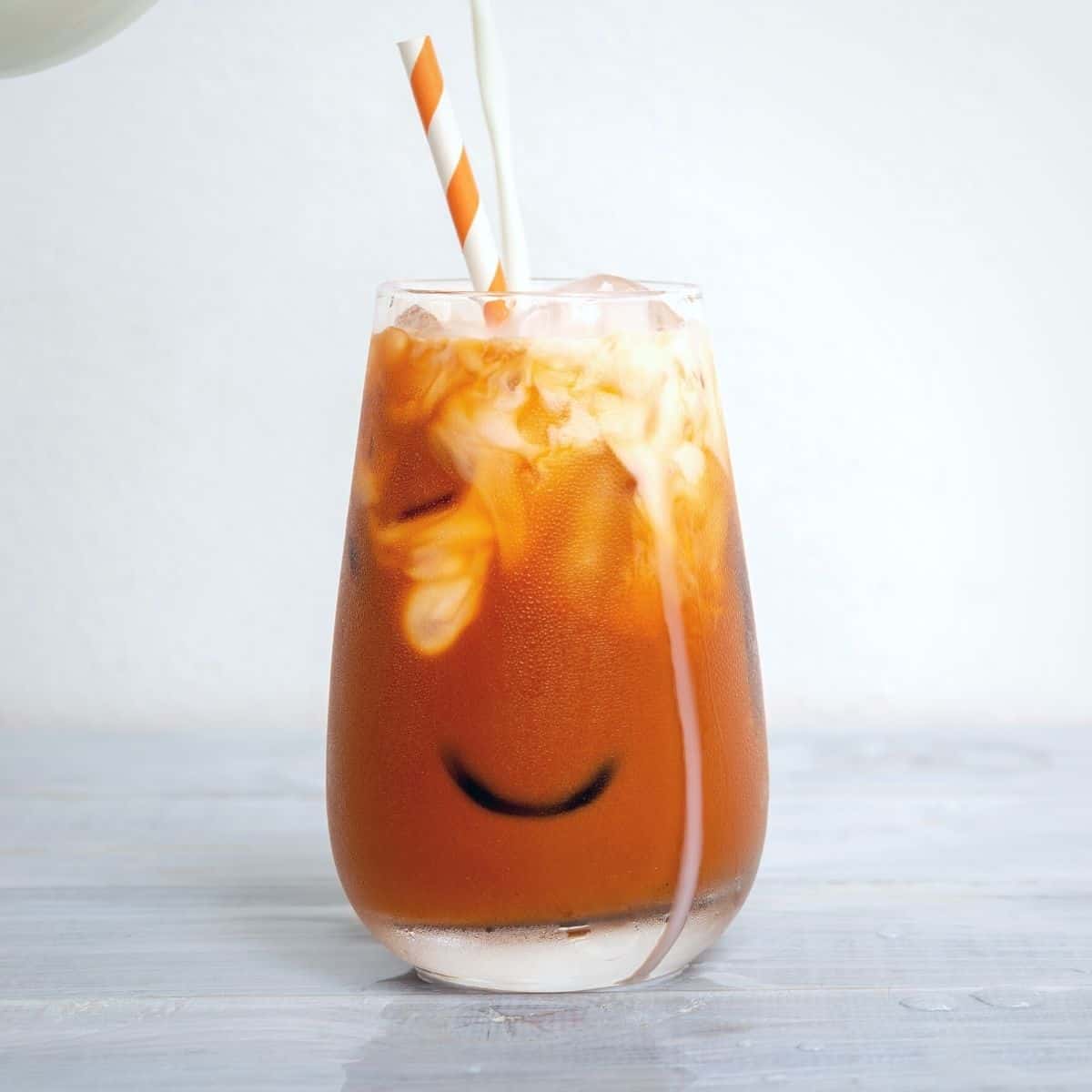 What is Thai Iced Tea?
Let's start with the tea leaves, what is Thai tea leaves? Thai tea leaves are black tea leaves, commonly assam tea, that has had flavour added to it. This flavour is usually vanilla. The iconic orange colour is nothing but orange food colouring. I know...it's not the exotic tea made from secret Thai ingredients that you might have thought. But that doesn't make it any less delicious!
So the popular Thai iced tea is brewed from Thai tea leaves, and usually has sweetened condensed milk and evaporated milk added for creaminess and sweetness. There are other kinds of iced teas made from Thai tea leaves, such as this Thai lime iced tea that is super refreshing and is actually my personal favourite!
What You'll Need
Here are ingredients you'll need to make yourself some authentic Thai iced tea:
Thai tea leaves. The most popular brand in Thailand is Cha Tra Mue, or in English "Number One Brand" (see packaging in the video tutorial below). This company specializes in teas so I try to choose this brand if I can. You can also find Pantai brand, which I've also used with good results. (Buy Thai tea leaves online)
Sweetened condensed milk. Choose a brand with only a few ingredients, mostly milk and sugar, such as Longevity brand. Be aware of cheap non-dairy imitation condensed milk that I would not choose. If you're vegan, you can use coconut condensed milk instead.
Evaporated milk. Evaporated milk is used to add creaminess without adding extra sweetness. I always use full-fat evaporated milk, but you can use fat free if you prefer.
Sugar. This can be added to taste.
Salt.

A little salt helps brighten up the sweetness of the tea and prevents it from becoming cloying. It's a little trick that makes all the difference!

A lot of ice. You should pack the cup with ice before adding the coffee.
How to Make Thai Iced Tea
This recipe shows you how to make a glass of Thai tea, but for a large batch, simply multiply the recipe according to how many people you want to serve. You can also make the tea in advance, keep the pitcher in your fridge, and pour over ice any time!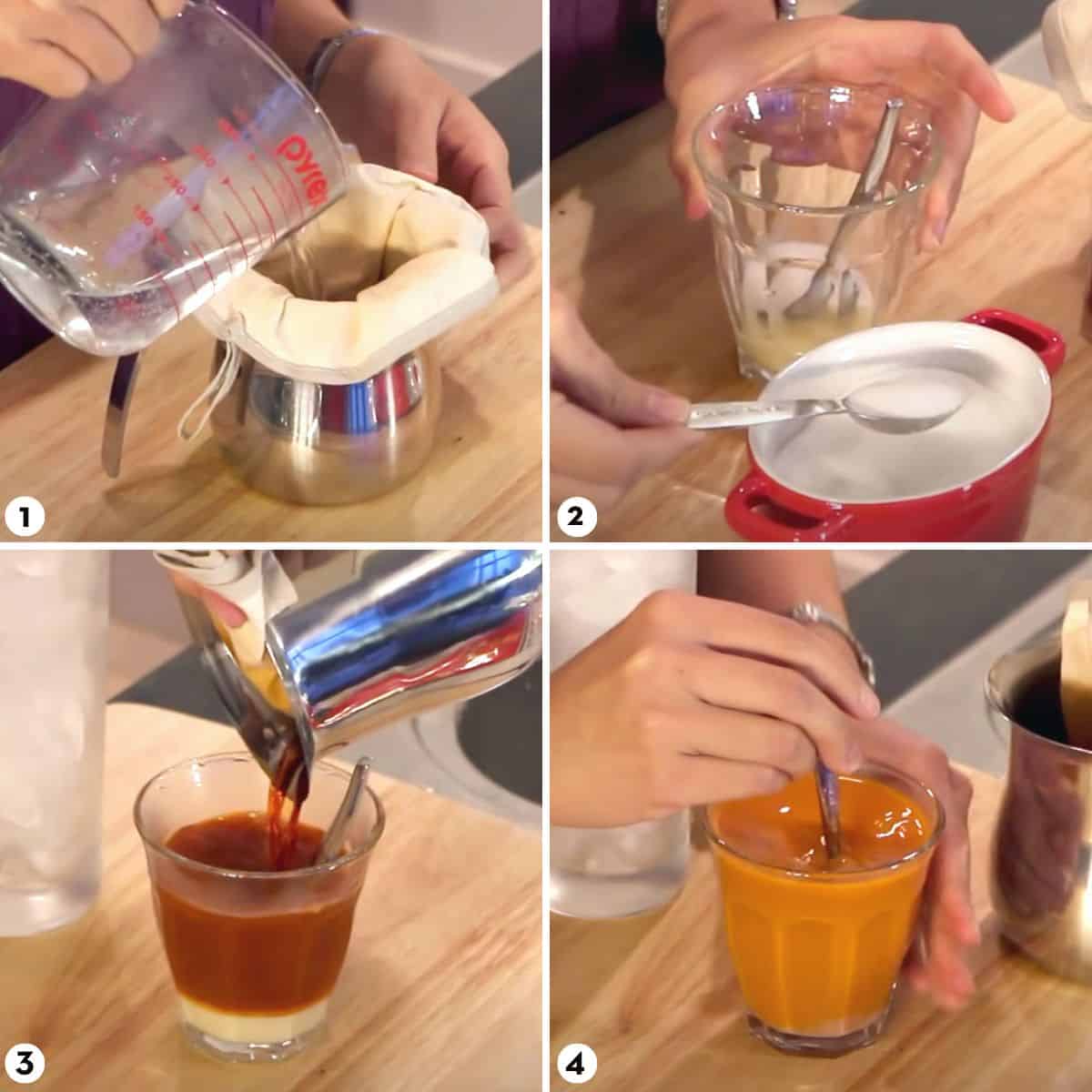 Steep the tea in hot water for 3-5 minutes. You can do this inside a cloth filter bag set in your mixing jug or directly in the mixing jug if you will filter it through a filter later.
In a mixing glass, add sweetened condensed milk, sugar and salt.
Pour the brewed tea into the mixing glass.
Stir to dissolve the condensed milk and the sugar. At this point you can finish the drink, or keep it in the fridge until ready to serve.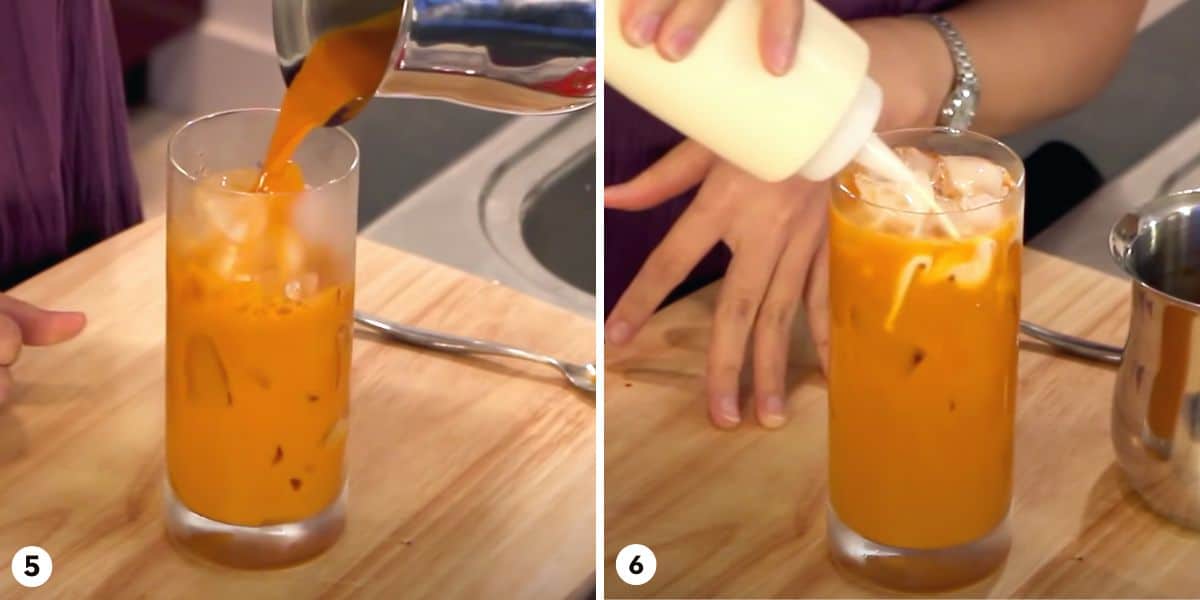 Fill a glass completely with ice and pour the tea over the ice.
Generously drizzle evaporated milk over the top and watch the beautiful cascade. Give it a stir before you enjoy!
Thai Iced Tea VS Thai Milk Tea
You might have heard some people talking about "Thai milk tea" and wondering if that's the same thing as this Thai iced tea we're talking about here. In short, yes. Though by definition Thai milk tea does not have to be iced. Yes, you can drink Thai tea hot as well, but us Thais prefer our drinks cold, so 95% of the time it is served iced in Thailand.
If you wish to drink it hot, just skip the ice and reduce the amount of sugar and/or condensed milk a little bit as there won't be any ice to dilute the tea. If the tea is a little too rich or strong, simply add more hot water to thin it out. This is something you can fiddle around with to find your perfect ratios.
FAQ About Thai Iced Tea
How can I make Thai tea vegan?
You can substitute condensed milk with your favourite coconut condensed milk. You can skip the evaporated milk altogether, but if you prefer a creamier tea after adding the coconut condensed milk, simply substitute with your non-dairy milk of choice. Oat milk tastes great with Thai tea.
Can I make Thai iced tea without the Thai tea leaves?
You can try to create a hacked version of Thai tea by using assam tea leaves and adding a little bit of vanilla extract into your tea. Remember to brew it strong so it can hold up to the added milks. It might not taste quite the same as what you get from Thai restaurants, but it'll be close enough. You can skip the orange food colouring unless you really want to create that iconic look!
Why is Thai iced tea orange?
Thai iced tea is orange because of added food colouring. It is added by commercial Thai tea producers to enhance the natural orange hue in black tea which tends to disappear once milk is added. It does not contribute any taste to the tea.
Are there any spices in Thai tea?
You may have seen recipes for Thai tea where spices like cardamom and star anise are added, but rest assured that is not what Thai tea is. Many people try to make the tea "more Thai" by infusing spices that are used in Thai cuisine, similar to chai, but this is misguided. Thai tea is an uncomplicated "cheap and cheerful" drink of Thai people that doesn't contain any "secret" ingredients other than artificial vanilla flavour and food colouring!
Watch the Video Tutorial!
Print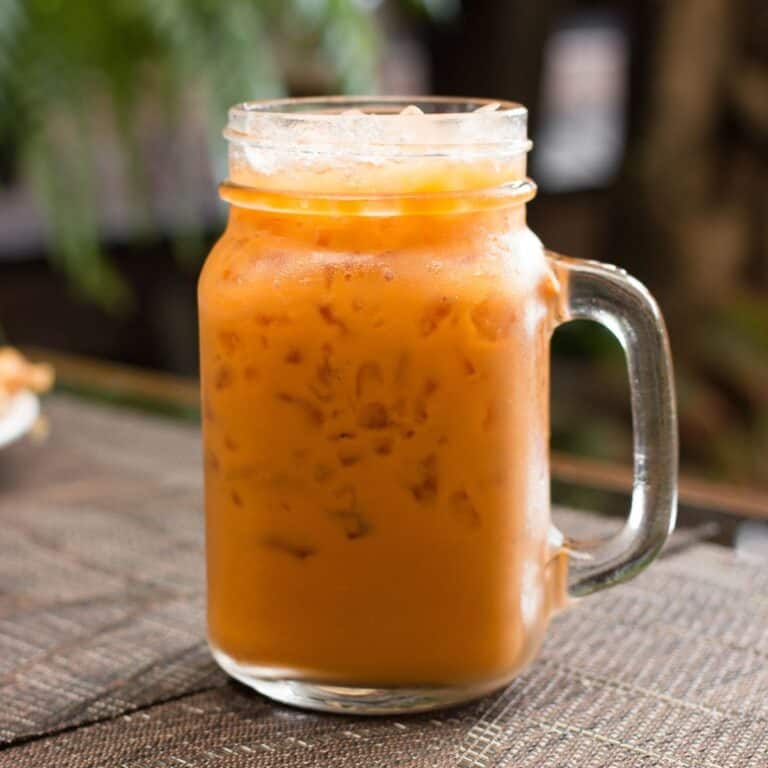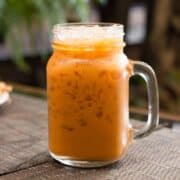 Thai Iced Tea ชาเย็น (cha yen)
Author:

Pailin Chongchitnant

Prep Time:

5 mins

Cook Time:

5 mins

Total Time:

10 minutes

Yield:

1 glass
---
3 Tbsp

(

45

ml) Thai tea leaves (buy Thai tea leaves online)

1 cup

(

240

ml) off-the-boil water

1.5 Tbsp

(

22

ml) sweetened condensed milk

2

-

3

tsp (

10

-

15

ml) sugar
A pinch of salt

1

-

2

Tbsp (

15

-

30

ml) evaporated milk
A lot of ice
---
Instructions
Steep Thai tea leaves in the hot water for 3-5 minutes—you can steep the tea in a cloth filter bag (as shown in video) or just in a cup and then pour it through a paper filter.
While the tea steeps, combine condensed milk, sugar, salt in a mixing glass. Once the tea is ready, pour the brewed tea into the glass and stir to dissolve the sugar and condensed milk.
When ready to serve, fill a glass all the way to the top with ice and pour in the mixed tea, leaving a little room on top.
Drizzle the top with some evaporated milk and enjoy.
Note: If you want to making the tea in advance and chill before serving, consider adding a little more water because pouring cold tea over ice will not melt the ice as much, and it might be too thick/sweet. But do taste and adjust according to your taste!
---