---
This shrimp dip has spicy and bold flavours, yet it's one of the simplest nam prik you can make at home. It's heatly, gluten-free, and easy to make. Ready to take your veggies and dip platter to the next level? This is the recipe to try!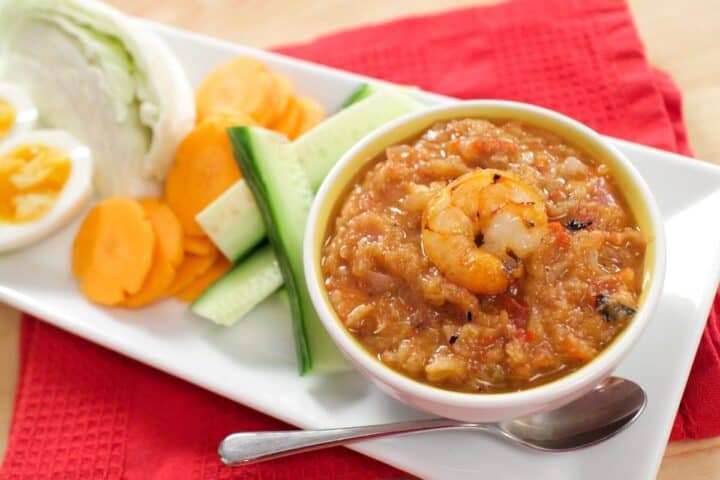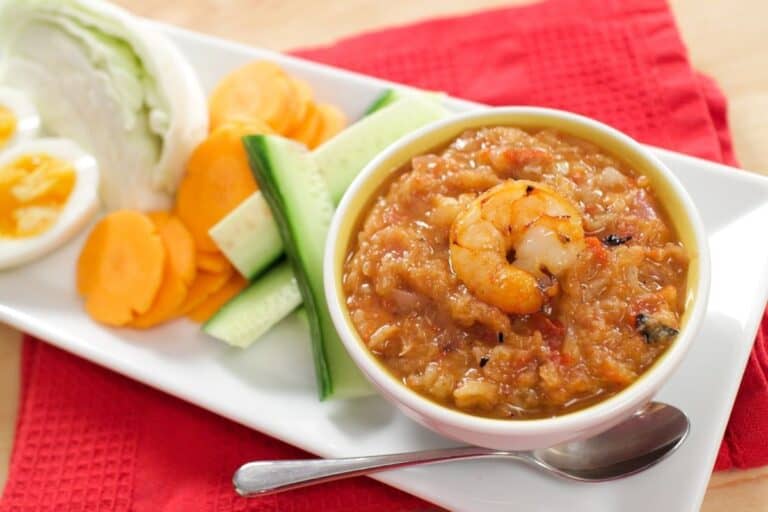 What is nam prik?
"Nam Prik" is a type of Thai dip that is spicy ("prik" means chilies) with very bold flavours. Outside of Thailand, Thai dips are severely underrepresented, but Thai people have dips as often as you might have a sandwich! It's served as part of a bigger meal, and for many families, a meal isn't quite complete without a nam prik on the table.
Why haven't I seen any nam prik at any Thai restaurants?
Restaurants shy away from putting nam prik on the menu because they have very strong flavours, and some can be a bit of an acquired taste. But this one I am sharing with you is what I consider a "beginner's nam prik" because it is easy to make and easy to love with no funky ingredients. The perfect way to ease yourself into the world of nam prik!
Watch The Full Video Tutorial!
All my recipes come with step-by-step video tutorials with extra tips not mentioned in the blog post, so make sure you watch the video below to ensure success - and if you enjoy the show, please consider subscribing to my YouTube channel. Thank you!
Print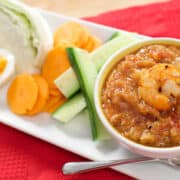 Spicy Shrimp Dip (Nam Prik Goong Sod) นำ้พริกกุ้งสด
---
100 g

shrimp, medium size

8

cloves garlic, leave the skin on

2

heads shallots, peeled and quartered

Red chilies, to taste (see note)

2 Tbsp

(30 ml) lime juice

1 ½

(22 ml) tablespoon fish sauce

1 Tbsp

(12 g) palm sugar, finely chopped, packed 
For serving:
Vegetables (raw or blanched) such as cucumber, carrots, cabbage, radish, long beans, cauliflower, anything you like for dipping!
Medium boiled eggs for serving (boil for 8 minutes)
Jasmine rice (this dip is usually served as part of a meal so there is normally rice in the mix)
Note: You can put as much chilies as you like depending on how spicy you want the nam prik to be. However, I like to use larger chilies so that I get a lot of red colour to make the dip more colourful. If the larger chilies you're using is not spicy enough, you can always add some Thai chilies for extra heat. The one I used in the video is a local variety in Canada called Gusto peppers; they look like Thai spur chilies but boy do they pack some heat!
---
Instructions
Preheat the oven broiler on high, alternatively you can use a grill on medium heat.
Sear the shrimp in a hot pan with a little oil just until it has a bit of browning on each side, and until it is cooked through. Set aside.
Broil the garlic, shallots and chilies under a preheated broiler for a few minutes until the edges are charred. They will not finish at the same time, so keep an eye on them and remove them as they are done. If using a grill, use a vegetable grill pan, or skewer the garlic cloves and the shallots together, so they won't fall through the grate. The garlic and shallots should become soft and smells sweet.
Add all the herbs into a mortar and pestle and pound until creamy with no big chunks.
Add palm sugar and pound until dissolved.
Add shrimp (but save one for garnish!) and pound until the shrimp are all shredded.
Add lime juice, fish sauce, and tamarind juice and stir to mix.
Taste and adjust seasoning as needed, but remember that the dip should be quite strong as it'll be served with vegetables and rice. If you'd like a thinner consistency you can add a tiny splash of water. Enjoy!
---