---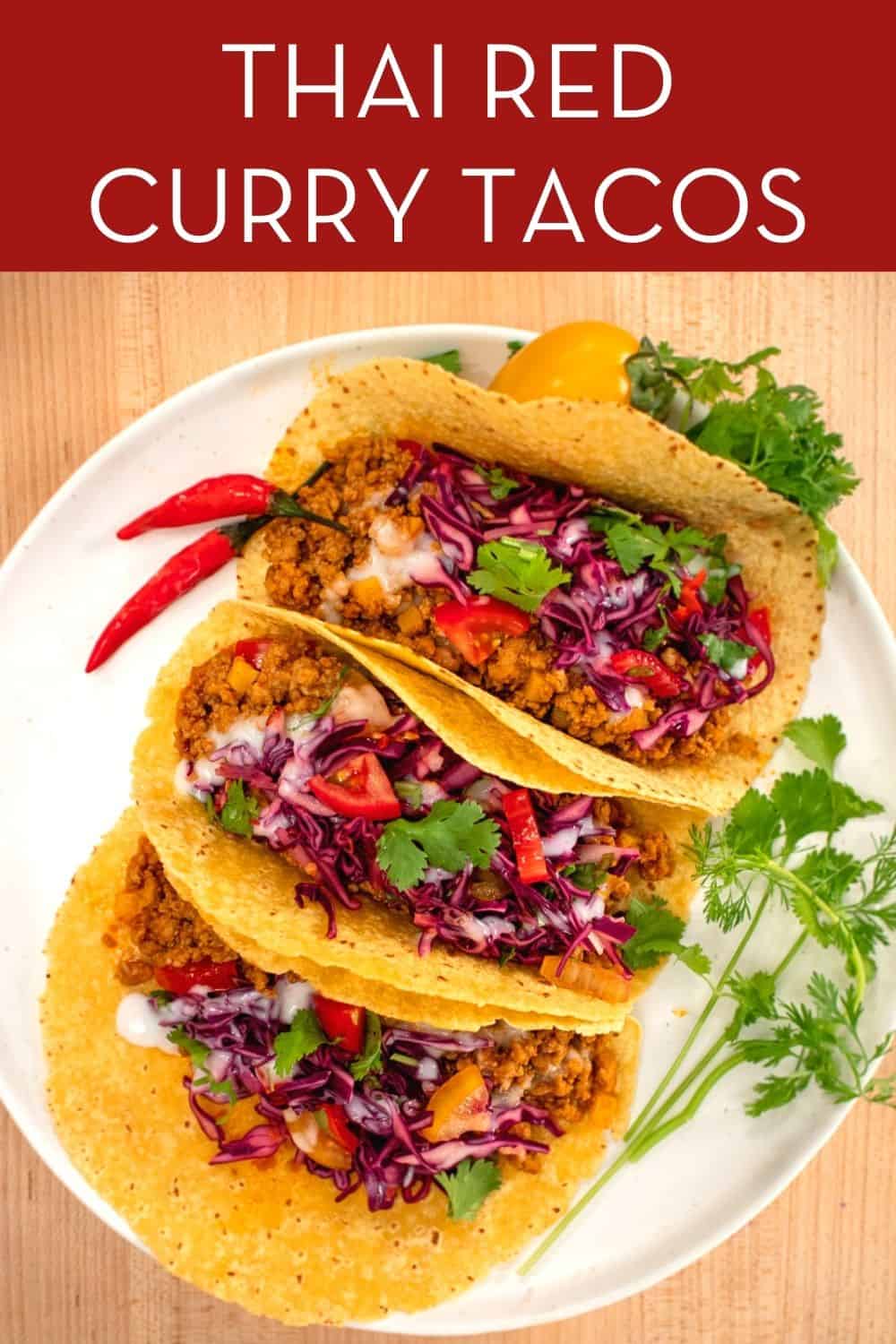 This video is sponsored by the Thai Trade Centre Vancouver
Can You Cook Delicious Thai Food Without an Asian Grocery Store?
Turns out not only is it possible, but this was one of the best things I've ever made on the show! Our good friends at the Thai Trade Centre Vancouver asked if I could make a recipe that uses only ingredients people can buy at their regular non-Asian grocery stores. No problem! Especially because nowadays most grocery stores stock at least a few basic Thai products. I was sure I would find coconut milk, at least one type of curry paste and fish sauce. Indeed those were what I found, but not much more!
You Don't Need to Make a Traditional Dish to Enjoy Authentic Thai Flavours
I decided to make a Thai taco with what I was able to find because I wanted to show you that can enjoy REAL Thai flavours by integrating Thai ingredients into dishes you're already familiar with. Making a full-on traditional dish is great, but it's certainly not necessary if you just want to enjoy the flavours of Thai food that you love. The key is in using real Thai ingredients!
Don't Want to do Tacos? Here are some modification ideas
Tortillas are great, but this recipe can be easily modified to many other dishes, such as...
Lettuce wrap - Use crisp lettuce leaves instead of tortillas.
Pita - Use pita bread instead of tortillas.
Over rice - Simply serve the pork filling over rice and serve the cabbage slaw as a side dish.
Shepherd's Pie - Use the pork filling as a base, maybe add a little more coconut milk to make a moist filling, and perhaps extra veggies. Top with mashed potatoes and bake. Slaw on the side.
Fill anything with it! What kind of "filled pastry" do you have in your culture? Filo? Puff pastry? Empanadas? Samosas? Dumplings? Buns? Use the pork filling for any of them!
Watch The Full Video Tutorial!
All my recipes come with step-by-step video tutorials with extra tips not mentioned in the blog post, so make sure you watch the video below to ensure success - and if you enjoy the show, please consider subscribing to my YouTube channel. Thank you!
Print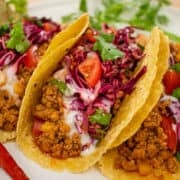 Thai Red Curry Taco with Cabbage Slaw
---
Description
Note: Because this was an "on the fly" recipe challenge, some of the amounts given are estimated only. You can watch the video for a visual guide of how much I used.
---
~8 soft taco shells, or hard if you prefer
Filling
1

lb lean ground pork (or ground beef)

1

smal jar "Thai Kitchen" brand red curry paste (

112g

,

4oz

), if using other brands you'll likely need about 3-4 Tbsp

½ cup

coconut milk
Fish sauce, to taste

1 tsp

sugar

⅓ cup

diced water chestnuts
Coconut "Crema"
⅓ cup

coconut milk

1 ½ tsp

cornstarch

2 Tbsp

water
~ 1 teaspoon lime juice
A pinch of salt
Thai Cabbage Slaw
2

-

3

Thai chilies, or to taste

1 tsp

sugar (use palm sugar if you have it)

2 Tbsp

Fish sauce

2 Tbsp

Lime juice

2

tomatoes, diced

2 Tbsp

thinly sliced shallot
~ 3 cups shredded red cabbage

1

green onion, chopped
A few sprigs cilantro, chopped, plus extra for garnish
---
Instructions
For the Filling:
Add coconut milk to a wok and bring to a boil over medium heat. Add red curry paste and stir to mix with the coconut milk, then keep cooking and stirring until very thick and the coconut oil will start to separate from the paste.
Add the ground pork and toss to mix with the curry paste, turning the heat up to medium high. Keep stirring until fully cooked.
Add sugar and water chestnuts and toss to mix. Then taste and add fish sauce as needed.
 For the Coconut "Crema"
Put coconut milk in a small pot.
Dissolve the cornstarch in the water. Then add about half of the dissolved cornstarch to the coconut milk. Turn the heat on high and stir CONSTANTLY until it comes to a boil.
Once boiling, look to see if it needs to be thickened further (it will thicken a bit more once it cools down). If so, add more of the the cornstarch slurry. You want it to still be easily pourable but thick enough that it won't run all over the place once you drizzle it on the taco. If you've added too much cornstarch, just add more coconut milk to thin it out.
Add salt and lime juice, then taste and adjust as needed. You want it to be just a bit tart (no more than sour cream or yogurt-level).
For the Thai Slaw:
To make the dressing, in a mortar pound chilies until fine (or you can finely mince).
Add the sugar and swirl with the pestle to help break down the chili skins even more.
Add fish sauce, lime juice, and stir to dissolve the sugar.
Add shallots and tomatoes and stir to allow some of the tomato juices to mix in with the dressing. Set this aside until close to serving, don't toss it with the cabbage too far in advance.
When ready to use, pour the dressing over the cabbage and add chopped green onions and cilantro to taste. Taste and adjust seasoning as needed.
Assembly:
If using soft tacos, heat the tortillas on a dry frying pan until hot. Place filling on the shell, top with the slaw and drizzle with the coconut crema. Enjoy!
---