---
These addictive little munchies are my newest obsession! Think the satisfaction of potato chips crossed with soft silky tofu...crossed once more time with fried garlic, with a kick of chilies. Worth every effort. Perfect vegetarian appetizer for any party!
You're obviously a tofu lover because you're here, so don't forget to check out how to make mapo tofu which is my favourite tofu dish!
Watch The Full Video Tutorial!
Before you start, be sure to watch the video tutorial to ensure success! I always include little tips and tricks not mentioned in the blog post. The video is in the recipe card below, but you can also watch it on YouTube!
---
Print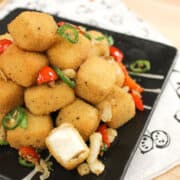 Chili Garlic Tofu Bites เต้าหู้ผัดพริกเกลือ
---
300g

medium-firm tofu or smooth tofu (this is trimmed weight)

1 cup

water

3 Tbsp

soy sauce

½ cup

all-purpose flour

1

-

2

eggs

~1 cup fine unseasoned breadcrumbs (not panko)

¼ tsp

ground black pepper

6

cloves garlic

1

green chili (serrano, jalapeno, or use green bell pepper if you don't want it spicy)

⅙

of a red bell pepper or another type of red pepper (this is just for colour)

1

green onion

¼

+

⅛ tsp

salt (you need fine-grain salt for this)

¾ tsp

sugar (also fine or super fine sugar)

⅛ tsp

ground white pepper
Oil for frying
---
Instructions
Cut tofu into small cubes, about 2 cm. Place tofu cubes into a container just large enough to hold them, then cover with 1 cup of water and 3 tablespoon of soy sauce. If this amount of water does not completely cover the tofu, add more water but make sure you also add proportionately more soy sauce too. Let it soak for about 15-20 minutes, tasting the tofu at 15 minutes to see whether they are sufficiently salty (should just be mildly seasoned, but we don't want them to be bland). If you want them to be more seasoned, let them sit longer. Once they are sufficiently seasoned, drain.
While you wait for the tofu to soak, prep the "toppings". Combine the salt, sugar and white pepper into one small bowl. Crush the garlic until they are broken into small chunks and keep them in another bowl. Slice green onions on a bias and put the white part with the garlic and keep the green part separate. Slice the green and red peppers into small pieces or rings and place them with the garlic too.
Prep the breading station:  Place the all-purpose flour, 1 egg, and the breadcrumbs into separate bowls. Note: The all-purpose flour is optional, you can omit the flour if you like a thinner coating. But if you prefer a thicker, firmer crust that is more resilient to breaking, include the flour.
Beat the egg really well, making sure there are no more egg white blobs. If the egg is very fresh and is quite thick, add a teaspoon of water to thin it out. Stir black pepper into the breadcrumbs.
Breading: Toss the tofu in the flour (if using), a few pieces at a time, them place them in a sieve and gently shake off excess flour as much as possible. Drop them in the egg bowl and turn them around to coat in the egg. Lift the tofu from the egg, one at a time, letting all the excess egg drip off the tofu, then place it into the breadcrumbs and immediately toss it in the breadcrumb to coat. Tip: To prevent gunky hands, keep your wet hand wet and your dry hand dry: so use one hand for the egg, and the other hand for the flour and breadcrumbs.
Coat each piece of tofu again in the egg and breadcrumb for a second coat (no flour). You may need to add another egg.
To fry: Heat about 1 ½ inch of frying oil in a small pot or wok and heat the oil to 325°F (I said 350 in the video, but I find that the coating is less likely to break if the oil is at 325°F). Drop the tofu into the oil and fry for 1 minute until golden brown. Remove from oil and drain on paper towel. If you hear loud cracking sounds while frying, that means one of the pieces has broken, so just find the culprit and remove it.
TIP FOR EXTRA CRISPY TOFU: I did not mention this in the video, but if you want extra crispy tofu, double fry them! Let the tofu cool first and then fry them again for 1 more minute. It's important to let the tofu cool down to room temp first before frying them again.
Garlic & Chili Topping: Add just a little bit of oil to a wok, then add all the garlic, white part of green onion, and the peppers; saute over medium low heat until the garlic is soft and golden. Turn off the heat, add tofu and toss to mix. Transfer into a mixing bowl, sprinkle about ¾ of the sugar-salt mixture over the tofu and toss to coat. Taste the tofu before you add in the final little bit—depending on how salty the inside of the tofu is, you may not need the rest. Toss in green onions and serve immediately!
---