---
This is a beautiful, yummy, classic Thai dessert that's super easy! It's so easy you barely need a recipe. Once you understand what it's made from, and how it's done, most people can just wing it. Water chestnuts are coated in a soft and chewy tapioca gel, served in a pandan-scented coconut syrup and ice. Ah....so refreshing!
Watch The Full Video Tutorial!
All my recipes come with step-by-step video tutorials with extra tips not mentioned in the blog post, so make sure you watch the video below to ensure success - and if you enjoy the show, please consider subscribing to my YouTube channel. Thank you!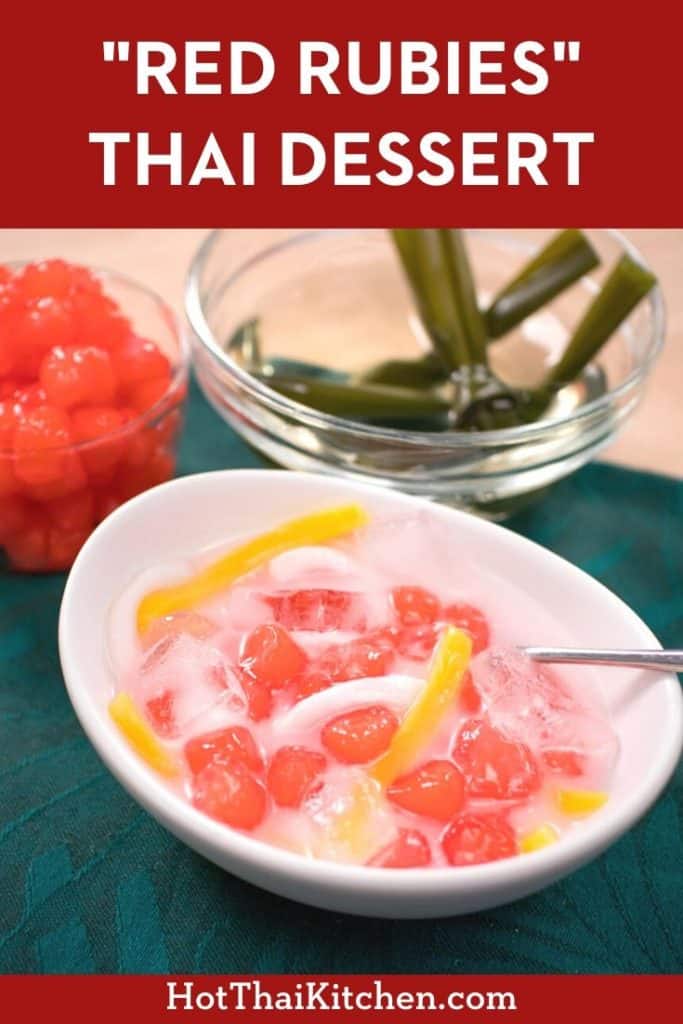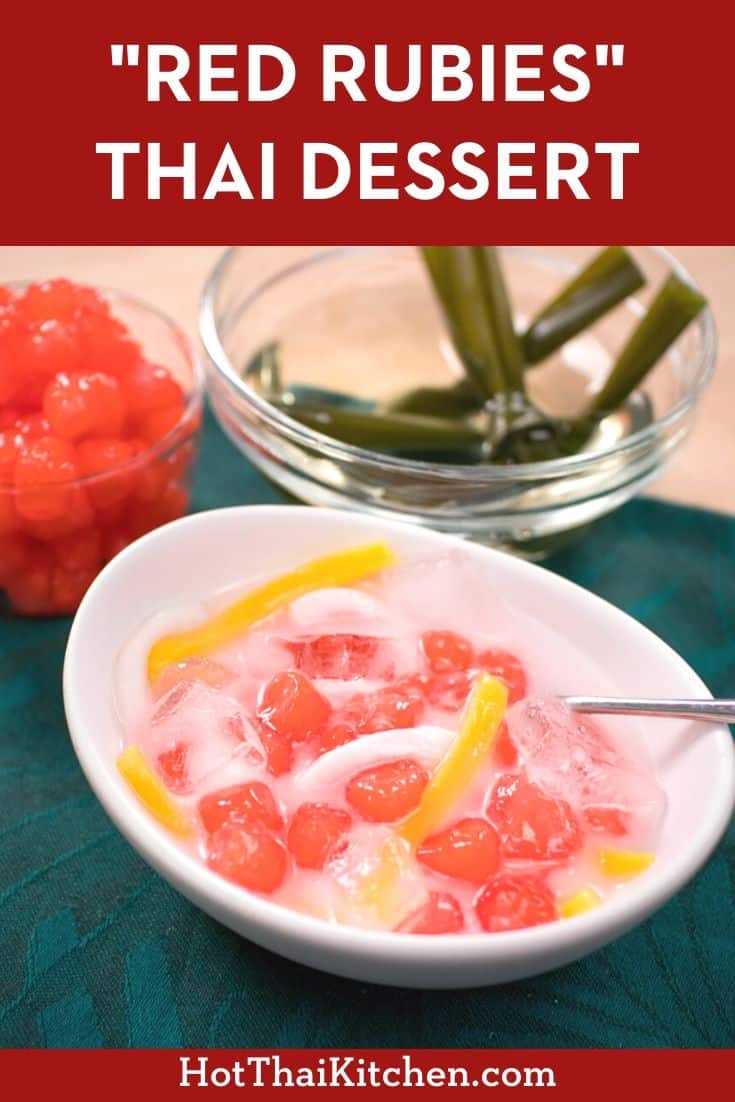 Print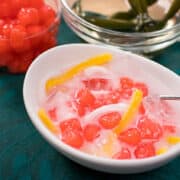 Red Rubies Dessert (Tub Tim Grob)ทับทิมกรอบ
---
The Rubies
1

8oz-can whole water chestnuts (you can also use fresh)
Red food colouring or beet juice

¼

-

½

 cup tapioca starch
Syrup
½ cup

sugar

1½ cup

water (or fresh jasmine water, see note)

1

pandan leaf
Optional: a dash of rose water or orange blossom water.
Coconut Milk
¾ cup

coconut milk

¼ cup

water

1

pandan leaves

⅛

 tsp salt
For serving
Crushed ice
Ripe jackfruit (fresh or canned in syrup), optional
Young coconut meat, optional
In Thailand we make jasmine water by floating fresh jasmine flowers on water in a covered container overnight, and then we use that water to make the syrup. For a different, but still floral, flavour, you can use a little bit of rose water or orange blossom water instead. Commercially available rose water and orange blossom water are very strong, so add just a tiny little bit at a time (¼ or ½ tsp) until the desired strength is reached.
---
Instructions
Cut water chestnuts into about 1cm cubes.
Add just enough water to cover chestnuts, then add red food colouring until the water is bright red (about 10-15 drops). Or add less for lighter colour.
Meanwhile, make syrup: boil pandan leaves in water for 10 minutes. Then add sugar and stir to dissolve. Chill completely.
Make coconut milk: Boil coconut milk, salt, water and pandan leaves for 5 minutes. Chill.
Bring a big pot of water to a boil. Meanwhile, drain the chestnuts and place in a mixing bowl.
Sprinkle about 2 tablespoon of the tapioca starch and toss to coat. Then add another 2 tablespoon and toss again to coat. Keep adding until all pieces are completely coated in starch (they look white) and are not sticking together. For a thin coating, you'll need about ¼ cup total. For thicker coating you may need up to ½ cup. I like just a little more more than ¼ cup.
Once done, put them in a strainer and shake off excess starch.
Prep an ice water bowl for chilling the rubies after cooking.
To cook the rubies, sprinkle half of the rubies into rapidly boiling water, then stir briefly. Boil them for about 2-3 minutes (once they float, let them boil for another minute or so).
Scoop out a small amount (tester amount) with a slotted skimmer then dunk them into the cold water bowl, keeping them in the skimmer for a few seconds just until the coating "settles" into a clear gel. Look to see if there are lot of white, uncooked starch spots on the rubies, if so, put them back into the pot and boil for another minute. If you only see white spots on a few of them, this is okay. Once done, fish out the remaining rubies and place them into cold water.
Repeat #9 and #10 for the other half.
Once cool, drain them. It's best for the texture to not refrigerate these but they will last all day at room temp so you can make them the night before and keep in a cool place until serving time.
To serve, put a scoop of the rubies into a serving bowl, add jackfruit and/or young coconut meat if using. Spoon the syrup over, just until it almost covers the rubies. Top with a couple of tablespoons of coconut milk, but this amount is flexible - I typically do about 2 parts syrup to 1 part coconut milk. Add ice, stir it around so it's really cold, then enjoy!
---