A classic comforting street food you can find in Thailand. Perfect for cold days, but also great in the summer cuz let's face it, it's summer everyday in Thailand and if we can enjoy it, you can too! Super easy to make, and you can make the wontons in advance!
If you have wonton wrappers leftover, also check out how to make shumai. They're the dim sum classic pork and shrimp dumplings that are super easy to make, and use many of the same ingredients you already have for the wontons!
For another light and comforting soup, try my Thai chicken potato soup that was a staple in my household in Thailand!
Watch The Full Video Tutorial!
All my recipes come with step-by-step video tutorials with extra tips not mentioned in the blog post, so make sure you watch the video below to ensure success - and if you enjoy the show, please consider subscribing to my YouTube channel. You can also watch this video on YouTube. Thank you!
Print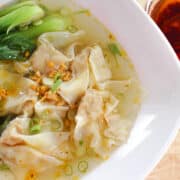 ---
Wontons
2

cloves garlic

¼ tsp

white peppercorns

2

cilantro roots or

6

stems

120 g

shrimp, cut into chunks

150 g

ground pork

1

egg

1 Tbsp

soy sauce

1 Tbsp

oyster sauce

1 tsp

sugar

2 tsp

tapioca starch
About

40

wonton wrappers
Broth
4.5 cups

pork or chicken stock (I estimate ¾ cup of stock per person)

½ tsp

salt

1½ Tbsp

soy sauce

½ Tbsp

fish sauce

1½ tsp

sugar

Ground white pepper, to taste
Finishing Touches
Vegetables: I use baby bok choy, but you can use any other greens you like, or no greens at all.

Fried garlic and garlic oil (simply chopped garlic fried in oil until golden, watch fried garlic tutorial at 3:06)

Chili oil (optional), you can use store bought chili oil or make your own by simply frying some dried chili flakes over low heat in vegetable oil just until the flakes darken slightly.

Chopped green onions and/or cilantro for garnish
---
Instructions
Pound garlic, white peppercorns and cilantro roots in a mortar and pestle into a paste. In a food processor, add the garlic mixture, shrimp, ground pork, egg, soy sauce, oyster sauce, sugar, and tapioca starch; process just until there are no more big chunks of shrimp. Remove from food processor and stir together one more time to ensure even mixing. At this point you can taste the mixture by cooking up a small amount in the microwave—it only takes a few seconds to cook! 
Lay wonton wrappers out and put 1 rounded teaspoon of filling in the centre. Keep the rest of wonton wrappers covered under a towel or in a ziplock bag so they don't dry out. Wrap the wontons into a "ruffled purse" by following the instructions in the video (at 3:38) or watch this video to see 5 different ways you can wrap wontons.
Bring a large pot of water to a boil for blanching wontons. In another pot, bring the stock to a simmer, then add all remaining broth ingredients. Cover and keep hot until ready to serve. Blanch the bok choy (or other vegetables you're using) for 1 minute in the boiling water and place into serving bowls, shaking off as much water as you can. Boil wontons in the same water for about 1-1½ minutes or until fully cooked; drain and add to the serving bowls. Ladle the broth over the wontons, top with fried garlic, chili oil, and green onions. Serve immediately.
---
Keywords: wontons, soup, street food, wonton soup