---
This is the 4th episode of my 5 Colours of Thai Rice mini video series! Dubbed by some as Thailand's newest "superfood" this beautiful black "riceberry rice" is both healthy and delicious! In fact, it is the only rice my mom eats these days!
About the 5 Colours of Thai Rice Series: Did you know that Thai people nowadays are eating so many colourful varieties of rice? That's right! There are several options of Thai rice you could be having with your Thai meal! In this series, I am giving you the lowdown on 5 types of rice Thailand has to offer, each with its own unique colour, and these are the 5 main types that Thai people now eat on a regular basis. Thank you Thai Trade Center Vancouver for sponsoring this awesome series!
Extra Notes on Cooking Riceberry:
I use 1 part riceberry to 1.5 parts water (ratio is by volume, not weight). This ratio is good for rice cooked in a rice cooker or on the stove top. If you want to know how to cook perfect rice on the stove top, check out this video How to cook perfect Thai jasmine rice without a rice cooker.
For best result, after adding the water to the rice, let the rice sit and soak in the water for about an hour or so (or however much time you have to spare) before turning on the heat. This will result in more evenly cooked and tender rice.
If the water has all dried up but the rice doesn't taste tender enough for you, add a little more water and keep it cooking longer (on low heat!).
A sign that the rice is tender enough is that the rice grains should look like they've burst open, i.e. the rice has swollen enough that the black bran "jacket" rips open, exposing the white inside of the grain. Although with riceberry it may be hard to see because the colour is so dark, so I would suggest simply tasting it for tenderness.
The best way to cook mixed riceberry and white rice:

Rinse the riceberry rice once and place it in the rice cooker or the pot you're using to cook the rice.
Add the total amount of water you'll need to cook the rice and let the riceberry soak for at least 1 hour (So if you are cooking a TOTAL of 1 cup of rice - ½ cup riceberry rice and ½ cup white - add 1 ½ cups of water.)
After soaking, rinse the white rice a couple of times, drain well and add to the riceberry rice pot. Mix it up and cook as per usual.
If you're in a real rush, you do not need to soak the rice, but in my experience, you get a better texture overall if you let the riceberry soak first. Without soaking I find the white rice will be overdone or the riceberry will be underdone.

Another way to mix riceberry and white rice: Cook a bunch of riceberry, freeze it in small portions either wrapped in plastic wrap or in little baggies, and when you're ready to eat just reheat in the microwave for about 90 seconds, and mix as much of it as you want into white rice. This method requires advance planning and freezer space, but it doesn't require soaking, and you'll always have riceberry available in just a few minutes. Also, this allows you to mix in as much of the riceberry as each diner wants (people, especially kids, who are used to eating white rice may want to start out with just a little riceberry rice mixed in).
VIDEO: Everything You Need to Know About Riceberry
Bonus Recipe: Riceberry Congee
A great way to use riceberry is in rice porridge or congee, a classic breakfast in Asia. Think of it as our version of oatmeal! Because the riceberry rice is cooked until super soft, if you're not a fan of the fibers of whole grain rice, you'll barely taste it in this dish!
Print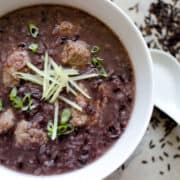 ---
Riceberry Congee
½

 

cup riceberry

½

 

cup jasmine rice

3

-

4

cups water

2

-

2½

cup pork stock or chicken stock, unsalted

2 Tbsp

soy sauce

Salt, to taste

White pepper, ground

Julienned ginger

Chopped green onions
Pork/Chicken Meatballs
250g

ground pork or chicken (preferably not lean)

1 Tbsp

soy sauce

1 teaspoons

fish sauce

1½

 

teaspoons sugar

¼ teaspoon

ground white pepper

2 cloves minced or grated garlic
---
Instructions
Combine the riceberry, jasmine rice and 3 cups water in a small pot. Bring to a boil, then reduce heat and simmer gently for 30 minutes—you only need to stir it occasionally in the beginning, but once the rice starts to look creamy, stir very frequently to prevent the rice from sticking to the bottom. Add a little more water as needed if the rice dries up too quickly, but don't add too much because you want it to be as thick as possible at this stage. The rice is done when it is thick, creamy, and the riceberry grains have burst opened.
While the rice is cooking, make the pork meatballs by combining all ingredients in a food processor and blend for 15-20 seconds until it looks smooth.
In a medium pot, add the pork or chicken stock and the soy sauce and bring to a simmer. Using 2 small spoons, drop the pork mixture in little balls into the broth. Once all the pork has been added, bring the broth back to a boil, then add the cooked rice, stirring to break up any lumps and bring it back to a simmer. If the rice is too thick, add more stock as needed. Taste and add salt to taste.
To serve, garnish the congee with julienned ginger, green onions, and white pepper.
---